He's the Pie Man!
Josh - 8/21/2009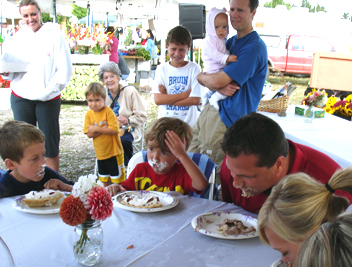 In case you missed it, the Liberty Lake Farmers Market sent out a "breaking news" e-mail last Saturday titled "Central Valley School District Superintendent Retains Pie Eating Champion Title."
It's true. Ben Small did it again. The e-mail was cleverly written by Market staff, so we'll let them take it from here:
"Earlier today at the Liberty Lake Farmers' Market's second annual Pie Festival Ben Small, Superintendent of Central Valley School District, competed in the pie eating contest. And for the second year he walked away with a pie pan around his neck... A Champion. His young son came in a close second even though he got "tired". Maybe one day Mr. Small will let his son take the title.
"In a few weeks when school starts back. Bring your teacher an apple as usual and bring your superintendent a pie.
"Congrats Mr. Small."
---
| | | |
| --- | --- | --- |
| | November 2022 | |
RECENT ENTRIES
Spread the Health
7/8/2015 6:18:31 AM
It's Official
11/10/2010 7:35:38 AM
LL company featured on KXLY
4/9/2010 11:42:40 AM
He's the Pie Man!
8/21/2009 11:04:38 AM
The Sound of Cycling
8/19/2009 4:41:05 PM