The Sound of Cycling
Josh - 8/19/2009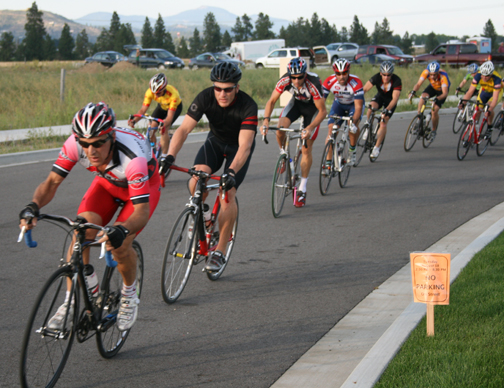 Attended the Baddlands Racing Team's Twilight Series event in the River District last night. For someone relatively new to bicycling, this was the first time I had been close to a bike race like this. One of the most surprising exhilarations of being a spectator is the sound every time a pack of cyclists zip past. I know I've heard race car fans enjoy the same type of thing, and one of the simple pleasures of being a tennis player is the unmistakable release of pressure audible when opening a can of new balls.
The event was a lot of fun. Tip of the cap to Greenstone for sponsoring.
The picture above is from the first race at 6 p.m. Anyone recognize the "man in black" sitting in second place? It's Theo Propst, owner of Liberty Lake Cycle Sports. His team went on to win the event.
---
| | | |
| --- | --- | --- |
| | November 2022 | |
RECENT ENTRIES
Spread the Health
7/8/2015 6:18:31 AM
It's Official
11/10/2010 7:35:38 AM
LL company featured on KXLY
4/9/2010 11:42:40 AM
He's the Pie Man!
8/21/2009 11:04:38 AM
The Sound of Cycling
8/19/2009 4:41:05 PM