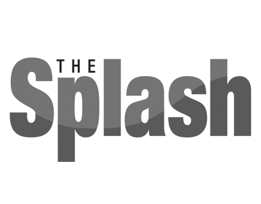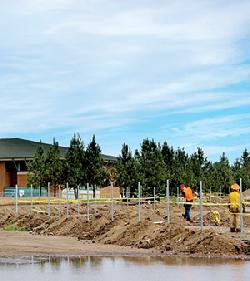 Splash photo by Treva Lind

The lot next to Liberty Lake Elementary School, part of which is currently being developed as Liberty Lake Fields, has been a part of past failed bond campaigns as a school site. In 2015, it's possible this site would be included in a bond as a companion elementary school to the current LLES. One of the structures would serve kindergarten through second graders, while the other would house third through fifth grades.


More News
Cover Story: It's elementary
6/26/2014 3:03:27 PM
By Treva Lind
School's out, yet soon enough, new students at Greenacres Middle School will navigate crowded hallways to their first class.
Other local kids will get on a bus to pass their neighborhood classrooms to Evergreen Middle School. For Liberty Lake's youngest pupils, some will head several miles to the Central Valley Kindergarten Center.
Along with eastside crowding, the Central Valley School District faces a tall order to address facility constraints across its boundaries. To name a few: bring full-day kindergarten to all neighborhood schools, reduce teacher-student ratios in lower grades and reconfigure aging schools that have security concerns.
In the next six months, voters are likely to hear much about a set of envisioned construction projects to consider for a February ballot measure. The school board has approved a project list for the bond at an estimated $112.9 million local cost, and the district expects nearly $58 million in state matching funds.
However, the dialogue around funding for this bond effort will differ sharply from past attempts to gain voter approval. This package won't ask voters for an increased tax rate, Superintendent Ben Small said.
Rather, the measure will ask to keep the current level construction tax rate and allow the district to restructure debt otherwise set to come off the books after 2018. In other words, the proposal seeks to replace the expiring bonds for high school construction projects that voters passed in 1998, Small said.
"The high school bonds are set to expire in 2018," he said. "We will begin construction. We can structure debt to where it comes on the books after 2018. The taxpayer would be paying just what they are now."
Though proposed projects are spread districtwide, some would directly affect Liberty Lake residents.
Likely one of the biggest impacts, Small said, would be to build a 624-student elementary school in the east end of the district, with up to two potential sites currently being evaluated. However, Small said the site east of Liberty Lake Elementary is getting close scrutiny.
"For this new elementary school, the scenario we're looking at now is a K-2 school next to the current Liberty Lake Elementary School," he said. "One of the two would be a 3-5 grade school."
The district has long held 23.85 acres at Boone and Ormond next to LLES, and at one time the land was earmarked for a future middle school. In 2012, the district entered an agreement allowing the city of Liberty Lake to "buy" the land for $10 to build community playing fields on a portion. When the district needs to build a school, Central Valley under the deal will buy the property back for $10, with consideration of fair-market value of any improvements the city has made.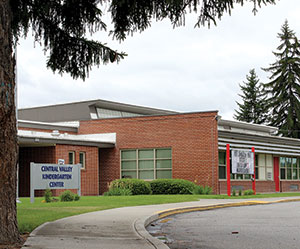 Splash photos by Treva Lind


As the Central Valley School District looks to provide full-day kindergarten throughout the district by 2018, a proposed 2015 bond would also move kindergarten students out of the Central Valley Kindergarten Center (pictured) on Barker Road and back into their neighborhood schools.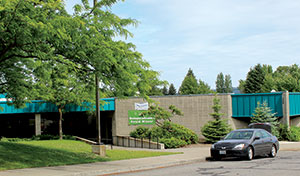 Under the proposed 2015 bond, Greenacres Elementary School, above, would be renovated and expanded at an estimated cost of $22 million. Current crowding at Greenacres Middle School, below, would be eased by adjusting attendance boundaries following the expansion of Evergreen Middle School.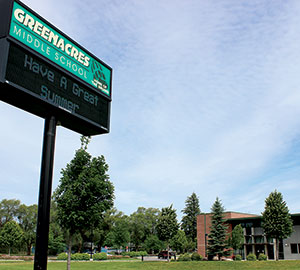 The Central Valley Kindergarten Center, located at 1512 N. Barker, has served its purpose well, Small added, "but it doesn't come close to meeting the standards and requirements for full-day kindergarten."
Additionally, Greenacres Elementary School would get expanded and renovated under the plan, for a capacity of up to 624 students and to allow full-day kindergarten.
"For a Liberty Lake family, the impact of the bond is full-day kindergarten," Small said. "Whether students live in Greenacres or Liberty Lake, they will go to school in their home neighborhood school. Also, Greenacres Elementary would have expansion and modernization, and that coupled with a new elementary facility on the east end would help ease that pressure."
Small said another key strategy in the plan is to renovate and expand Evergreen Middle School for a capacity up to 750 students and adjust that school's residential boundaries so Greenacres Middle School has more room for the students it draws.
"This would take care of overcrowding issues at Greenacres Middle School," Small said. "Currently, 100 students out of Greenacres Middle School's attendance area are overflowed to Evergreen."
The construction plans also would help improve safety and security at Greenacres Elementary, said Melanie Rose, district spokeswoman. The school is an open-concept school, a 1970s-era design that means classrooms don't have interior walls or doors. Three portable buildings at Greenacres Elementary also mean those students are outside the school's walls, Rose said.
Other open-concept schools set for proposed renovations include Chester, Sunrise and Ponderosa.
While Central Valley has heard from many residents about the need for a traditional third high school, building that facility won't be part of the bond measure in February. However, the bond proposal includes funding to do education specification work for the future high school planned on 48.9 acres near 16th and Henry Road in the Saltese area. That facility's construction would be part of a future bond proposal.
Some funding also would go toward land acquisition to expand North Pines Middle School in the future.
Community input post-2011 bond failure
Small said the district and school board have a clear goal by 2018 to provide full-day kindergarten across the entire district.
"To do that, it has facility impacts," he said. It now provides tuition-free, full-day kindergarten at six of its highest poverty schools: Adams, Broadway, McDonald, Opportunity, Progress, and University schools.
At other schools, Central Valley offers regular kindergarten in the morning at no additional cost but provides an extended session for the afternoon that parents pay tuition for on a sliding-scale basis.
Central Valley also must consider future growth and enrollment projections, Small said. A consultant recently did a study on enrollment patterns for conservative growth in the next 25 years.
The study estimates at least a 1.3 percent "likely" enrollment increase per school year. Districtwide enrollment projections when lined up with current school capacity would leave 1,474 elementary students "unhoused" in 2018, a district report said. This number grows to 1,907 in 2021. Projections for middle schools indicate 60 unhoused students in 2018, and 206 in 2021. At the high school level in 2018, 594 students would be unhoused across the district, the report said.
After the 2011 bond failure, the district's facility planning committee challenged the district to get a better pulse of what the community wanted, Small said. From recent online community forums on facility needs, Central Valley received 1,500 unique responses. Three priorities rose to the top.
1. "Our community does not want a tax rate increase; they'd like to see us continue to operate within the same tax rate," Small said.
2. A majority of participants said they want safe, well-equipped neighborhood schools.
3. Residents want the district to address overcrowding and its negative effects on middle and high school students. The district can't build a new high school and still keep the same tax rate, Small added, "so we're beginning the front-end planning" for future construction that would be in a later bond issue.
Keeping in mind these concerns and estimated construction costs without increasing the tax rate, Small said the district facilities committee made its recent recommendations, which the board approved in June.
One of the challenges for the district is gaining a supermajority 60 percent voter approval needed for a bond measure to pass. Central Valley's last four construction bond elections didn't reach that benchmark.
Under the level-tax rate concept, the district expects property owners will be paying $2.04 per $1,000 of assessed valuation in 2017 to service the current bond. They would continue to pay a construction bond tax rate of $2.04 per $1,000 of assessed valuation in 2018-2019, assuming the new bond measure passes.
"Our tax rate fluctuates each year based on our debt and assessed valuation," Rose said. "We expect the $2.04 rate in 2017, although it may be lower if assessed valuation continues to rise. In any event, the bond tax rate would remain unchanged with passage of the new bond."
Advertisement