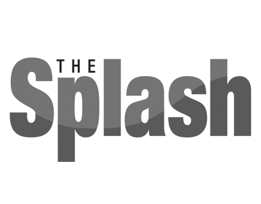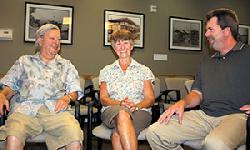 Splash photo by Craig Howard

Initially formed in 2010 by then Mayor Wendy Van Orman, the Liberty Lake Salary Commission began meeting again in July of this year to evaluate compensation of the city's elected officials. From left to right: Wadie Elaimy, Peggy Self and John Millikan.


More News
Board looking at pay hikes for mayor, Council
9/26/2013 9:48:26 AM
By Craig Howard
Splash Contributor
If you're interested in running for mayor of a jurisdiction in Washington - with money as a priority - you might want to relocate to Poulsbo.
The fourth largest city in Kitsap County, with just over 9,000 residents, pays its municipal chief $5,749 a month, or just shy of $70,000 a year. The sum represents the top salary for a mayor in Washington cities with a population between 7,500 to 14,999, according to research by the Association of Washington Cities.
On the City Council side, Shelton - westernmost city in the Puget Sound region with a citizenry of nearly 10,000 - compensates representatives of its governing board $1,300 month, plus $70 per meeting with a ceiling of $25,400 per year.
Then there is Liberty Lake.
While many aspects of Spokane County's easternmost city have changed since incorporation in 2001, salaries for the mayor and City Council members have not . The mayor's pay rate remains at $750 a month while council representatives are paid a monthly wage of $250.
Mayor Steve Peterson recalls a time in the early days of the city when $1,000 a month was proposed as mayor's compensation. Instead, Peterson spoke up in favor of $750.
"For me, I'm retired - I'm not in this for the money," said Peterson, who estimates he spends about 20 hours a week on mayoral duties. "My goal is to serve the community and to make sure the city is safe, clean and green."
Former Mayor Wendy Van Orman appointed three members to the city's first salary commission in 2010 to review the compensation of elected officials and report back with their findings as well as a recommendation. While the group did meet, no change to pay was ever made official due to a lapse in protocol that made the commission's determination unbinding.
Even though a raise had been recommended, Peterson recalls council being reluctant to accept a pay increase at the time, as budget strains were then threatening cutbacks to the municipal library and golf course.
"The council really didn't know much about the salary commission and the pay raises," Peterson said. "They were getting to the budget process and this issue was really not out front."
This summer, the salary commission was reconvened with the original trio of members - Peggy Self, Wadie Elaimy and John Millikan - brought back for a reunion tour. City Clerk Ann Swenson said the re-examination of compensation for elected officials is being held in conjunction with the 2014 budget process as well as labor negotiations currently under way with the police department.
The commission is expected to reach a decision on pay adjustment at its meeting on Sept. 25 (after Splash presstime) with the recommendation being presented to council at the Oct. 1 regular meeting (which will be recounted in The Splash's Oct. 2 e-update). By state law, council will not vote on the matter but simply accept the commission's decision.
"Whatever the salary commission determines will be implemented in the 2014 budget," Swenson said.
How Liberty Lake stacks up
Mayoral pay
Top five monthly salaries for mayors in Washington (among the state's 30 jurisdictions between 7,500 to 14,999 population)
2. Port Orchard $5,343
12,870
3. East Wenatchee
$4,519 13,350
4. Lake Forest Park
$3,000 12,680
5. Ferndale
$2,618
12,290
21. Liberty Lake $750

8,190
City Council pay
Top five monthly salaries for City Council members in Washington (among the state's 30 jurisdictions between 7,500 to 14,999 population)
3. Port Orchard
$772
12,870
4. Airway Heights
$750
7,935
27. Liberty Lake

$250

8,190
*plus $70 per council meeting
At the City Council meeting on Sept. 17, Pat Dockrey, a member of the Liberty Lake Kiwanis and a property owner in the city, spoke up in support of pay raises for Mayor Peterson and those who sit around the dais. Dockrey was the only person to testify at a meeting of the salary commission earlier in the month.
"I think they deserve more for the work they do and the time they spend," said Dockrey, who supports compensation for the mayor eventually shifting to $2,500 per month with council pay moving to $1,000 per month.
Self, who worked for years as a paralegal and has volunteered with Liberty Lake SCOPE, said she has been disappointed in the lack of citizen feedback on the issue.
"You'd think since we were considering raising the salaries that there would people within the city that would be interested in saying something about it, but we haven't really had any," she said.
Currently, Liberty Lake is tied for 21st in the state with Port Townsend in the category of how much its mayor is paid - out of a total of 30 cities with a population between 7,500 and 14,999. Liberty Lake City Council salary ranks 27th out of 30, tied with Edgewood and Hoquiam. The city also ranks well behind the average remittance for elected leaders of cities with similar populations. The median monthly wage for mayor throughout the state is $1,614 with council ringing in at $489.
"The thing is they have never had any raises," said Elaimy, a retired oncologist who has lived in Liberty Lake since 2002. "You look at the cost of living increase, the city has grown, they have more work and, yet, nothing. The hours have kept going up and up. There are more meetings, more programs."
Council Member Lori Olander said she would still serve on the City Council even if a salary was not in place. Instead of a pay raise, Olander supports the idea of a dedicated fund that would cover the costs of educational programs for council members.
"I do see both sides," Olander said. "I personally prefer the volunteerism, but it does take a lot of time and the people we have on council have full-time or part-time jobs. I just don't think the city could afford to pay a lot more."
The commission distributed a questionnaire to the mayor and each council member this summer but only received Peterson's form back. Millikan said the group will rely heavily on the information gathered from 2010 as far as council time commitments and responsibilities.
"I'm not overly surprised at the lack of response," said Millikan, who is serving as commission chair and has a professional background in human resources. "It's difficult to say how much you're worth. A lot of them are doing it because they care about the community and they want to contribute, and I appreciate that, but I also think they should be rewarded for that."
Council Member Keith Kopelson said he decided not to return the questionnaire in order to keep the process neutral.
"I don't want to influence it one way or another," he said. "It's supposed to be independent. What the commission decides is not going to affect whether I want to be on council or not. If they decide to give us an increase or take money away, I'm OK with it, but I don't want to have any part of that. I haven't followed it all. My time is worth something, but even if there was no salary, I'd still serve."
Council Member Shane Brickner said pay was not a priority when he ran for the governing board in 2011. Brickner, who volunteers with the Liberty Lake Police Department, has also spent part of all but three Saturdays since May at the Liberty Lake Farmers Market gathering community feedback from a city-sponsored booth.
"The money is not important to me - it's more about being involved in the community and making a difference," Brickner said. ""I have no more time vested than any other council member. I think everyone on council is putting in as much time as they can."
While pay in Liberty Lake for those elected to office has remained stagnant for a dozen years, Millikan said there have been some significant hikes for leaders in certain towns and cities since the commission dispersed in 2010.
"You can see the trends within other cities and towns and, again, that's about all we have to go on, the current pay structures in those jurisdictions," he said. "It is pretty surprising, especially given a city like Liberty Lake that has really grown. I think the work the mayors and the city council members have done here is tremendous. They've created an amazing community. I just want to be fair. I feel they should be compensated adequately."
Advertisement