Parting Shots: Re-reading The Splash
2/27/2013 4:48:26 PM
Editor's notes on a new and expanded issue
By Josh Johnson
Splash Staff Column

Have you ever watched a movie - and then immediately watched it again overlaid with the director's audio commentary? Yeah, me neither. But I've always figured it would either be absolutely fascinating or mind-numbingly dull.
Let's find out, print edition. You've just about reached the end of the March issue of The Splash. What follows are a few pieces of "behind-the-scenes" editor's commentary on this issue.
Page 1
The Splash should have been a little heavier than normal when you pulled it from the mailbox. We're still no Sears catalog - do they still make those? - but this issue is as robust as any we've published, and it's between 100 and 150 percent larger than any of our past seven issues. And in case you thought it's been an awfully long week between Thursdays, perhaps you missed our announcement in January that we were moving to a monthly publication cycle in order to take what we're doing to another level (if you did miss it, we've kept the story up on our website for readers to revisit). We hope you have found this issue to be a great first step in that direction.

Page 2
Fingers and toes are crossed for the Liberty Lake Community Theatre as it explores the latest option for a long-term facility - in Liberty Lake. Life is not a fairy tale, but if we could write a dream script for this talented troupe, its setting would be in a permanent home.
Page 4
Police Records Clerk Bobbi Anderson is retiring from the Liberty Lake Police Department. If you've read her Facebook posts, chatted with her or - like those of us at The Splash - enjoyed the distinctive, handwritten notes she always pens on the first page of her weekly faxed reports … well, you know the city is losing quite a personality. Best of luck, Bobbi. And happy travels!
Advertisement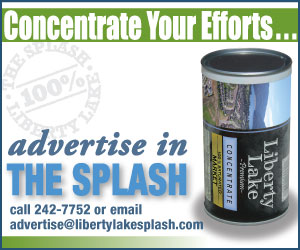 Page 5
As a dad with two daughters, the Liberty Lake Kiwanis Club's annual Father Daughter Dance has become a special annual tradition. This is the first year I'm taking both of them (Jaysa's almost 5 now and loves any excuse to wear a beautiful dress). Add in dance veteran Kylie, 8, and I will officially be the proudest and most fortunate chap in Spokane Valley the night of March 2.
Page 7
You know, I've never tried corned beef hash. Maybe this is my month.
Page 8
If the city of Liberty Lake's utility tax is to continue - and that is another column in itself that could be called, "It depends on your priorities" - then a cafeteria-style approach makes sense. Essentially, this relieves the burden of the tax slightly on essential services like electricity and gas while bumping it up on other less-critical services. Sidenote: I love the new monitors at the library that scroll through community announcements. It was nice to see the information about how certain low- and fixed-income residents can apply for a utility tax rebate posted recently.
Page 9
Dear doctor, how many large sandwiches are acceptable to eat:
a) In the month of March?
b) In one sitting?
Page 10
If BiJay Adams is as good of a general manager - even nearly as good - as he has been as a lake protection manager, then the LLSWD is in great hands. With this hire, the district has once again shown itself to be on the side of the health, sustainability and beauty of our community, first and foremost. The current commissioners, as well as the late Frank L. Boyle and others who have gone before such as Harley Halverson, deserve kudos for their long-term commitment to protecting Liberty Lake. Save the argument about the appropriateness of environmental regulations that exceed the capabilities of existing technology for another venue in saying this: I've always found it ironic that LLSWD leadership must devote so much energy to meeting the letter of the law of each new environmental regulation when they've been a standard bearer and a bar-setter behind the spirit of these requirements for many years.
Page 12
If you desire to support your local community, and particularly its young people, there are few causes as worthwhile as the Liberty Lake Kiwanis Foundation.
Page 15
There once was a Splash composition
(Page 39 of the March edition)
To keep readers reading
It seemed it was needing
A limerick just for intermission
Page 16
I'm a big fan of Suzi Walden, a woman we should have featured long before now. In another edition of "It's a small world after all," Suzi and I both once called Decatur, Ill., home (my wife is from Decatur). Note to Suzi: When I watch "The Voice," it's also because of Blake Shelton, but I'm not sure we share the same reasoning.
Page 18
It's awards season, so I would like to give a "Splashy" to Ross Schneidmiller in the category of "Person I'd Most Like To Have Coffee With In March If Time Were Not An Issue (Other Than My Wife)." I could listen to Ross talk about Liberty Lake history all day. Which is also the problem, as that could make me late for dinner.
Page 20
Kudos to Wendy Van Orman for making the Easter Egg Hunt happen for the past 15-plus years, much like Ray and Karen Ruef did with the hunts out at Liberty Lake County Park when I was a boy. And major props to Wendy's daughter, Alisha Davis, who has decided to take the baton despite giving birth to a newborn, Lucas Robert James Davis, on Feb. 22. That Van Orman family has always brought an Energizer Bunny capability to this event and many other community causes. Here's hoping many more volunteers step up to help keep this great tradition going strong.
Page 22
I was chatting with Police Chief Brian Asmus the other day when City Council Member Shane Brickner walked into LLPD headquarters to congratulate him on successfully polar plunging 25 times and raising thousands of dollars for Special Olympics. This from Brickner, who walked all night a couple years back - a team of one raising money to fight cancer at the Relay For Life. And I'm sitting there thinking: You know, a 5K Fun Run sounds like eating a cake pop compared to what these guys will do for a cause. Hats off - and we have a Relay team with slots open for "crazy fundraisers" if you're interested.
Page 24
Congrats to Barlows Family Restaurant owners Michael and Alicia Fry on their Valentine's Day marriage (see their Splash Travels pic) - and on their growing venture (see also the cover story package).
Page 32
Several people have asked: With the changes at The Splash, is this all just part of a plan for it to be merged with The Current? No, it's not. The Splash will continue to focus unapologetically on Liberty Lake and Liberty Lake only. However, as we are members historically, geographically and practically of the greater Valley community, we believe Liberty Lake readers will also find value in The Current. Pick one up for free or subscribe for a measly $12.
Page 33
Shameless plug: The 20th annual Liberty Lake Community Yard Sales are looking for a title sponsor and a handful of secondary sponsors. If you recall, the Liberty Lake Kiwanis saved this event a couple of years back, and The Splash is partnering with the club again in hopes of making it a success for at least another 20 years. This is a huge undertaking, and the support of the business community (as sponsors) and residents (by actually paying the small registration fee instead of holding a renegade sale) will be vital to its continued existence. Contact Janet at 242-7752 or janet@libertylakesplash.com to learn more about sponsorships.
Page 34
Another "Splashy" to give out for the article found here. The category: "Story I Most Wish I Had Assigned To Myself." Mike did a great job reporting it, but I'm a big fan of the Knudsen family. It's the people, more than any other factor, who truly build and shape a community. Liberty Lake is a great measure more special than it would have been otherwise thanks to more than a century of Knudsen investment.
Page 35
Go ahead and visit www.libertylakesplash.com to sign up for our e-updates. This is our way of being a monthly in print while dropping the most important and timely information into your inbox as soon as it's available.
Page 39
OK, so I guess this is where the credits roll and the "Director's Commentary" thanks all of the folks who made this production possible. So thank you, Splash team! Thank you, advertisers! Thank you, readers!
Oh, and thank you, Mom. Given my past experience with these types of DVD add-ons, it could just be you and me left here at the end of this column. Say, do you want to see if Ross would be willing to have coffee with us some time?
Josh Johnson is editor and publisher of The Liberty Lake Splash. Write to him at josh@libertylakesplash.com.