The Splash of tomorrow
1/23/2013 3:07:08 PM
Yes, the ink-on-paper Splash you are currently holding in your hands is switching to monthly distribution. That's the short of it. The long of it … well, read on.
1. When and where can I find The Splash?
• Monthly in the mailbox - Starting with a March issue that will arrive in mailboxes Feb. 28, The Splash will begin distribution the final Wednesday of each month. It will still be delivered to every residential and business address in Liberty Lake free of charge. It will still feature award-winning community journalism and advertising - just supersized into one, stout newsmagazine as opposed to spread among smaller weekly issues. The final weekly issue will arrive Jan. 31.
• Timely in your inbox - City Council stories and breaking news will be distributed as soon as the story is written through email distribution and online at www.libertylakesplash.com. Be sure to stay in touch with timely stories as they happen; sign up to receive these emails. The simple format will allow you to manage your e-subscription, including unsubscribing with ease should you ever move out of town.
• Stay connected through social media - The Splash Facebook and Twitter accounts are a great place to stay connected as well. Whether it's a reminder for a community event or taking the pulse of the community on an important issue, make sure you "like" The Splash on Facebook and follow us on Twitter, @LLSplash.
2. What is changing?
• In: Deeper and wider - The monthly format enables our team to cover important issues to the community with more depth. It also allows us to get to many other priorities that have long fell victim to weekly limitations, such as adding some creative new features. One area we're particularly excited about expanding is our ability to creatively spotlight local businesses, whether it's suggesting a great order for the next time you dine out in Liberty Lake or uncovering a service or opportunity you may not have realized exists in this community.
Advertisement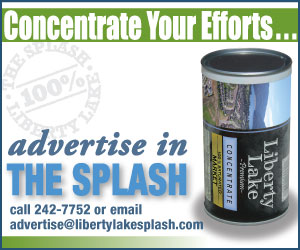 • Out: Classifieds, legals and some weekly features - Classified advertising is one item that makes a lot less sense from a monthly perspective. We will be taking down our classifieds page effective Monday at noon. While it's no longer the staple of newspapers it once was, we will certainly miss being able to provide this local service. Also gone will be legal notices (state law requires a publishing frequency of at least once a week to print these) and weekly access to our regular features such as puzzles, police reports and calendars - although these items will be both reinvented on a monthly cycle and some may show up through e-venues based upon reader requests and timeliness.
3. Better than ever? Please explain.
A more complete answer is available in the column below by Editor and Publisher Josh Johnson, but here are a few of the extras you can look forward to in 2013:
• Special sections featuring content tailored to local residents, whether it's an in-depth look at the growth of the medical sector or a special 40th anniversary look at the Liberty Lake Sewer and Water District;
• An upgraded and reimagined Liberty Lake Community Directory;
• Topical coverage and community discussions on Liberty Lake's role in the greater community through the One Valley Initiative, a special series focusing on growing business, tackling issues of local poverty, improving health and wellness and exploring and expanding access to innovative educational opportunities for our residents;
• More purposeful opportunities to highlight the accomplishments and hear the perspectives of local kids - and kids at heart;
• Added depth to our coverage of local government;
• And a whole lot more … stay tuned!

---
Imagining the future of The Splash

Why we're making these changes now, and why we believe they're for the better
By Josh Johnson
Splash Staff Column

I'm a cake-and-eat-it-too guy. Give me the choice between one fantastic option OR another fantastic option, and all I hear is the word "AND."
And so I literally chewed for a while on the decisions spelled out on these pages. Here at The Splash, we have some priorities and desires for taking the way we live our mission to "inform, connect and inspire" in Liberty Lake in new and exciting directions, but resource wise, we can't do it if we maintain a weekly ink-on-paper publishing cycle.
Believe me, I wanted to eat this cake. AND I wanted to maintain possession of the cake for future consumption. You mean this isn't possible?
Not for what we have in mind, no.
Since coming to The Splash approximately 450 consecutive weekly issues ago, I have been part of several discussions where we weigh our priorities, where we fine-tune our mission and identity - and then proceed to make decisions that will allow us to best serve the community of Liberty Lake.
So what are the priorities that have caused us to move toward the "programming changes" spelled out on this page? Four main factors stood out.
1. Content:
From day one, our publishing philosophy has revolved around the belief that content is king, and everything else follows behind. Recently, we identified some key story threads we plan to pursue in The Splash. Taking a 30,000-foot perspective on some of the topics that are truly important to our community requires some changes. We are journalists first, and when we sense there are stories and features we should be writing - or should at least be able to devote more resources to than we currently are - we get restless. Whether it is investigative pieces or reader-requested features that we simply have not had the capability to pursue, the No. 1 reason for our monthly ink-and-paper approach is that it will be a boon for our content. In the overall count, we might produce one robust community newsmagazine as opposed to four smaller papers, but the quality with which we will be able to cover Liberty Lake will increase. There is no doubt of that in my mind.
2. Creativity:
The Splash has been recognized in state and national contests over the years for the innovative approaches we have taken to many different facets of publishing a community newspaper. We have always appreciated the feedback, but there is much more we aim to do. The way people consume information is ever-evolving, and we are continually brainstorming imaginative and fresh ways to adapt with it. We have always appreciated the readers who have shared with us their "wait-by-the-mailbox" sentiment regarding The Splash. It is our hope to further - and, in some cases, recapture - that magic with these changes.
3. Connecting with readers:
Liberty Lake is an incredible community filled with people who are on the go, whether that's along our fabulous trails, into the mountains or across the planet. We have long desired to better complement our mailbox connection with an upgraded e-connection: delivering information to your phone, your tablet or your computer. We plan to provide you with some of our time-stamped content as soon as it's available. For instance, the next City Council meeting is the night of Feb. 5. Our plan is to send that story directly into your email inbox as soon as it is finished early the following morning - as opposed to when you pick up your mail two days later. Sign up to make sure we can connect you with the most timely and breaking news, and make sure you are connected to us on Facebook and Twitter for information and reminders of things like upcoming community events.
4. Connecting with advertisers:
Because of shifts in the market we live in, the vast majority of businesses who use The Splash to connect with residents are doing so through more of a branding style of advertising. There are few who are trying to get in front of residents' eyes because of a particular event on a particular week. This isn't true in weeklies in all places - particularly those who rely on weekly grocery inserts or ever-changing real estate listings. But here at The Splash, many of our best advertisers already look to a monthly cycle for their advertising investment. These changes are intended to provide a more robust product that will have a longer shelf-life to our partner businesses. These advertisers continue to make this publication possible.
While these are the key priorities we are following in making these changes, I think it's worth reemphasizing that these are specific to our publication. Community newspapers, weekly or otherwise, remain great businesses, and they will continue to be as long as there are people out there who want to see the names and faces of their friends, family and neighbors in the paper and learn more about the important issues of their hometown. We are not the type of newspapers you may have read about who are competing with Fox News and CNN and the dot-coms. For a variety of reasons, far-off competitors will never be best positioned to tackle neighborhood news.
Like any business, community newspapers have been impacted financially by the economy, but not to the point that we have to cease publishing weekly because of it. In its history, The Splash has been published weekly with just one or two full-time workers, and I was just reading another community newspaper today at which the owner is the sole employee. He does it every week by himself. It is possible; it's just not the way we believe we can live out our mission statement best for this community we love - and at the level of quality we are aiming to provide.
Moving forward, we will continue to get you that which is most timely in an even more timely manner (don't forget to share that email address with us here). Everything else ... well, let's just say we think you're going to love the way we will be able to improve the way we deliver everything else. If you are the type who likes to wait by the mailbox, plan to greet your postman Feb. 28.
Josh Johnson is editor and publisher of The Splash. Write to him at josh@libertylakesplash.com.