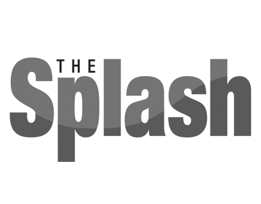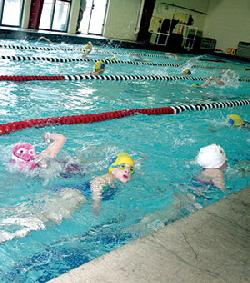 Splash photo by Tammy Kimberley
In the May Wave: Making waves beyond the pool
4/29/2014 12:35:53 PM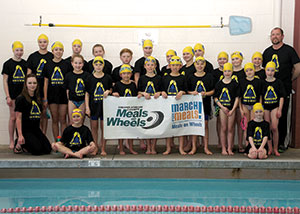 Submitted photo
Members of the blue team (above) swam
72 laps for the third annual Swim a Meal for a
Meal fundraiser on April 1. The Liberty Lake
SeaMonkeys, also consisting of the gold team
and the adult master team, raised over $4,000 in donations for Greater Spokane County Meals on Wheels.
Swim team raises funds for Meals on Wheels
By Tammy Kimberley
Splash Staff Writer
Local swimmers made a splash this spring by raising over $4,000 to feed area residents in need of meals.
Members of the Liberty Lake SeaMonkeys each swam 72 pool lengths during the third annual Swim a Mile for a Meal on April 1 at the Liberty Lake Athletic Club. Proceeds from the fundraiser went to feed elderly and disabled residents through the Greater Spokane County Meals on Wheels (MOW).
The event was organized by Victoria Leichner, a 17-year-old Central Valley and Running Start student. A member of the Liberty Lake SeaMonkeys swim team since she was eight, Victoria said she used to help her mom deliver meals to those in need when she was younger.
But two years ago while a freshman in high school, she had the idea to do a charity event to raise money and awareness for the hungry in the community. She approached her coach, Brandon Blize, to ask if the team could do a swim fundraiser for MOW, and the idea kept rolling from there.
"It's all about awareness of those in need," Victoria said. "Many are homebound and hungry and need our help."
When interviewed at the April 1 event, Victoria said she hoped to meet or beat last year's total of $3,000 due to the fact that the organization recently had to turn away people in need. Her wish came true as over $4,000 in donations had been given as of press time to the Swim a Mile for a Meal fundraiser.
Swim team members asked family, friends, neighbors or whoever might be willing to give a donation to MOW, Victoria said. Some of the 60 members of the swim club even challenged one another to see who could raise the most money. Then the participants swam one mile (72 pool lengths) for their contribution to the cause.
Annemarie Rau and Emma Fredekind, elementary students and neighbors, both joined the SeaMonkeys swim team at the beginning of the school year and carpool to weekly practices together. They planned to go around their neighborhood to ask for funds for MOW.
"I'm trying to raise as much as I can so that no seniors in our community will go without a meal," 10-year-old Annemarie said.
While the Swim a Mile for Meal event was a fun event to bring awareness to a worthwhile cause, the club is a serious competitor among area teams, regularly posting wins in both team and individual scores. The team, whose members range in age from 6 to 18 years old, has been coached by Blize for the past 12 years.
Emma, 9, said that her love for swimming pushes her to work hard on her favorite event, the individual medley (which consists of the butterfly, backstroke, breaststroke and freestyle). She said that Coach Blize encourages each member to try their hardest at whatever they do.
"He always wants us to compete to the best of our ability," Emma said.
60+: Number of members on Liberty Lake SeaMonkeys team
$4,000: Donations given so far via 2014 Swim a Mile for a Meal
1,333: Meals to be provided to area seniors with funds raised
17: Age of event organizer Victoria Leichner
$9,250: Total raised by SeaMonkeys since the event started in 2012
-----------------------------------------------------------------------------------------------------------------
At the end of this month, there is a special day dedicated to honoring those who have served to protect the freedom of our country - Memorial Day. It is a national holiday that is celebrated the last Monday of each May. On May 26 of this year, most schools and many businesses will not be open so that people can reflect on the sacrifice and courage of those who have made our lives better.
This month the Wave is holding a contest centered around courage. Courage, the PACE character trait of the month, is the decision to do what you know is right even when you might be afraid. For our contest, we are asking kids to create a piece of artwork that displays courage. It can be a drawing of someone being heroic or a picture of something that represents courage to you. Your artwork can be a simple pencil drawing, a colorful painting, a creative collage or whatever you feel inspired to do. Please include a title with your artwork.
Kids in kindergarten through sixth grade who live or attend school in Liberty Lake are eligible to enter this contest. Entries will be judged on their originality and artistic nature. Gift cards to Toys "R" Us will be awarded to the first ($25), second ($15) and third ($10) place winners, courtesy of KiDDS Dental in Liberty Lake. Winning entries will also be featured in the next issue of The Splash and may be included in future PACE promotion.
Drawings can be scanned and emailed to
tammy@libertylakesplash.com
or delivered to the Splash office, 23403 E. Mission Ave., Ste. 102 in Liberty Lake by May 15. Please include your name, age, phone number, parent's name and the city you live in. Only one entry per person, please.
-----------------------------------------------------------------------------------------------------------------
Preparing for two-wheeled adventures
By Tammy Kimberley
Splash Staff Writer
The weather is warmer and daylight lasts longer, which means more time for kids to be outside! May is national bike month, so there's no better time to get your bike in working order to enjoy the summer ahead. Whether you're biking around the neighborhood with friends or hitting local trails with your family, take a look at the safety tips below to be prepared for riding on the road.
Before you go
• Wear a bicycle helmet that fits properly, as well as bright-colored clothing.
• Check to see if your tires are inflated properly, and test your brakes to make sure they work.
• Scout out your route ahead of time, and use sidewalks or trails when possible in order to avoid traffic.
• If you're going biking with friends, tell your parents (or other trusted adults) where you are headed as well as when to expect you home.
On the road
• Go with the flow. Ride in the same direction as vehicles travel on the road.
• Obey all traffic signals, signs and road markings. Look before you turn.
• Be alert. Listen for upcoming traffic, and watch for anything that could make you lose control of your bike. Don't listen to your iPod or any headset with riding.
• Keep at least one hand on the handlebars at all times in order to control your bike. If you need to carry books or other items, place them in a basket on your bike or in a backpack.
• Avoid riding at night. If you must ride at night, make sure you have reflectors on the front and rear of your bike.
Spokane Valley Cycle Celebration
July 27, Mirabeau Meadows Park
Spokefest
Sept. 7, downtown Spokane
RIM Ride
Sept. 14, Liberty Lake
Advertisement