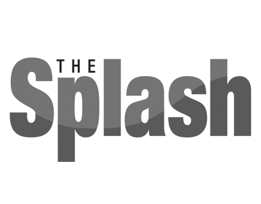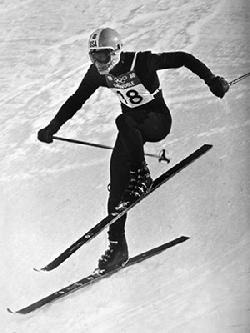 Submitted photo

Dennis "Poncho" McCoy competed in the 1968 Winter Olympics in Grenoble, France.


In the May Fountain: 'Poncho' owes the snow
4/29/2014 12:37:18 PM
Former Olympic skier credits many life values to athletics
By Sarah Robertson
Splash Contributor
It's not every day you meet a man who owes so much to the snow. But then again, it's not every day you meet a man like Dennis "Poncho" McCoy - or a man named "Poncho," for that matter.
The former Olympic skier is one of Liberty Lake's newer residents.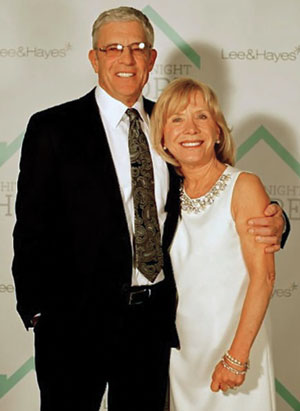 Submitted photo
McCoy is pictured with his wife, Beverly.

---
McCoy first hit the slopes of Mammoth, Calif., at the age of 3. The young boy was already known as "Poncho" - a name that stuck, McCoy said, when neighbors who noted he was a big baby would come by and say, "what a ponch."
Living in a rural mountain town in the High Sierras, skiing was a natural past time.
"That's just what we did there," he said.
McCoy's parents skied, and his dad was his first ski coach.
"I knew I wanted to compete when I was very young," McCoy said. "I liked competing and knew I was good enough. I wasn't always the best, but I was disciplined and worked hard."
McCoy started competing in national competitions in high school and placed sixth in the country. He went on to receive a ski scholarship to the University of Denver and became part of the U.S. ski team. McCoy spent five seasons with the team (1966-1970) as a slalom and downhill skier, the latter being his specialty.
As McCoy will tell you, "the team sent me all over the world." He skied all year round - spending summers in the Chilean mountains and traveling Europe, Australia and Canada to compete.
His fondest memory from that period? The 1968 Winter Olympics in Grenoble, France.
"Even though I'd competed on the world stage, the biggest event was the Olympics," he said. "It was awesome … marching down the boulevard to the giant stadium. (Former French president Charles) de Gaulle was there."
McCoy almost didn't make the Olympic team. The prior fall, a ski company took a picture of him on the slopes and used it as advertising without his knowledge. McCoy was ranked No. 1 on the team at the time.
The Olympic committee was very strict about athletes maintaining amateur status and not profiting from their sport. Eventually, the posters were pulled, and McCoy received the green light for the Olympics.
While he didn't place in France, McCoy was a three-time NCAA champion for the University of Denver and a three-time all-American. His only regret? Not competing in the 1972 Olympics in Sapporo, Japan.
But since Olympic athletes received no compensation, it was time to move on. McCoy graduated with a degree in economics and finance and started on another dream - becoming a cattle rancher.
Luckily, McCoy's wife agreed to the plan.
"I told her it was my life's dream to cattle ranch, and she was game to do that," he said. "She went from being a big city girl to a ranch wife."
Before that, Beverly McCoy was a girl on the slopes. The McCoys first met skiing in Mammoth.
"She's a really good skier," McCoy said. "I think it was love at first sight. She's the high point of my life."
The couple settled near Dillon, Mont., and owned a cattle ranch for 30 years. McCoy, Beverly and their two daughters - Dorcey and Roma - "learned to do everything" from roping cows and running a swather to growing feed and birthing calves.
After daughter Dorcey attended Gonzaga University, she married a "local boy" and settled in Liberty Lake. With two little grandsons here, the McCoys couldn't help but make Liberty Lake their home as well. McCoy said the couple loves it here, but he remains a "livestock man by profession," so he continues to manage a 250,000-acre ranch in Canada and splits his time.
All these years later, McCoy still keeps up with friends he made internationally at the 1968 Olympics - visiting friends in their home countries and welcoming them to his home as well.
"Athletics was a great springboard into life," McCoy said. "It gave me an education, my worldview, I met my wife and a lot of great people. It teaches a great work ethic and setting goals, which are so important to get through life."
Resulting values like discipline, hard work and patience have made a major difference for McCoy.
"They got me through the Olympics and ranching," he said.
• • •
Dennis "Poncho" McCoy

Favorite restaurant
Hay J's Bistro
Favorite Liberty Lake activities
Paddleboarding, fishing with the grandkids and exploring Liberty Lake and the area on foot.
Favorite things about Liberty Lake
"I never miss the Farmers Market when I'm here. I like buying the fresh food and wandering around … and the breakfast burritos."
Favorite place to visit as a skier
Switzerland (for downhill)
Favorite place to visit
Arctic/semi-arctic Canada and Alaska
Hobbies (aside from skiing)
Bow hunting
Advertisement