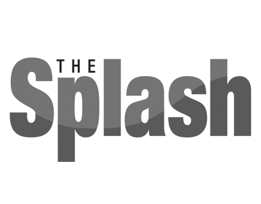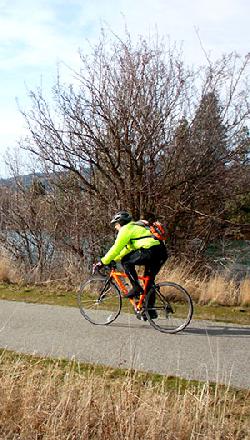 Splash photo by Craig Howard

The city's parks and recreation blueprint is taking its next step by seeking input from the community on future needs and priorities. Past emphases have included trails and access. A trail system that connects with the Centennial Trail is among the amenities currently part of the city inventory.


More News
Cover Story: Gearing up for greenspace
3/26/2014 12:54:54 PM
By Craig Howard
Splash Contributor
Before he represented Liberty Lake on the City Council, Dan Dunne weighed in on the future of parks and recreation in the place he calls home.
In 2008, Dunne was among nearly 500 citizens who returned a survey related to greenspace, trails, leisure activities and facilities in Spokane County's easternmost jurisdiction. The questionnaire would shape the framework for the first update to Liberty Lake's Parks, Recreation, Open Space and Trails Plan, originally adopted by City Council in 2006.
Dunne recalls the lobby for a large-scale sports facility - led by former Council Member Neal Olander - as "a rallying point" that buoyed participation in the community survey.
"It was a great moment of someone on council introducing an objective," Dunne said.
While the idea of dedicating 20 acres to a recreation complex never did sprout wings, the hearty enlistment of residents in the update process served as a helpful guideline for future priorities, according to Amanda Tainio, Liberty Lake's Planning and Building Services manager.
"Multi-use trails emerged as the leading priority for residents in the 2008 survey," Tainio said. "Competitive sports and a swimming pool didn't rank as high. Residents wanted more facilities within walking distance of their homes. Since then, we've added trail connections and outdoor exercise stations based on input from 2008."
Dunne, who served on the municipal planning commission before joining City Council, recalls placing his votes for trails and ballfields in the initial survey. As the city begins the process of updating the parks plan again this spring, Dunne says citizens should take the time to voice their opinions on strategies for leisure space and recreation in a city now widely known for both.
"Now is the moment that people can indicate to those making the plan where tax dollars will go and resources will be spent," he said.
"Nothing as organized as we have now"
Liberty Lake City Administrator Katy Allen has lived in the Liberty Lake community since 1983, raising two (now grown) sons with her husband, Randy. In the years prior to incorporation in 2001, Allen recalls the local recreation terrain relying on programs facilitated by the YMCA, AAU and local schools.
"We had to travel a lot," Allen said. "It was totally different, but there were fewer people out here, too. There was recreation, but it wasn't convenient and it wasn't community-based. It was basically cycling, swimming in the lake and playing golf. There was nothing as organized as we have now."
Well before Liberty Lake became a city, grassroots efforts helped build Pavillion Park, a 14-acre greenspace that became the cornerstone of the community's parks and recreation culture. A robust trail system was also in place prior to incorporation, spurred by a funding mechanism known as the transportation benefit district in which residents paid supplemental property taxes to support trail development. The city's inventory of trails and pedestrian walkways now hovers around 30 miles.
"We were very lucky," said Tainio. "After incorporation, we were able to set our standards and levels of service higher than anyone else in the region because we had Pavillion Park and three golf courses. Our parks and open space quantity was approximately 650 acres. We inherited a lot of great facilities."
Forming a municipality also led to taking ownership of an executive golf course that would be renamed Trailhead at Liberty Lake. Around the same time, Spokane County turned over Pavillion Park to the city - along with the venue's considerable maintenance costs - for a symbolic $5.
"The Liberty Lake brand is the outdoors and activity"
The first structured outline of parks and recreation in Liberty Lake appeared as an element of the city's comprehensive plan, a sweeping blueprint for development adopted in 2003. When council approved the city development code two years later, a stipulation was made that any residential or mixed use development must be within a half mile of a park or open space.
"It was based on the feedback of having a walkable community," Tainio said.
City Council approved the initial standalone Parks, Recreation, Open Space and Trails Plan in 2006. An update occurred in 2008 with the addition of the River District, an expansive development spearheaded by Greenstone Homes on the north side of Liberty Lake that now includes a number of low-acreage "pocket parks." The document requires an update every six years for the city to qualify for funding through the state Recreation and Conservation Office.
Mayor Steve Peterson said the emphasis on parks and recreation has been a catalyst for Liberty Lake's reputation as a "safe, clean and green" community.
"The Liberty Lake brand is the outdoors and activity," Peterson said. "A place that has a myriad of choices - the trails, bike lanes, parks, fields, lake, golf courses and conservation areas all enhance our quality of life. In the early 1900s, people escaped the city to enjoy our activities. Today, they live within this vacation land and now include work."
Viewing cities like Denver from an airplane seat, Peterson said it's clear how some communities have not set aside land for parks and open space.
"You look down on the rows and rows of houses and streets and you see very little green space," Peterson said. "Cities fail their community by letting green space deteriorate."
"Recreation before incorporation"
Recreation programming has grown steadily in Liberty Lake since its start in 2004, when former city employee Mary Wren-Wilson was hired as the environmental specialist/recreation coordinator. Wren-Wilson organized the first CHILL summer camp for kids and worked with Tainio on events like the Christmas tree lighting ceremony.
"As far as recreation before incorporation, it was all driven by community groups like Friends of Pavillion Park," said Tainio. "There really wasn't any formalized recreation unless it was a program at the county park. It wasn't until the city incorporated and we had enough staff to venture out through community development to start recreation programming. Then Recreation Services came along."
Troy Mullenix was hired after Wren-Wilson and coordinated the fledgling Recreation Services department. Michelle Griffin took over for Mullenix in 2010 and has served as the Parks and Recreation coordinator ever since.
Griffin said community feedback will be critical as the city looks ahead to future recreation priorities.
"We want to broaden our participation and find out what we are doing well and what we can improve on," she said. "We want to hear from the public and really have that quality programming. We want to offer the programs that have had good participation in the past, then we want to build upon those programs."
The recreation lineup now includes diversity in the form of British soccer camps, Skyhawks youth sports, the Liberty Lake Learning Center, senior programming, golf lessons, river rafting and more. The city also collaborates with community groups in areas like tennis, running and the Fallen Heroes Circuit Course.
"We try to assist and help them be successful," Griffin said. "They're well organized and know what they're doing. We're there to support them."
The map in the current parks plan indicates areas for yet-to-be-built community and neighborhood parks in upcoming years. The most significant future greenspace - to be known as Orchard Park - is slated for the River District and will be similar in scale to Pavillion Park and Rocky Hill Park.
"As development occurs, we know to work with the developer on setting aside land and whatever we need to do to ensure we have a park within that vicinity," Tainio said.
Allen said Orchard Park would be a collaborative effort between the city and Greenstone, much like Rocky Hill.
"We're fortunate in Liberty Lake because our developers understand the community aspect of development," Allen said. "They understand the importance of providing those open spaces. I think our city has benefitted from that. Greenstone already had a commitment to community open space before there was a city."
The public survey central to the latest parks update will be distributed from April through August to determine a draft copy of the plan. That document will then be reviewed by focus groups, citizens and the planning commission before it is presented to the City Council next spring for feedback and adoption. The goal for council approval is fall of 2015.
"The survey is very critical," Tainio said. "We use that data to develop our recommendations and to translate our inventory into our analysis of the demands and the trends. This is the first time we've really been able to expand on the recreation component. When we did the last update, Recreation Services was brand new. We want to know what the community is looking for on the facility, programming and events side."
The survey consists of 20 primary questions and nine optional questions and can be completed in less than 10 minutes, according to Tainio. Residents can access the questionnaire online at the city's website while printed copies will also be available. Library card holders and those on the Parks and Recreation database will receive the survey via email.
"We don't want the one per household opinion - we want the everyone in the household opinion," Tainio said.
This year will mean more significant strides on the capital side of the parks terrain. Construction of the Liberty Lake Ballfields - featuring two baseball diamonds - will begin this month, weather permitting. When completed, the venue will free up space for lacrosse and other sports at Pavillion Park. Meanwhile, the dedication for the latest installment of the Fallen Heroes Circuit Course at Pavillion Park is scheduled for Memorial Day. A series of upgrades at the venue is also part of the city's budget for 2014.
"We do spend a lot of money on our parks, but people utilize them," Allen said. "I think it's money well spent. There are capital costs associated with building parks and then there are costs that go with maintaining and operating those spaces. We just want to do it efficiently."
The event side of parks and recreation will also experience some shifts this year, starting with the transition of Liberty Lake Days. The annual community celebration will move from the last weekend of July and become part of the traditional Independence Day celebration coordinated by Friends of Pavillion Park.
"The city is allocating funds and energy that was spent on Liberty Lake Days into a comprehensive July 4th event," Griffin said. "We want it to be the place to be for July 4th, regionwide."
From participation in events to feedback in the survey, Peterson said Liberty Lake residents continue to drive the parks and recreation priorities in a city known for its storehouse of greenspace and recreational opportunities.
"Community involvement makes us successful in planning for the future," he said. "It reflects on what residents would like to see from current trends but also reflects future trends and changes they deem worthwhile. Citizens should care because the state of our community reflects on them. The park plan is history of the past and inventory of the present, it shows what we need to do to keep things well maintained and it's a guide for the future."
• • • • •
WEIGH IN ON PARKS
The city of Liberty Lake is launching a brief survey this month that will help shape the priorities for the future of parks and recreation planning. Access the survey at the city's website - www.libertylakewa.gov - or stop by City Hall for a hard copy.
Advertisement