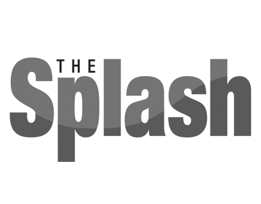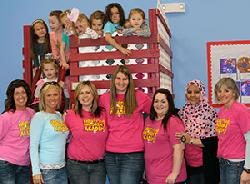 Splash photo by Valerie Putnam

Teachers at Liberty Lake Children's Academy are (from left) Kathy Schaefer, Yolande Cangelosi, Teri Finch, Meghan Lawson, Kristian Ingram, Shakra Hamed and Kathy Whybrew. Students pictures are Savannah Sloan, Grace Morgan, Libby Shuster, Fiona Anderson, Ainslie Dordea, Baer Bachman, Liberty Kast and (sitting) Lydia Daines.


A decade of molding young minds
3/26/2014 9:29:04 AM
By Valerie Putnam
Splash Contributor
During a trip to the grocery store, Teri Finch saw a former student of hers with a group of his fifth-grade friends. She wondered, would he remember her from his preschool days?
"He came running over and gave me a big hug in front of his friends," Finch said. "That felt amazing."
Those are the memories that make the past decade worthwhile as the founder, owner, director and teacher at Liberty Lake Children's Academy, Finch said. For the past 10 years, the Academy has been shaping young lives as it prepares preschoolers for the next step in the education process.
"We want to get them prepared emotionally, physically, socially and cognitively," Finch said. "We also give them a passion for learning."
Finch's curriculum focuses on all areas of development, geared toward each child's rate of growth.
"We don't expect them all to be doing the same thing," Finch said. "Through child-selected, teacher-supported activities, we set up the environment for children to be successful."
Lindsey Milonas testified to the positive impact the program had on her children. Her 7-year-old son, Samuel, began the program when he was 4.
"I was nervous about putting him into preschool," Milonas said about Samuel, who was slightly deficient at the time in social skills. "But he grew so much the first year."
When he graduated, Samuel was ready for kindergarten. Samuel's sister, Molly, currently is attending the pre-K class, and Milonas plans to enroll her youngest, Benjamin, this fall.
Finch founded the preschool in 2004. The decision came at a crossroad in her life. Going through a divorce with three small children, Finch had to make a decision on what to do next.
"I always knew I was going to go back and work with young children in a preschool," said Finch, who has a degree in child development and family relations. "But I thought it would be after my children went to school. I didn't know I would open my own."
Finch chose to turn her empty basement into the 3's Cool Academy, a preschool just for 3-year-olds. She remodeled her basement into a school, and held an open house.
"I had no idea who would come," Finch said. "I didn't have one prospective person saying to do this."
From the open house she had seven students enroll for the first year. The following year, she expanded her program by adding two pre-K classes. That increased her enrollment to 30 students.
With the growing popularity of her program, Finch's program had - and continues to have - a waiting list. Finch says her waiting list extends through 2018 because of families with babies on the way.
After just two years of being in business, she outgrew her basement. Finch found a 2,100-square-foot facility (across the street from the current location on Stanford), and hired Baker Construction to remodel it into two classrooms. In the fall of 2007, the Academy moved in, helping to grow the business. Finch was able to hire staff to meet the increasing enrollment. Currently she has nine employees.
"Having a facility (in which) you can see through the windows changes people's perspective," Finch said of the stigma that can be attached to in-home childcare businesses. "People are more comfortable."
The school remained at that location until late 2009, when once again Finch's enrollment grew to the point where she needed more space. She decided to build a larger facility across the street on the last vacant lot in the development. Baker Construction designed and constructed the 3,200-square-foot facility with three classrooms and a larger playground. The new facility opened in fall 2010.
Tracy Phelps, who has enrolled her three children at the Academy over the past seven years, said she has seen positive changes with each move. Her youngest child, Taylee, age 6, currently attends the Academy.
"Her core values haven't changed," Phelps said of Finch. "But with more space, she has been able to do more things, and she's taken full advantage of that. My kids have seen the benefits."
Through word of mouth, the school has grown to 147 students, although it has a capacity of 170. Though most years the school is at capacity, Finch said the current economic conditions are forcing mothers back to work, resulting in a decline in enrollment.
To celebrate the past decade of serving the Liberty Lake community, Finch plans to invite former students and families this fall for an ice cream social.
"To see all the parents and children all grown up," Finch said, "that would be a great thing."
Over the next 10 years, Finch doesn't plan to expand or move locations.
"If you get too big, you lose the personal touch," Finch said. "I just plan to continue meeting the needs of these children."
Finch eventually wants to be in a position where she can step back from teaching and solely take on the director role. Her 14-year-old daughter Asia Beale wants to go to college and take over the school in the future, Finch said. She sees in Asia the same passion for children she has.
"What else would I want to do but touch the lives of children, to make them successful for future years of education?" Finch said. "If you could see their faces, you would know why."
• • • • • •
About Liberty Lake Children's Academy
The Liberty Lake Children's Academy, 1322 N. Stanford Lane, is an academic preschool for children ages 2 to 5. Classes range from two and a half to four hours.
The curriculum focuses on all areas of physical, social, emotional and academic development, individualized for each child's rate of growth.
Throughout the year, the school hosts special activities, such as a Mother's Day tea or "Donuts for Dads" to celebrate Father's Day. Children graduating from the pre-K program go through commencement at Pavillion Park.
From June through August, the Academy also offers special-themed, weeklong summer camps and two-hour playdates.
The fifth-annual school carnival is planned from 4 to 7 p.m. on May 17. The event is a fundraiser for the school, and this year's theme is Hawaiian. Games, booths and food will be set up in the Academy's parking lot. Participants can bid in a silent auction or purchase tickets for a raffle.
For more information, contact Teri Finch at 922-6360.
Advertisement