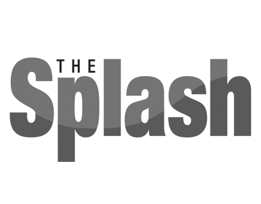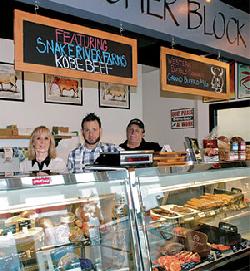 Splash photo by Valerie Putnam

From left, Rhonda Entner, Patrick Fechser and Eddy Rogers opened Butcher Block at the beginning of February.


Butcher Block completes culinary trifecta
2/26/2014 10:14:26 AM
By Valerie Putnam
Splash Contributor
Emulating the feel of an old-fashioned full-service butcher shop, the family-owned Butcher Block opened its doors in early February.
"It's a lost art that I think is coming back," co-owner Patrick Fechser said, "and we want to bring it to Liberty Lake."
Located in the strip of businesses at 21718 E. Mission Ave. that also includes Hay J's Bistro and Eau de Vie Wine Shoppe, Butcher Block offers its customers high-quality meats, cheeses and specialty items.
Fechser owns and operates the business along with his mother, Rhonda Entner and second cousin Eddy Rogers. Fechser and Entner also own Hay J's and Eau de Vie.
"We're trying to hit people who enjoy really good food and really good wine," Fechser said. "With all three, we can do that."
The intimate, 700-square-foot butcher store features a dozen pictures of historic Spokane butcher shops dating back to the 1880s.
"A long time ago, there were these kind of places everywhere," Fechser said. "You didn't go to the grocery store to buy everything."
Displaying its offerings behind large glass meat cases, Butcher Block's staff offers customers an extensive knowledge of each cut of meat.
"I'm going to tell them about the meat, where it came from," Fechser said about how they take an old-fashioned approach to the business. "The information they get from us you can't get at a supermarket. It will be more personable service."
The store features all natural, hormone-free American Kobe Beef from Snake River Farms.
"Kobe is higher grade than prime," Fechser said. "Super high quality."
Other options to be found at Butcher Block include natural free range chicken with no antibiotics or hormones, Alaskan seafood, nitrate-free sausages, veal and lamb. The only meat Butcher Block sells that have nitrates are its brats.
"People are more conscious of what they put in their bodies," Fechser said as to why they seek out a high-quality selection. "They want to know where their food is coming from before they eat it."
Besides top-quality meat choices, Butcher Block offers 30-40 different varieties of cheese, from Italian and French imports to domestic cheeses such as Wisconsin and California.
"It's not every-day cheeses," Fechser said. "They have more flavor, sharper, creamier."
THREE BUSINESSES ON THE 'BLOCK'
Mother-son team Rhonda Entner and Patrick Fechser own a trio of side-by-side businesses located in a gas station strip mall at 21724 E. Mission.


BUTCHER BLOCK
What: Store offering high quality meats, cheeses and specialty items. Eddy Rogers joins Entner and Fechser as a partner.
Opened: February
Hours: Variable
For more: 928-4530
HAY J'S BISTRO
What: Restaurant serving "simple food done with perfect execution, with a little bit of French and Italian feel to it."
Opened: 2006
Hours: 11 a.m. to 9 p.m. Monday through Thursday; 11 a.m. to 10 p.m. Friday and Saturday; 4 p.m. to 8 p.m. Sunday (subject to change).
For more: 926-2310
EAU DE VIE WINE SHOPPE
What: Featuring over 300 bottles of wine, Eau de Vie rotates eight to nine reds and six to seven whites for its by-the-glass selection. Chris and Amber Cates are partners with Entner and Fechser on the venture.
Opened: 2011
Hours: Monday through Saturday, 3:30 p.m. to 10 p.m.
For more: 926-5900
The shop offers dressings, sauces and soups, all made from scratch in Hay J's. Spices sold in the store are from either Hay J's or other local sources.
"We want to keep it as local as possible," Fechser said about his inventory. "It's stuff you won't find anywhere."
Fechser said some of the fish he sells is "one day fresh out of the water," with selections flown in from Hawaii.
"I call in the morning and get it the next morning," Fechser said. "It's incredible."
He offers, with enough lead time, the option for customers to place special orders, such as prime rib, turkey or beef wellington.
"We do special orders on almost everything," Fechser said.
For special occasions, the business plans to sell charcuterie trays on small cherry or beech wood butcher block boards that Rogers makes by hand.
"Somebody invites you to dinner or you're going to a party and want to bring something - it would be perfect for those times," Entner said.
Other items Butcher Block sells include industrial quality kitchen utensils such as knives, tongs, whips and spoons.
As business grows, Fechser plans to add other things such as salad kits or sushi rolls for customers to take home.
"We're starting as simple as possible," Fechser said. "We'll be evolving as we go."
The opening of Butcher Block enhances features offered in the other two businesses.
A fresh sheet highlighting meat from Butcher Block will be offered to diners in Hay J's on a weekly basis.
"Half of the dinner menu will change once a week," Fechser said about featuring 'Fresh from the Butcher Block' menu at Hay J's. "We'll rotate through the meats quickly."
With the addition of a small prep kitchen in back of Butcher Block, Fechser plans to provide more catering services as well as intimate wine dinners at Eau de Vie Wine Shoppe. The first dinner is already planned for March. The reservation-only dinners provide a dining experience of five or six courses with a different wine paired with each course.
Eau de Vie's wine flights now feature three different wines paired with three different Butcher Block cheeses.
"They complement each other," Fechser said of the new wine and cheese flights.
Advertisement