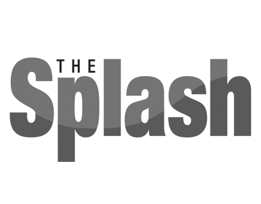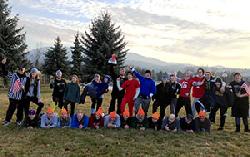 Submitted photo

The 25th edition of a local Turkey Bowl game played out at Pavillion Park Nov. 28.


Kids hold on for Turkey Bowl XXV title
12/4/2013 9:16:38 AM
By Jim Nania
Splash Guest Column
Only Liberty Lake's own Tom Sherry could have provided the silvery blue skies and calm that greeted participants for the Silver Anniversary of this Turkey Bowl.
Last year's fears of extinction were erased by an abundant turnout of both kids and adults for this generational competition. Players of the "female persuasion" showed up in good numbers, proving they could "Talk Turkey" on the football field as well as in the kitchen.
In the opening ceremonies, players joined in, with their somewhat off-key voices, to a 1939 rendition of our National Anthem by Spokane's own Bing Crosby. After a brief explanation of the "preliminary" rules (to be modified such as circumstances might require), a special commemorative coin was tossed, and the kids elected to receive. And so, "the battle was joined."
On the first drive kid, Trent Cochran beat his paternal parental unit to catch a perfectly thrown long ball from kid QB, Jake Balaugh, to score the first six points of the game.
The remainder of the first half was dominated by a remarkable display of adolescent athleticism. Long passes, some amazing open field running by Trevor Sharpe and Nathan Coulson, as well as key plays by the Smith boys, were capped off by an up the middle run into the end zone by "Sammy" Nania to give the kids a 26-9 lead at the half.
However, the kid team lost focus in the second half as evidenced by these pediatric comments:
• Kid QB: "Should we do huddles?"




• Kid WR: "Hey, did you see that guy's jump at the skate park?"
The adults, having learned the importance of persistence to success in life, battled back with some outstanding play from the record-setting passing duo of two years ago, Brian Dolan and Mike Balaugh. The kids fumbled the last kickoff, and Dolan hit Jason Dyke to make it a one score game.
In the closing minutes, the adults forced the kids to turn over the ball on downs for one last chance to even the score - which ended with yet another kid interception.
Final score: Kids, 33; Adults, 27
Even with somewhat vague rules, imprecise timekeeping and marginal officiating, this was a sincerely competitive game. Some truly amazing athleticism was demonstrated by both teams. It has been reported that the Green Bay Packers, in an attempt to salvage their season, are trying to sign two players who were involved in many key plays - kid player Corey Weyant and adult player Bob Kaatz.
Immediately apparent injuries were fortunately few. However, the Safety Committee has recommended that a Thanksgiving recipe on "How to prepare a hamstring" by Tadge Cochran should be on the required reading list of all adult players.
MVPs, kids: Chad and Troy Smith
MVPs, adults: Mike Balaugh and Brian Dolan
Jim Nania lives in Liberty Lake.
Advertisement