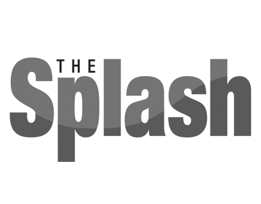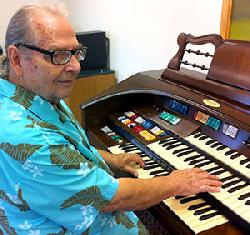 Submitted photo

John Labbe performs another one of his Musical Memories. He regularly performs at the Liberty Lake Senior Lunch.


In the October Fountain: Otis Orchards man spreads Musical Memories
9/25/2013 12:46:11 PM
The Fountain is a special section
about and for Liberty Lake seniors

---
Otis Orchards man spreads Musical Memories
By Brenna Holland
Current Contributor
Sometimes, all you need to brighten your day is a catchy, nostalgic tune. John Labbe, the one-man operation, owner and operator of Musical Memories, seeks to provide happiness memories through the art of music.
"I'm an old guy, playing old music for old people," Labbe said.
"I've been performing for more than 60 years. I have extensive experience in the '60s playing in Los Vegas and Los Angeles. I've performed from the Mexican border to the Canadian border."
Labbe, an Otis Orchards-based musician of multiple instruments, including the sax, keyboard, bass, and clarinet, can play almost anywhere.
"It depends on where I go," he said. "There are different requirements. Some places it's more of entertainment with jokes and banters. Each venue calls for a little bit of a different performance."
On Mondays, Labbe performs dance music at the Corbin Senior Center. Labbe performs for monthly birthday parties at the Fairwood Retirement Center on Tuesdays. He also plays at the Eagle Club on sax and clarinet.
"For the birthday parties, I play soft background music and the favorite tunes people like to hear," he said. "At the club we play music people want to dance to."
Labbe always possessed an innate love for music and grew up in what is now a fabled ghost town.
"I was born in Castle Gate, Utah," he said. "My father died in a coalmining accident, and my mom kinda wandered for a bit after his death."
Labbe graduated from high school in Salt Lake City and then spent 16 months serving overseas in the Korean War. After the service, Labbe spent time in Salt Lake City then went to Los Angeles to pursue a career in entertainment.
"I started as a sax and clarinet; when I joined a show group, I had to learn how to play the bass," said Labbe. "In 1974, when I was in Tucson and the band couldn't find a keyboard player, I took up the instrument. I sat down and learned how to play the organ, and when the organ became less popular I switched to the keyboard."
In January 2003, Labbe moved to Hawaii for some change of scenery and the promise of peace.
"I was newly divorced at loose ends, and I had the opportunity to move to Hawaii and I said why not?" he recalled. "I spent five and a half years, and I never intended to move back. In 2008, the economy collapsed and everything got so expensive on Hawaii. My retirement couldn't handle it."
Labbe spent his time in Hawaii in a semi-secluded home in the jungle with little technology.
"It was a great experience," he said.
Now, Labbe is happily settled in Otis Orchards.
"I like the rural feel," he said. "It is very peaceful."
He spends his days throughout Eastern Washington brightening senior citizens' days. In the past, he also brought joy to those with developmental disabilities.
When asked why he keeps performing, Labbe's response was pure and altruistic.
"Let me put it this way," he said, "I think it's almost a calling or ministry. I can play the music that many people my age like to hear. Not many people can do that anymore. It gives me a lot of pleasure to perform. I bring a little brightness into their lives. People in the nursing home don't have a lot to look forward to. To make them smile or sing along, gives me so much pleasure."
By Samantha Weaver
King Features Syndicate
• One of the former Duchesses of Windsor, when asked to reveal the secret to a long and happy life, replied, "Fill what's empty, empty what's full and scratch where it itches."
• You might be surprised to learn that Italians spend more time on social media than people of any other nationality.
• In medieval times in Great Britain, those accused of a crime could prove their innocence (or guilt) in trial by battle. This law was unused and nearly forgotten for centuries. Then, in 1817, a man named Abraham Thornton was charged with murder in the death of a young woman named Mary Ashford. The evidence against Thornton was nearly overwhelming, but he claimed the right to trial by battle against his accuser. Since the law was still on the books, the court decided it had no choice but to grant his request. Thornton's accuser was William Ashford, the victim's brother, but since he declined to appear on the field of battle, Thornton was freed. Shortly thereafter, trail by battle was officially abolished in the country.
• Cats can bark, too.
• With 1.45 million lightning strikes per year, Florida experiences more lightning than any other state in the country. Central Florida is unofficially known as the Lightning Capital of the World.
• According to a recent survey, if respondents had to have one parent move in with them, two out of three would choose Mom over Dad.
Corning Ware's value should steadily climb
'Collecting' by Larry Cox
King Features Syndicate
Q: I have several pieces of Corning Ware and was surprised to see some for sale at a local antique mall. What's the deal? - Susan, Littleton, Colo.
A: Corning Ware was introduced in 1958 and was high-fired glassware capable of going from the freezer to the stove without damage. The first pattern was Blue Cornflower, which was followed by several other popular designs such as Spice O' Life, Renaissance, Peony, Friendship and Indian Summer.
More than half a century has passed since Corning Ware found its way into American homes, and it is, perhaps, a combination of its durability and a nostalgia for mid-century America that has drawn increased interest. Although prices are fairly reasonable, I predict the values will steadily climb.
Q: My family lived in Manhattan during the 1930s and was one of the first to have a television set. It is a General Electric model HM-185 console and was purchased by my dad in about 1940. I have always been curious about how much it might be worth. - Carl, Sun City West, Ariz.
A: Your television set was marketed in 1939 and is referenced in the Antique Trader Radio and Television Price Guide edited by Kyle Husfloen, and valued at $12,000.
Q: I purchased a collector plate at a yard sale, "Pieta" by Michelanglo. I was offered $15 for it, but that doesn't seem like a fair price for it. - John, Sioux Falls, S.D.
A: Walk into almost any antique mall and you're likely to find stacks of collector plates, most priced in the $5 to $15 range. As with most collectibles, there are always exceptions, but the market for collector plates is stagnant, and many are selling for a fraction of their original cost. I don't see this trend changing, at least not in the immediate future.
Write to Larry Cox in care of King Features Weekly Service, P.O. Box 536475, Orlando, FL 32853-6475, or send e-mail to questionsforcox@aol.com. Due to the large volume of mail he receives, Mr. Cox is unable to personally answer all reader questions. Do not send any materials requiring return mail.
Advertisement