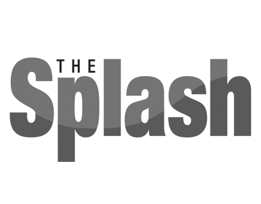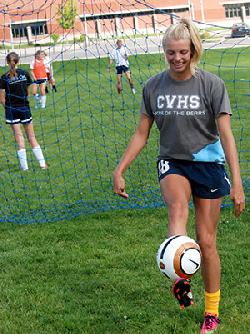 Splash photo by Mike Vlahovich

Savannah Hoekstra juggles the soccer ball at a recent practice. The 5-foot-11 team captain hopes to take the Bears back to the state tournament this fall.


Captain pointing CV back to state
9/25/2013 11:38:40 AM
By Mike Vlahovich
Splash Contributor
Watching Savannah Hoekstra practice soccer at Central Valley, the observer is immediately drawn to her effervescent smile. Not just for a photo op, but also during workouts on the field.
"She's always smiling," said her coach, Andres Monrroy. "I remember her freshman year when she would miss a shot or a goal I would say, 'Savannah, why are you smiling?' I was so angry."
But that smile belies a fierce competitiveness that earned her Greater Spokane All-League honors and last year the offensive MVP of the league. In track her freshmen and sophomore years combined, she medaled in three state events.
"She's one of the best I've ever coached," Monrroy said. "When she plays she gives it everything she has. She leads by example. That's why making her team captain this year was such a simple choice."
Like so many high school athletes, growing up Hoekstra tried different sports. She was a gymnast for two years before growing out of it. Now approaching 5-foot-11, she has the size of a basketball or volleyball player - the latter a sport she loves and still plays recreationally because it conflicts with the soccer season. Her speed and athleticism led her to track and field at CV as an adjunct sport.
But Hoekstra was always drawn back to soccer.
"I think I liked the running," she said of the sport she began playing at age 4 or 5.
Born in Redding, Calif., Hoekstra moved to Liberty Lake at age 2, where she lives with her pharmacist mother, Tawnia, and younger brother, Daylan.
Her ladder to the stars began, as most do, climbing the rungs beginning with Mini-Mod, to recreational, then Select, then Premier soccer.
She began playing "just at that time when all parents sign their kids up for sports, you know," she smiled. "Once I made Premier, it was kind of like life."
Hoekstra bounced back and forth between the Spokane Elite and Spokane Shadow clubs beginning at age 10.
"I never made their 'A' teams in my first try," she revealed.
She's been at the top level on the Shadow team for the past five years.
Her plan beyond high school is to play at Eastern Washington University after graduating from CV, although Monrroy thinks she can play at an even higher level.
"I think she's flown under the radar," he said. "I'm surprised other schools have not seen her. She'll be a star at Eastern."
After the high school season, Hoekstra plays with the Shadow beginning in late December, when snow is still on the pitch and the club travels to Seattle every weekend for two months for matches. She's traveled to the Mustang Tournament in San Francisco, the Surf Cup in San Diego and to tournaments in Arizona and Colorado.
Although she's been a forward at CV, prior to her freshman season "I played defense my entire life," she said. "I was the big kid that everyone was afraid of."
In Monrroy's fluid, attacking style, there's little difference between a forward and a back.
"Our team concept is we play offense and defense together," he said. "We attack as a team and defend as a team."
Still, it took her time to adjust for a player accustomed to a different role.
"Defenders are more stationary," Hoekstra said. "Forwards have to cross each other and move off the ball. I had to make that transition. After a year or year and a half, I started to get it. Then it became fun."
Last year Hoekstra scored 10 goals and added three assists for the Bears, who were second to Mt. Spokane in the GSL. They went on to win Class 4A district and regional tournaments and for the second straight year wound up a state top-eight finisher.
But all was not roses in Hoekstra's junior year. She strained her left hamstring late in the soccer season and missed some postseason contests, playing in the quarterfinal loss at "80 percent," Monrroy said.
Last spring, she tore the other hamstring and missed her entire track and field season. As a freshman, Hoekstra had placed eighth in state with an exceptional 17-foot-6 ¾ long jump. The next year, she took fourth at state in the event and was a member of CV's 1,600 relay sixth-placer.
Another soccer season is under way for the Bears. Through its four preseason games, CV had yet to allow a goal.
Given a clean bill of health a few months ago, Hoekstra is expected to be a major cog in the Bears' bid for a state return.
And she'll do so with that smile on her face.
Advertisement