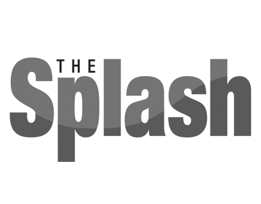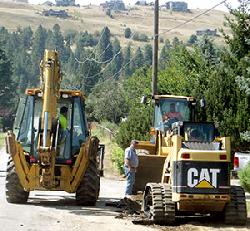 Submitted photo

Work on the Sprague Trail in August adds the final component to a loop connecting the Outlet Channel Trail and the Molter Road Trail.


More News
Chair reflects on work of trails committee
8/29/2013 12:16:35 PM
Splash Guest Column
Happy trails to you!
I'm Tom Specht, the chairperson of the Liberty Lake Transportation Benefit District advisory board. This article is about the importance of the Sprague Trail, the value of trails, and some of the history of the trails at Liberty Lake.
Sprague Trail
The City of Liberty Lake is now just finishing up adding to trails along Sprague using the last of the funds from the Transportation Benefit District, or TBD. This trail is brought to you by the TBD Advisory Board, Spokane County and the city of Liberty Lake. Pat Harper represents the county. Mayor Steve Peterson, City Administrator Katy Allen and City Engineer Andrew Staples are the driving force from the city.
The Sprague Trail is an important addition to the trails system of Liberty Lake. It completes the loop from the Outlet Channel Trail that runs along Trailhead Golf Course to the Molter Road Trail and connects to the Liberty Lake Golf Course Trail along Sprague. The addition east of the Liberty Lake Golf Course clubhouse will solve the erosion problems on the north side of Sprague that made walking, running and biking difficult.
The value of trails
Trails allow us to live a better life and are so important to our children. They connect us to nature and provide recreation. Liberty Lakers are ardent trail users. Joggers and walkers are a frequent sight. Commuters are walking or riding their bikes to work. Children dot the sidewalks on their way to school. Employees walk, run or bike during their lunch hour. Liberty Lake is a "walkable community." When one of the biggest problems facing America is obesity, trails help us to have an active lifestyle.
Trails help provide a sense of community. So many cars today have tinted windows, which make it almost impossible to see the driver or passengers. When you see a car or truck with smoke windows, it is hard to relate to it as something human. If you are in a car and you see another car not using their turn signal or trying to cut you off, often the reaction is the same as with any machine that does not work, be it computer, cell phone or whatever. It is easier to be rude to a machine. Compare this to when you are walking or biking and you come across someone on the trail. You immediately recognize them as human. It is hard to be consistently rude to someone. Especially when you know they are your neighbor. I run or bike on the trails all the time. When I see someone day after day on the trail, even if I have never talked to them, I feel a sense of friendship. We have something in common - we share the trails. We start to say "hi" as we pass. It is a small step toward a sense of community, but it is a step.
I think the children benefit most from trails. Using trails is often a family affair. So often the active kids of today are chauffeured to and from practice and games. When they are home, they have the TV and video games. To a large extent, kids are dependent on their parents to have an active lifestyle. When you have trails, you have just freed them. They can safely skate, scooter and bike to school, friends and parks. When Liberty Lake Elementary first opened, the bike racks could not accommodate all the bikes and scooters. They still can't. You have scooters hanging off the school fence and bikes leaning up against the fence. As any elementary teacher or youth soccer coach can tell you, the habits you develop from the age of 8 to 12 often carry through to adulthood. This is the time to teach our children to have an active lifestyle.
IF YOU GO ...


Sprague Trail Dedication Ceremony


9:30 a.m. Sept. 7


Intersection of Molter and Sprague

The birth of the trails system
Greenstone had installed trails in the MeadowWood Development of Liberty Lake. The trails ended at the end of the development. In 1995, a group of citizens at Liberty Lake started a committee to find a way to connect the community with trails.
We worked under the umbrella of Friends of Pavillion Park. In April 1999, we held a design meeting (we called it a "charette" - which is an intense period of design or planning) with Mike Terrell and the Washington Society of Landscape Architects. We put together a Liberty Lake Trail Plan, which was adopted by the county. In the fall of 1999, we held an election and formed the first successful TBD in Washington State. Sixty people helped in the campaign. Volunteers went door to door, stood on the corner waving signs and made telephone calls. We needed 60 percent of the vote, and the people of Liberty Lake responded with a 69 percent approval to increase their property taxes to fund trails. Our slogan was for the price of a pizza dinner you can afford to pay for trails for your community.
The TBD
The money raised has acted as seed money so that with city, county and state funds we have been able to use it to fund trails costing four times as much. Working with our partners and obtaining grants have extended our $650,000 to provide trails and enhancement valued at more than $2.5 million dollars. We extended trails to the Centennial Trail, built an I-90 overpass and trails along the golf courses.
Partners
Our number one partner is the people of Liberty Lake. They voted for the TBD. They volunteered. They use the trails. Our community makes it a safe place by slowing down for bikes, giving walkers the right of way. Some of the top contributors were Tina Wallingford, Kaye Whitney, Mary Jo Foss, Shawn Brown, Russell Kinney, Gene Domanico, Barb Midkiff, Joan Steele, Shirley Schoenberger, Polly Soderquist, Jane and Mark Bitz, Kerry Masters, Chris Bowers, Bob and Stacy Conley, Tom McLaughlin, Chip Abrams, the Liberty Lake Sewer and Water District commissioners and Lee Mellish.
I also want to thank the TBD Advisory Board members. They were awesome. Bruce Steele, who has since passed away, was a charter member, charette member and vice president. Leslie Zilka, charette member and secretary, whose minutes and inputs were invaluable. Jim Frank, who was involved from the get-go, whose vision, knowledge and support we greatly rely upon. Jim is a true believer in building communities and one who knows how important trails are to a community. Glen Long, our maintenance guy, with uncommon common sense, who continually checks every trail out. Bob Martin stepped in for Stan Chalich, a charette member and Liberty Lake history expert. Bob Martin's technical and political knowledge has served us well. Lud Kramer, who has also passed away, was a past Washington Secretary of State. His stellar reputation helped tremendously when working with Olympia. He was a guiding force in helping in the election for the TBD and his mantra, "Let's get something done," guided us. His only other demand was, "Give
me something to do or I go where they need me." And boy, did we need him.
Pat Harper serves not only as a liaison with the Spokane County Commissioners but also is and has been a major guiding force for us. He is a model for what every public service person should be - totally committed to making a better place for the people. He knows how the system works and how to make it work for the people.
When we all thought the I-90 overpass was not going to happen, Mayor Steve Peterson put the project on his back and breathed life back into it. He and the city have been a valuable partner.
Greenstone and Telect have been two of the businesses that have always supported our efforts.
I feel proud and lucky to be a part of this community and to have such people as friends.
Tom Specht has lived in Liberty Lake since 1985. He is chair of the Transportation Benefit District Advisory Board.
Advertisement