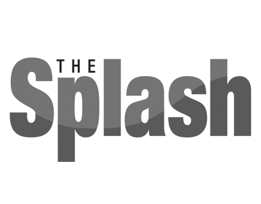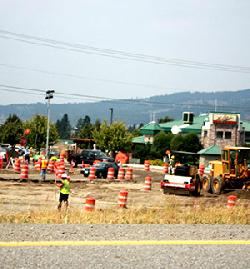 Splash photo by Craig Howard

Crews direct traffic as work continues on the Harvard roundabout installation project in late August.


More News
Summer construction report
8/28/2013 12:03:52 PM
The orange is out in force. Work on a long list of summer projects inside the city of Liberty Lake began in earnest during the month of August. City Engineer Andrew Staples and City Administrator Katy Allen helped supply this update of where several projects stand heading into September.
• Harvard Roundabout - Construction of single-lane roundabout at Harvard Road, Mission Avenue intersection.
Status report: Crews are hard at work from 6 a.m. to 6 p.m., six days a week. The work, which began Aug. 17, has a target completion date of Nov. 1.




Traffic impact: Reduced lanes on the north side of the Harvard Bridge, with flaggers and signage directing traffic.
• Mission and Valleyway street maintenance - Overlay work on Mission Avenue from Molter Road to King James Lane and on Valleyway Avenue from Molter to Bella Lago Lane.



Status report: As of press time, the paving process was well under way, with application of lane stripes and project cleanup scheduled for the week following Labor Day.




Traffic impact: Minor delays caused by reduced lanes or detours. Flaggers directing traffic at the work site.
• Sprague Trail - Construction of two 10-foot wide path segments on Sprague Avenue and Neyland Drive.
Status report: This project is scheduled for completion on Sept. 1. A dedication ceremony is planned for 9:30 a.m. Sept. 7 at the intersection of Molter and Sprague.




Traffic impact: Minimal impact with traffic control directing drivers around the construction along the north shoulder of the road.
• Liberty Lake Ball Fields - Improvements to the field east of Liberty Lake Elementary including construction of a pair of baseball fields, a 79-space parking lot, a small picnic shelter and concrete walking paths.
Status report: The award for this contract has been moved to the Sept. 17 City Council agenda. Allen said construction on the two baseball diamonds and accompanying features will still begin this year.




Traffic impact: None.
• Fallen Heroes Circuit Course - Installation of exercise equipment at Rocky Hill Park that honors military veterans, with plans for this to be a circuit connected to other Liberty Lake parks in the future.
Status report: The project was slated to wrap up by Labor Day. A dedication ceremony for the Fallen Heroes Circuit Course in Rocky Hill Park will take place on Saturday, Sept. 21 at 4 p.m. The program will salute Cpl. Joshua R. Dumaw of Spokane Valley who was killed while serving in Afghanistan in 2010. Local Marine Corps will lead a cadence. The agenda will also include color guards, speakers, demonstrations of the exercise equipment and refreshments.




Traffic impact: None.
Note: The city of Liberty Lake will post traffic revisions on its website, www.libertylakewa.gov, as applicable.
Advertisement