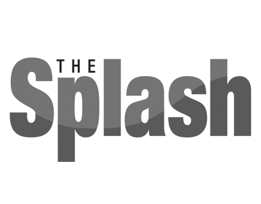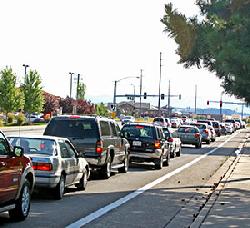 Splash photo by Craig Howard

Vehicles form a daily procession along Appleway Avenue after 5 p.m. that stretches several blocks. The city of Liberty Lake is looking at a variety of approaches to address the traffic snarl.


More News
Cover Story: City considers options to untangle Appleway snag
7/31/2013 4:24:23 PM
By Craig Howard
Splash Contributor
The slow train of vehicles - sedans, SUVs, station wagons, even a semi-truck - is crawling along Appleway Avenue on a Wednesday in July.
It is 5:05 p.m., and the trail of westbound traffic stretches nearly three blocks, past Signal Road and Liberty Lake's central business corridor that includes names like Itron, Altek and Proto Technologies. Motorists turning onto Appleway from side streets to the south face a perilous transition, dodging quickly to avoid vehicles heading east. Those coming from the north and attempting to channel into the one lane that leads to the westbound I-90 on-ramp can only hope a fellow motorist is feeling charitable that day.
"It's frustrating, and it's getting worse," said Brandon Hunt of Huntwood Custom Cabinets, located east on Appleway across from the Heartland Mall at Liberty Lake. "It's been an issue ever since we've been here."
At Huntwood, around 300 employees depart work at 3:30 p.m., with another 200 leaving at 5 p.m. Hunt estimates that roughly 70 percent are headed west.
"Some find that if they leave work right away they don't have to deal with the worst of it," he said.
Another ingredient will soon be added to the traffic jam as Vivint Inc. - now located in the former Safeco Building along Appleway about 50 yards from the intersection at Liberty Lake Road - is expected to build up a workforce of between 400 to 600 employees over the next year and a half. The resurgence of the Liberty Lake Business Park along with existing corporate pockets on Appleway like the Liberty Lake Medical Center, Meadowwood Technology Campus and Liberty Lake Business Center appear to spell increased anxiety for Appleway.
"The traffic's just going to get worse once Vivint moves in," Liberty Lake City Council Member Keith Kopelson said. "I don't know how those people are going to turn left out of there to go east. It's very inconvenient to make a lot of turns in any direction that you're coming from, whether you're coming off Signal and trying to make a left there or you're actually on Appleway."
Like a growing number of motorists, Kopelson has varied his driving schedule to avoid the bottleneck on Appleway. The diverted traffic has begun to create smaller problems at intersections like Country Vista and Mission.
Mayor Steve Peterson said the city should have addressed the dilemma on Appleway ahead of time.
"The issue is we weren't proactive over the last four-plus years," said Peterson, who was sworn in for his second go-around as mayor in 2012 after a four-year hiatus. "You have to be ahead of that power curve. You can't say you'll wait until the economy gets better. You'll be better off putting stuff in place and implementing it."
The city is now working on a grant application to the state Transportation Improvement Board that would support safety upgrades, landscaping and channelization improvements along Appleway. Another grant - that would have helped fund an extension of Knox Avenue to the north as a means of transporting vehicles east while avoiding much of the Appleway snag - has been shelved until the city can work out issues related to utilities and right-of-way.
"It's funding, it's working with property owners, it's working on grant applications," said City Administrator Katy Allen on the push for the funding of Appleway and other city streets. "But it's difficult to get funding if you don't know what you're asking for and why. You've got to make the case that it's going to be safer, draw jobs, be more efficient, help the environment. There's a lot of different cylinders you have to hit on."
Allen said the city has not given up on ironing out the issues that stand in the way of extending Knox.
"Some of these employers, their workers are coming from Hayden and Coeur d'Alene," Allen said. "Let's assume 40 percent of your workers are leaving from work and going east. The last thing you want to do is put them on Appleway. It takes people that don't have to go on to Appleway and just frees up space."
At the June 18 City Council meeting, Council Member Josh Beckett described the situation on Appleway as "gridlock" and "a real mess." Beckett raised the idea of businesses staggering times when employees leave work to alleviate some of the congestion.
"It's becoming a real challenge, and it really hasn't gone anywhere," Beckett said.
Mayor Pro Tem Odin Langford was less enthused about the idea of approaching companies along the corridor.
"They already have their times they leave work," Langford said. "There's just too much traffic being funneled into a bottleneck. We've already reduced Liberty Lake Road from two lanes to one to go over the bridge. A remark about staggering the times sounds great but the complexities of it are a different story when you have to go to all these people and talk to them about what time they want to leave work. I don't see that."
Tom Johnson, president and CEO of STCU, said employees at the credit union - there are around 250 at the headquarters on Signal Road and a handful more at a branch on Appleway - have learned to deal with the situation.
"It's a bit of an irritant depending on when you leave the building if you want get access back to the freeway," he said. "But I think most of us who are daily commuters have figured out a schedule that works. It's really not more than a five-minute wait. It moves through at a pretty respectable rate."
Peterson has suggested a more dedicated right-hand turn lane onto the bridge as a start. He also supports the idea of a right-hand turn lane for vehicles coming off the freeway onto Liberty Lake Road.
Hunt - who travels west when he leaves work but now takes Country Vista - said one approach might be to increase the duration of the green light at the Appleway/Liberty Lake Road intersection for motorists accessing the freeway.
Langford said the city might want to experiment with a traffic detail facilitated by the Liberty Lake Police Department, as long as it doesn't take away from officers on regular duty.
"I'm not convinced it would work, but it could be used as a trial," Langford said. "Make it a traffic detail during the peak times. Let them direct the traffic. We should have a lot less traffic going north on Liberty Lake Road in the evening. It seems that there would be a way to keep the traffic going north to Otis Orchards to a minimum and let these people on Appleway filter out and let the people going east off the freeway continue to go straight."
Allen said the city will not play a waiting game when it comes to addressing concerns on the beleaguered road.
"There are engineering solutions and there are operational solutions," she said. "I think going forward, that's what we want to tackle. The operational solutions would be things like signal timing, cueing, all of those things. On the engineering side, it's not going to be one thing, it's going to be many things. I just think we, as a city, have to continually look at ways we're going to improve it."
Advertisement