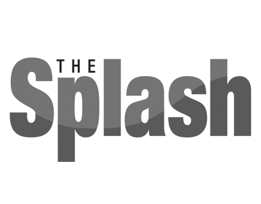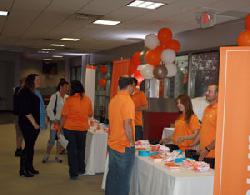 Splash Photo by Craig Howard

The Vivint open house and job fair on June 20 drew around 150 people and featured plenty of the company's signature orange.


Vivint moves into new sales center
6/26/2013
By Craig Howard
Splash Contributor
Soggy weather did little to dim the glow of orange at the old Safeco building on June 20.
Vivint Inc., a home automation and home security system named by Forbes magazine as one of the 50 most promising companies for 2013, hosted a job fair and open house in the space at 22425 E. Appleway last month. The event – festooned from floor to ceiling with Vivint's signature color – represented the company's official public debut after it announced the opening of a new sales center in Liberty Lake on June 7.
"We are so excited to be here," said Eric Patrick, Vivint's senior director of global channel sales. "We love the community and appreciate that there is a well-educated, highly talented workforce here."
Vivint plans on bringing 400 jobs to the new site, hiring 50 to 60 employees in the first month and between 40 to 80 in subsequent months, according to Director of Special Projects Mark Robertson. The move represents the first sales center expansion beyond the company's home in Provo, Utah.
The first official day of training is scheduled for July 15. Vivint will be open for business on July 29.
Mitch Watkins, who will serve as the senior manager of sales and operations in Liberty Lake, said the first open house brought out "a lot of professional, talented and educated people who just want a good company to work for." Another job fair was held June 25.
"We're going to strive for personal improvement each week," said Watkins of his goals for the inaugural Liberty Lake staff. "At the same time, employees are going to know that they are important and we really value them."
Only Watkins and Floor Manager Tanner Wolsey are making the permanent transition to the Inland Northwest. Patrick, Robertson and a handful of other Vivint administrators will shuttle back and forth between Provo and Liberty Lake as the office gains traction.
"Our goal is to recruit and hire our future leaders from right here in this community," Robertson said. "We want to bring jobs to Liberty Lake."
Greater Spokane Inc., which played a major role in rolling out the red carpet for Vivint when the company announced it was looking for a new site last year, estimates that the move will represent an impact of over $62 million to the local economy through job creation and tax revenue.
In his presentation to four sessions of prospective employees on June 20, Patrick described the emphasis Vivint places on "valuing the people who work here." Entry level workers in the call center will earn $12.50 per hour, plus commission while more seasoned salespeople will have a base of $34,000 to $35,000 plus commission. Staff is provided paid time off, benefits and 401(k) as well as one free meal per work shift.
"This is a fun place to be a part of," Patrick said. "Vivint is about serving our employees."
The company also places a priority on volunteer efforts and financial contributions to charitable causes. Vivint employees donated over 23,000 hours to various projects last year. A day of community service is being organized locally during the first training session.
"They wanted to move into a community that is a community," said Liberty Lake City Administrator Katy Allen. "They're not just looking for a place where people can go to work. They want to be part of the fabric of the community in a very civic-minded way."
City officials began talking with representatives from Vivint in October of last year. In addition to Liberty Lake, the company looked at sites in Colorado, Arizona and Tennessee.
"I think there's a lot of reasons they chose Liberty Lake," said Mayor Steve Peterson. "One of them is the welcoming friendliness of our community."
Peterson said there were other companies interested in relocating to the Liberty Lake Business Center, a building with 200,000 square feet, but Vivint emerged as the top candidate. The company will occupy 20,000 square feet on the ground floor.
"We talked to one employer that said they could put 600 to 800 jobs in there at minimum wage with no benefits," Peterson said. "Vivint is great company to work for. They take people and make them better, make them successful."
Peterson fielded questions about Vivint at the June 18 Liberty Lake City Council meeting when Council Member Josh Beckett referred to an article in The Spokesman-Review from the previous week that highlighted consumer complaints with the company that called into question misleading and overly aggressive sales tactics. None of the allegations – mostly concerning door-to-door sales – carried any criminal charges.
"They've addressed those issues and the follow-up has been excellent," Peterson told Beckett and the rest of the council last month.
The Liberty Lake office will not coordinate any door-to-door sales and only handle inbound calls and qualified, verified leads.
"There's not a Better Business Bureau complaint in the country that we don't address right away," said Patrick. "We're so fast to resolve those issues."
In addition to automated home security – locking your doors or making sure your garage door is shut from a remote location – Vivint also offers energy management, including residential solar, and innovations like tornado warnings. The home automation piece allows residents to switch lights on and off or adjust a thermostat from afar.
"What we do is tell people about the product, the value and the benefit," Patrick said.
Advertisement