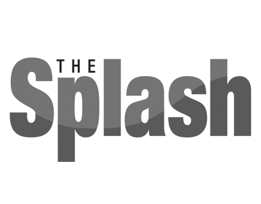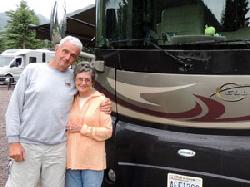 Submitted Photo

Don and Dee Gumenberg stand in front of their motorhome — which is truly a year-round home for the Inland Northwest-based couple.


More News
Cover Story: Home on wheels
6/26/2013
By Craig Howard
Splash Contributor
Right around the time snow begins falling on their former home in the Lincoln Heights section of south Spokane, Don and Dee Gumenberg are settling into their motorhome on a balmy evening in suburban Arizona.
Welcome to life on the road, courtesy of a 40-foot diesel pusher turned residence.
For years, a wilderness adventure for the Gumenbergs meant heading to a campground in a pickup truck with a generic fiberglass canopy. Then, in 1991, with their three kids out of the house, the couple bought their first recreational vehicle, a 27-foot class C motorhome with a few of the amenities of home, including a small kitchen and sleeping quarters.
"We decided we were ready to get into something a little more comfortable," Dee recalls. "We had a lot more room. We had water, electricity, everything we needed."
The RV meant fishing expeditions to the lakes of Montana were now insulated with comforts far beyond the truck canopy. The flexibility and convenience meant trips to Canada and California also found their way onto the travel agenda.
"We put a lot of miles on it," Dee said. "We knew for sure we wanted to travel when we retired."
When retirement finally arrived, Don and Dee moved up on the RV ladder, purchasing a 32-foot class A Bounder motorhome from R n' R RV in 1998. It was then that Dee turned the steering wheel completely over to Don.
"I quit driving when we got the class A," Dee said.
Don had spent a little time driving semi-trucks in his job with a medical supply company and quickly learned the key to safe driving in an RV is "watching your corners." R n' R offers driving instruction to help with the transition.
"It's just like driving a pickup but when you turn corners, you have to watch that," Don said. "The diesel turns a lot different than your gas engines because the wheel base is longer. You have to make wider turns. You definitely have to know what your turning radius is."
After the Bounder, the Gumenbergs found their way into a motorhome with "slide-outs," a groundbreaking innovation that came along in the early 1990s. The feature added considerable space to an RV in parked position through compartments that slid out like boxy wings on a rectangular bird.
Don and Dee purchased their first Winnebago in 2004, a brand of RV that has become as synonymous to the motorhome as Kleenex is to tissue. The company was founded in 1958 by a businessman in Forest City, Iowa, named John Hanson who convinced a California investment firm to underwrite a travel trailer factory as a way to revive the local economy.
The Gumenbergs are now in their fifth motorhome, the 40-footer that includes a dishwasher, fireplace and large-screen TV. Add in the Jeep Liberty they tow, and it's about a 60-foot haul. Don is quick to point out there is no parallel parking.
Last month, Don and Dee were part of a convoy of 17 motorhomes that journeyed to Montana. As members of the local Winnebago Club, they can take part in outings every month from April through December.
The couple left Spokane in June of last year and traveled throughout the East Coast before rolling into Arizona in October. For the last four winters, they have stayed in a gated RV park in Mesa that includes more than 400 lots and has all the features of an upscale neighborhood. In March, Don and Dee migrated to Yuma before returning to Spokane in May.
"I don't miss the Spokane winters," said Don, who like Dee, grew up in the Inland Northwest.
The Gumenbergs long ago sold their Lincoln Heights house and now reside solely out of their RV. When they come home, the rig is parked on property they own near the Pend Oreille River.
"You don't have concerns about the yard or property taxes," Don said. "We have a full-size refrigerator and cook most of our meals in the RV or on a barbeque outside."
In a typical day, Don and Dee will put in around 250 miles on the road. Winnebago sponsors guided "caravans" that begin in a specific area and include tours of a region. The Gumenbergs went on one trip that traversed National Parks in Arizona, Utah, Colorado and Nevada. Another caravan began in Minnesota and carried them down the winding course of the Mississippi River to New Orleans.
"You go these places and you don't realize what you could miss on your own." Don said. "You see all the sites and historical monuments. They have all this down pat so you don't miss anything."
Winnebago also coordinates "rallies" where RVers convene in a certain area and the company provides transportation to surrounding landmarks and tourist sites. The Gumenbergs have attended a rally in Mexico and hope to venture back east for a jaunt around New York.
"Dee also wants to go to Nova Scotia and back to Maine for lobster," Don said.
Over the years, Don and Dee's RV has taken them to a comprehensive list of American landmarks, including Washington, D.C., Yellowstone, Mt. Rushmore, the Shenendoah Valley and the Black Hills of South Dakota. In the summer of 2011, they spent nine weeks in Alaska – as usual, following an itinerary where the scenery is the destination.
"We enjoy being out on the road," Dee said. "Every place has its own history. We just take our time."
Advertisement