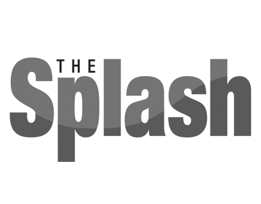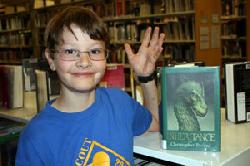 Wave Photo By Tammy Kimberley

Rab Greenup stands beside a book by Christopher Paolini — one of his favorite authors.


Reasons Rab reads
6/26/2013 3:58:32 PM
By Tammy Kimberley
Wave Staff Writer
A few days before his family was to embark on a road trip to Yellowstone National Park, Rab Greenup was planning to get his hands on a summer reading log from the Liberty Lake Municipal Library. He and his mom Michele said that time in the car is one of the best ways to get minutes logged.
In a house filled with his parents, three siblings, a dog, a goldfish and a bunch of snails, Rab, 11, said reading is a relaxing way he fills his free time. He makes it up to the library at least once a week to refuel his stack of books, since he spends an estimated two and a half hours per day reading during the summer.
The Wave recently met up with Rab to hear more about why he spends time with his nose in a book and what he's looking forward to in the library's summer reading program.
Q:
What types of books do you enjoy?
A:
I like spy books, mythology and fantasy. I really like books that combine past, present and what people think. My favorite books are Percy Jackson and Kane Chronicles (series) by Rick Riordan.
Q:
Have there been any books series you just couldn't wait to read the next one?
A:
I'd say the Inheritance series by Christopher Paolini and The Heroes of Olympus by Rick Riordan. They're long books, and not all the books are out yet.
Q:
Is there a particular time you enjoy curling up with a book?
A:
At the end of the day in my mom's bed.
Q:
Why do you participate in summer reading program?
A: It helps me challenge myself. I think, "How much can I read today?"
Q:
What do you think about the prizes?
A:
I really read to get the free book. There's always a good variety. Then I continue reading to challenge myself and get some more prizes. Kids should do their reading early because the longer it gets into the summer, the worse the prizes get.
Q:
Are there any activities at the library you are especially looking forward to?
A:
Lego Mania. The worm races sound like fun too. I got a preview of Minute to Win It at school. They had a contest where we stacked five die on a popsicle stick and walked with it in our mouths to the wall. That night sounds like fun to me.
Advertisement