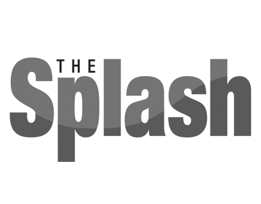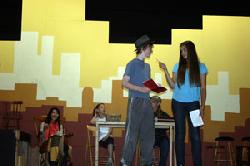 Splash Photo by Brenna Holland

Ira McLeod as Bill Woodcutter and Lauren Turner as Sidney Grimm rehearse for Liberty Lake Community Theatre's production of "Big Bad" June 24.


Humorous 'Big Bad' is latest LLCT show
6/26/2013 2:22:50 PM
By Brenna Holland
Splash Contributor
Once upon the time, there was a lawsuit …
So launches the plot behind Liberty Lake Community Theatre's summer production of "Big Bad," a deliciously funny satire on all fairytales that involve the antagonist of the Big Bad Wolf.
The play depicts the trial between the wolf and the ragamuffin bunch of fairytale characters the wolf has wronged, including Little Red Riding Hood and her grandmother, the Three Little Pigs, and the Boy Who Cried Wolf. The Evil Stepmother and the Fairy Godmother represent the opposing parties as defense attorney and prosecutor, respectively.
A unique aspect to this production is that the audience will decide the wolf's fate - guilty, innocent or hung jury. Therefore, there could be three different endings to this production depending on the merciful or punitive collective mindset of the audience. One could see the show a second time and get a completely different finale.
Director Vicki Normington chose to take on the project based on its humor and appeal to a wide audience.
"I looked over the lineup and chose 'Big Bad' because it is my kind of humor," she said. "I love the fairy tales and making the show enjoyable for both children and adults is always fun for me to try and accomplish."
Normington has been working as a preschool teacher for more than 30 years and has been directing children's theater productions for 20 years. She not only was the artistic director of the Theatre Arts for Children for 12 years, but also cofounded the program.
"Big Bad" features a mixed cast ranging from children and teenagers to adults.
"I am very pleased with this group of people and know they are going to deliver a great show," Normington said. "I have a very reliable and hard-working stage crew, and that is very important to me in completing my vision."
The range of ages adds a touch of realism to the fairy tale.
"I have always tried to use adults in the adult roles and kids in the kid roles," she said. "I feel it gives the shows a more 'realistic' feel."
Caroline "CJ" Gile, who takes on the part of Miss Muffet, has been involved in theater for six years. She said she views drama as a sort of vacation.
"When I think of my happy place, I think of a freezing cold theatre," Gile said.
The fact that the Central Valley High School incoming sophomore is playing a particularly neurotic version of Miss Muffet doesn't bother her.
"I like to be the character people will remember," she said.
The cast, whose ages range from 7 years old to adulthood, exhibits different levels of experience that adds a refreshing twist to the production.
"I have a cast of seasoned actors as well as a few who have never been in a show," Normington said. "It is exciting to see how the cast will work together as a team and show respect and pride for their fellow cast members no matter what the age. We become a 'family' during the whole process."
Cast member Lauren Turner, who plays the part of Sydney Grimm, a reporter covering the trials of the Big Bad Wolf, hopes to grow as an actor in this production. Turner, 13, has already had pass theater experiences as "Anne" in the Theatre Arts for Children production of "Anne of Green Gables" as well as past Liberty Lake Community Theatre productions.
"It is something I am passionate about," Turner said.
For Normington, the experience of directing children is more than the play itself. "Directing kids and seeing them develop self-confidence and being proud of who they are is such an incredible feeling for me," she said. "I am their biggest fan and will yell the loudest for my whole cast when they are on stage. They always know Vicki is out there."
Advertisement