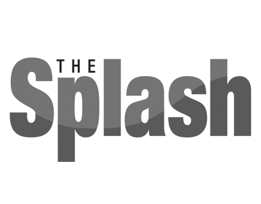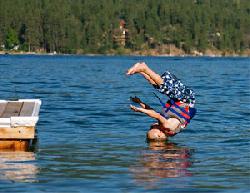 Submitted photo

Blake Earle does a flip off a dock into Liberty Lake last summer. The area provides many water activities that kids can enjoy, such as swimming, skiing and fishing.


Jump into summer
5/29/2013
By Tammy Kimberley
Wave Staff Writer
It's true – the first official day of summer isn't until June 21. Even though school is still in session, it's hard not to get excited about all the fabulous opportunities available to Liberty Lake kids during the coming months.
Whether you like to bike or hike, to be outside or indoors, there are plenty of adventures to be had right in our own backyard. Some activities you can do alone. Others are best enjoyed in the company of family and friends. A few events require cash, but most of the suggestions are free. What they all have in common is they are offered in Liberty Lake.
Let these pages tempt you to imagine ways you and your friends can spend summer vacation. Just don't get caught daydreaming about it during class.
| | | |
| --- | --- | --- |
| | | "I like to ride my bike a lot and rollerblade around Rocky Hill Park." - Camden Fletcher, 7 |
Bike along the trails.
Grab your helmet, pack a picnic lunch and ride your bike along the beautiful trails in the community. If you're looking for a more challenging distance, ask your parents to sign up for one of the Saturday bike club rides to Hiawatha or Fish Lake trails (register at City Hall). On your ride around town, you might even catch a glimpse of some grazing goats, rumored to be making an appearance near parks or other grassy areas sometime this summer.
Play in the parks.
It's no secret that Liberty Lake is home to some fabulous parks, both big and small, boasting tennis and basketball courts, open fields and play structures. Enjoy the spray feature and skate park at Pavillion Park, go geocaching on the rocky knoll at Rocky Hill, or play in the sand pit and water feature at Half Moon Park. You may even have a chance to jump on inflatables or compete against friends in carnival games if you stop by Pavillion Park on July 27 during Liberty Lake Days.
Give tennis a try.
Speaking of parks, did you know the Liberty Lake Community Tennis Association offers free lessons each Saturday at Rocky Hill Park? Kids of all ability levels are invited to come play from 9 to 10 a.m. (7 years and under) or 10 to 11 a.m. (8 to 14 years old). You just need to bring a water bottle and racquet (if you have one) to enjoy this sport that is good for the mind and body.
| | | |
| --- | --- | --- |
| | | "During the summer, we stay up late to watch movies in the park with my grandma." - Tristan McArthur, 6 |
Enjoy an outdoor movie.
Staying up late + glow sticks and goodies from the Kiwanis stand + snuggling under blankets + enjoying a good flick with friends = a perfect summer night in Liberty Lake. Sponsored by Friends of Pavillion Park, the line-up for this season's movies in the parks includes several movies kids' love (see calendar for more details).
| | | |
| --- | --- | --- |
| | | "We go out on our boat to swim and tube on summer days. I also love the fireworks that sparkle and shine on the Fourth." - Daelyn Wiese, 7 |
Celebrate July 4th.
The Fourth of July is a favorite tradition for many community kids and adults. Decorate your bike or scooter for the mid-day parade that takes place around the Alpine Shores neighborhood and stick around to play old-fashioned games afterward. Catch the annual concert at Pavillion Park, and then "ooohh" and "aawww" over the fireworks later that night.
Explore the lake.
Adventure awaits around and in the waters of Liberty Lake. Boaters, skiers and swimmers can be found most any summer day. If you like to fish, grab a life vest and spend a day with your family catching fish. Of if you visit Liberty Lake Regional Park, build sand castles on the beach or hike up to the waterfall. Wildlife abounds in the area, so keep your eyes alert for moose or beavers.
Relax at the library.
If you need a break from the heat, cool off indoors at the library! The kids summer reading program "Dig Into Reading!" kicks off June 15. There will be special Thursday night family times and Friday morning activities in addition to Lego Club, story times and kids craft times. Look in next month's issue for more details about these activities as well as the end-of-the-summer carnival.
Be a drama queen (or king).
If you're interested in music or theater, the community has some great outlets for entertainment. There are several family-friendly concerts organized by Friends of Pavillion Park, and Montana Shakespeare in the Parks is returning for the third time to present "Henry V." If you prefer to visit an indoor venue, Liberty Lake Community Theatre is presenting "Big Bad," featuring fairy-tale characters on trial July 26-28.
Run around town.
Each Thursday at 6 p.m., the Liberty Lake Running Club invites runners or walkers of all ages to participate in a 3-mile route around town. Why not lace up your shoes, grab a family member and join in with Shock football players for a fun run and taco buffet on July 18? Or if you're interested in competing in an actual race, register for the Liberty Lake Loop on July 13.
| | | |
| --- | --- | --- |
| | | "I really love going to the Liberty Lake Farmers Market to get honey sticks and cheese pizza." - Alex Roades, 8 |
Mingle at the market.
Colorful flowers. Tasty fruits and veggies. The aroma of oven-baked pizza. Dogs of all breeds and sizes on display. The Liberty Lake Farmers Market is a sure place to engage your senses. With special events and entertainment planned throughout the season, the market is a prime place to spend your Saturday mornings.
Advertisement