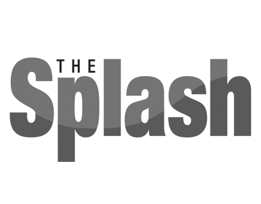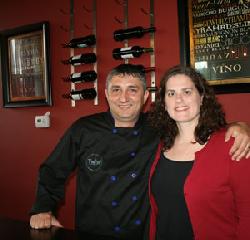 Splash Photos by Josh Johnson

Bobby and Stacy Taninchev recently purchased Twisp Cafe and Coffee House from previous owner/operator Tami Fraser. The Taninchevs are hard at work adding personal touches to the menu.


New Twisp owners focus on food
5/29/2013
By Josh Johnson
Splash Staff Writer
Bobby Taninchev is a man on a mission - and on the move.
One moment, he is talking to a reporter for this story, the next he is hustling off to the kitchen to keep things moving at Twisp Cafe and Coffee House. About to return to his seat, a diner walks in from the patio after finishing a sampling from the new menu.
Taninchev changes course to greets the customer at the door: "How was it?"
"Amazing," comes the reply.
For now, Taninchev's chief attention - and passion - is on the food he is introducing at Twisp, the Appleway Avenue destination opened by Amy Snoddy in 2009. Taninchev and his wife, Gonzaga University professor Stacy Taninchev, purchased the business from Tami Fraser in April. Fraser, who purchased the business from Snoddy in late 2011, decided to sell for health reasons.
The Taninchevs said they had been looking for a fit in the Spokane area like what they found at Twisp, but what was unique about the opportunity was that the business wasn't being sold because it was struggling. Instead of focusing on righting a sinking ship, Stacy Taninchev said the couple felt they had an established cafe with which they could impress their own stamp. To her, that means letting Bobby loose in his favorite place: the kitchen.
"He's an amazing cook; he just has a talent for it," she said. "He can just throw together whatever we have in the fridge and it is amazing. I'm also a good cook - but I use recipes. ...
"Everybody loves his food, so we're trying to put a little bit more of him into the menu."
Taninchev, who was raised in Bulgaria, where he spent years working for his family's hiking lodge and restaurant, came to the United States to study hospitality management. He met Stacy when she was working on her PhD, and instead of going back to Bulgaria, the couple was married and followed Stacy to her job at Gonzaga four years ago. The couple, who recently moved to Liberty Lake and celebrated their fifth anniversary in the same week, have a 3-year-old daughter, Maggie.
Taninchev's dishes reveal a not-too-surprising eastern European influence, Stacy Taninchev said, but she said the food he focuses most on is Mediterranean.
For his part, Bobby Taninchev was anxious to get to work on the food from day one, but the couple decided to wait a few weeks to roll out the new menu.
"I thought about changing the menu right away, but I decided to wait a while and see what people like and dislike and their habits," Bobby Taninchev said. "After about a week, I removed some items I didn't like and now have added certain items and improved the quality of the current food items."
He added that he emphasizes natural and organic ingredients.
"I'm very picky about quality," he said. "I want to serve the community with the best food, and I want people to know this is a place where you can get a healthy meal, homemade in the back."
Among the couple's initial investments have been adding greenery and decor to the patio area as well as kitchen improvements. They have also brought on new and experienced staff, another thing Bobby Taninchev said he's picky about.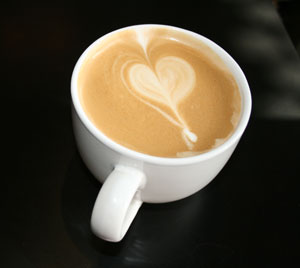 The Taninchevs have also hired a completely new team, including Alex Triplett, an experienced barista, supervisor and latte artist.
"We have to be consistent," he said. "You can't serve one person something good and the next day it is different, so I'm finding the right (employees)."
Advertisement