Demand Energy appoints Patterson CEO
Demand Energy Networks Inc., a provider of turn-key systems for monitoring, storing, and managing energy flow at the edge of the power grid, appointed Gregg Patterson as president and CEO recently.
Patterson is a veteran executive of high growth organizations in the printer manufacturing and renewable energy industries. Most recently, he was president of the Renewable Energy business at Advanced Energy, a leading manufacturer of solar inverters. As CEO of PV Powered before it was acquired by Advanced Energy, Patterson grew revenues by 16 times over four years as the company became the North American market share leader in commercial solar inverters. Prior to that, he was a vice president and general manager in Hewlett Packard's printers and digital media division.
With Patterson joining the organization, founder and former CEO Dave Curry becomes company chairman.
"Gregg has joined us at a critical time," Curry said. "He has a proven pedigree in renewable energy and a strong track record in commercializing technologies, helping businesses in high-growth markets transition from innovation to high growth, while ensuring a quality customer experience and returns to shareholders."
Advertisement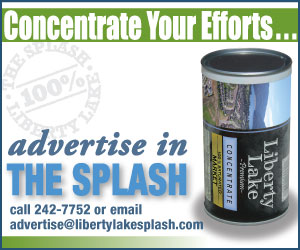 LETEM Play wins $1,500 in STCU contest
Earlier this year, 20 teams from Washington and Idaho submitted project ideas for STCU's Hundred Dollar Project, which encourages teens to "start a movement, launch an innovation, brighten a life or change the world."
Judges narrowed down the submissions to 10 that were given $100 each. The groups were required to report back with a video showing how they used that money to do good.
From April 15 through April 19, visitors to hundreddollarproject.org were invited to vote for the project they felt was most deserving of further prizes. More than 2,500 votes were cast.
Newport's Team Care Bear, which collects teddy bears for law officers and firefighters to give to children in trying circumstances, received the most votes.
LETEM Play, started last year by Katy Dolan and Philip Howard of Central Valley High School, received the second-most votes and a $1,500 prize. "Life Enhancement Though Education in Music" promotes the benefits of music education in schools throughout the region. The organization solicits donations of band instruments, which are repaired for free by Amend Music in Spokane. For more, visit www.letem.org.
To view the videos produced by the winning teams, visit www.hundreddollarproject.org
.
For more on Liberty Lake-based STCU, visit www.stcu.org
.