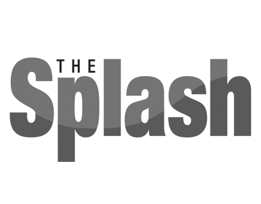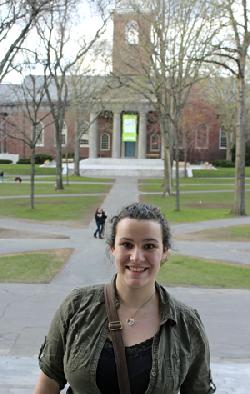 Submitted photo

CVHS Valedictorian and Liberty Lake resident Hailey Reneau visited the Harvard University campus in April – shortly after learning she had been accepted to attend the distinguished school.


Profiles: Valedictorian's next step: Harvard
5/29/2013 4:38:20 PM
By Jocelyn Stott
Splash Contributor
After a brief conversation with 2013 Central Valley High School Valedictorian, Hailey Reneau, it's really not surprising to learn she plans to attend Harvard University and study pre-med with a secondary concentration in global health policy. It makes perfect sense, actually.
According to Reneau, "I love school. I decided as a sophomore I wanted to attend an Ivy League School. I have always wanted the very best education available."
As a kid growing up in a military family, Reneau has changed schools about every three to four years. The 18-year-old moved to Liberty Lake with her family from Altus, Okla., when she was a freshman. For her, the key to keeping her grades Ivy League ready was connecting to what she is passionate about – school and involvement with public service.
Reneau's father, recently retired Lt. Col. Robert Reneau, says his daughter's work ethic has always impressed him.
"She is the most motivated person I know," he said. "… Hailey did all of her own research on schools she thought she might be interested in, navigated the application process and found many scholarship opportunities on her own."
The daughter concurs.
"I was the kid with all the college brochures – looking at each one and planning my future," she said.
Underneath Reneau's professed love for school is a passion for people of all walks, application of knowledge and justice.
"My ideal career path would be to become a doctor, work for awhile as maybe a family practitioner, do some work with an organization like Doctors Without Borders and then get into the public policy-making -- not as a politician, but an experienced expert who helps inform others," she said.
Reneau understands that making policy effectively will involve her ability to present information clearly – this is where her communications skills will come in handy.
Spirited debate is a regular event in the Reneau household, she shared. Her mom, Mysti, a liberal-leaning journalist and social services professional currently pursuing a doctoral degree, has ideas that often clash with her dad's more conservative views.
"They still get along at the end of the day," said Reneau, who identifies herself more as an independent.
This home environment had much to do with Reneau's experiences as president of the debate team (as well as a National Forensics League Academic All-American) and the Spanish Club, captain of the Knowledge Bowl team, and her service on the Liberty Lake Youth Commission.
Reneau also found time to volunteer at Deaconess Hospital and hold an internship with the Fairchild Air Force Base Public Affairs Office. Prior to her senior year, she played on the varsity soccer team and refereed for both the Inland Empire Soccer Association and Altus Youth Soccer.
A National Merit Commended Scholar, Reneau also received Comcast Foundation's annual Leaders and Achievers Scholarship Program award.
Reneau confessed that Yale was actually her first choice because she loved the campus, but she didn't get accepted; however, she said she's very happy with Harvard. In all, she applied to about 15 schools, many of them Ivy League and a few regional "safety schools," as Reneau called them, like Western Washington and University of Portland.
Born in Spokane, Reneau moved away shortly after. She also lived in Spokane for a short time as a kindergartener while her father worked at Fairchild Air Force Base as a pilot of a KC-135 refueling jet. Before his recent retirement, Reneau was stationed around the country and in England, Germany and Cyprus with his family. Reneau attended schools in England and Germany. She studied Spanish for five years because it was practical in places like Oklahoma and other Western states to communicate with her friends.
When the acceptance email came from Harvard -- "it was March 28," she recalled with a big smile -- she saw the notification on her cell phone but nervously waited until she got home from school to read it. Reneau's sister, Mariah, a sophomore at CVHS, had peeked already, but she promised not to reveal the news.
In the event the news was unfavorable, Reneau joked, "I had my Ben and Jerry's chocolate caramel-something ice cream ready."
It was the day before spring break, but everyone already heard the news by the time school started again, she said.
Perhaps where Reneau's leadership is most demonstrated is within her own family.
"Being the oldest child of a large family, I have often depended upon Hailey to be the big sister that sets an example for her younger siblings, and she has never disappointed," mom Mysti Reneau said.
Mariah concurs.
"My sister is my best friend and my competition. I'm so proud of her. With the bar she sets, I just want to do better. Now that she's going to Harvard, I might have to one-up her and go to Yale," she joked.
The Reneau household also includes twin 11-year-old brothers, Joshua and Noah. They're not too focused on college yet, but one is talking about the Air Force Academy already, Reneau said.
Reneau visited the Harvard campus in Cambridge, Mass., for an April event called Visitas -- a word play on the University's slogan, "Veritas" (Latin for truth) -- but the event was canceled due to the Boston Marathon bombing and ensuing manhunt. Since she had already traveled so far, Reneau took a look at the campus anyway.
Looking ahead to the school year, Reneau said she is most nervous about all the people she will meet and that they will be more accomplished when she arrives for the school year Aug. 19.
Indeed, the caliber of Harvard students can understandably be intimidating. According to recent statistics, only 7 percent of applicants are accepted. Of those admitted, 75 percent have a grade point average of 4.0. Notable graduates include John Hancock (of Declaration of Independence signature fame), Ralph Waldo Emerson, Helen Keller and T.S. Elliot – just to get started. Harvard has graduated the most U.S. presidents of any university (eight), including current President Barack Obama.
At Harvard, Reneau is most looking forward to the pursuit of her passion, which has always been to learn.
"I'm excited to be educated by others – people who are going to change the world," she said.
Advertisement