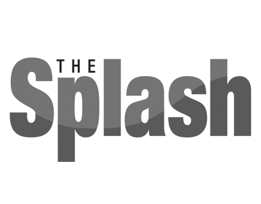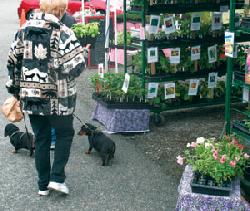 Splash photos by Steve Christilaw

Complete with familiar sights, sounds and smells, the 2013 Liberty Lake Farmers Market opened May 18 and will continue Saturdays into October. The market has been a Liberty Lake tradition since 2001.


10 reasons to 'market'
5/29/2013 4:33:35 PM
By Steve Christilaw
Splash Contributor
The Liberty Lake Farmers Market opened for the 2013 season on May 18.
The skies were overcast and rain sprinkled the area, but it wasn't enough to dampen the fun of Saturday mornings at the market.
As if you needed it, here are 10 things to love about the Liberty Lake Farmers Market:
1. Atmosphere.
Open-air market dates back to the earliest days of civilization. They were "The Mall" long before the mall was invented. It's a celebration, complete with good music and great food. And there's an added benefit. By taking part in the market, you're supporting local farmers – your neighbors – grow the healthiest and best quality food to put on the table for your loved ones. That alone is reason enough to love Saturday mornings at the market.
2. Locally grown, organic produce.
There are studies that show that organic fruits and vegetables are healthier for you. Judge for yourself. You won't need a scientific study to tell you that fresh, organic food just plain tastes better – your taste buds will give you all the proof you need.
Moreover, you'll find more varieties of familiar produce at the market – heirloom varieties in every hue imaginable. Best of all, it's all fresh from the vine. The farthest away this produce comes is the Yakima Valley.
3. Starter plants.
Early in the season you'll find leafy, green plants ready for transplant – giving your garden crop at least a month's head start. Whether you're hunting for flowering plants, berries or veggies, these plants make anyone look like they have a green thumb.
4. Good eats.
The good stuff doesn't just go into the garden. Some of it goes right into you. Whether you're craving a spicy treat or your sweet tooth needs a fresh crepe filled with your favorite filling, the market offers some great street food.
5. Crafty stuff.
Farmers don't just grow stuff, they make great stuff, too. They make and preserve great stuff, like salsas, in every heat range. They harvest wool and spin it into yarn, then turn that yarn into incredible hand-made clothing, from socks to caps.
6. Meat.
The Suzy David's Cattle Company is a family farm at the base of Mt. Saint Michael in North Spokane where they raise a small herd of Angus, Hereford and Limousin cattle. They do not treat their cattle with hormones, antibiotics, steroids or additives, but they do treat them with respect and raise them using low-stress techniques. The cattle feed on grass that is not treated with chemicals and supplement that diet with locally raised alfalfa hay. The result is naturally lean, grass-fed beef that is full of flavor.
7. Bees
-- local bees, to be exact. Beekeeper Mark Mazurik keeps his sales pitch simple: Support Spokane Valley bees. His company, Ormond Valley Apiaries in Otis Orchards, covers the spectrum of all things bee. He produces a delicious honey made from Spokane Valley blossoms by Spokane Valley bees. He produces products made from beeswax and offers pollination services to area growers.
8. Mushrooms!
Josh Yake owns Gourmet Foragables & More – a familiar name in upscale restaurants around town. He scours the forest for edible goodies like fiddlehead ferns and wild ramps and asparagus, huckleberries, blackberries and blackcap raspberries. More impressively, he finds gorgeous morel mushrooms that cry out for a buttery sauté, a sprinkle of salt and a quick tossing with pasta. Morels are delicate, perishable and resist cultivation, so the only way they find their way to a table near you is to have someone hunt for them in the forest – and thankfully, Yake loves doing just that. As he finds them, he promises to have coral mushrooms, and in the fall he'll have chanterelles, matsutake, lobster and honey mushrooms, all foraged from the forest. In addition, he cultivates lovely, large oyster and shiitake mushrooms. Mushroom lovers will rejoice.
9. Farmers.
Getting to know the person who grows and produces the food you put on your table is a very good thing. Growers like Sue and Paul Puhek of S&P Homestead Farm love it when their customers ask questions about the produce they grow and bring to market. They can tell you about the fertilizer they use, or about where the seeds come from and where they were developed. They can tell you about the heirloom varieties of vegetables they grow that you simply cannot find in a supermarket. You'll find out that they're knowledgeable about the things they grow, have some great ideas on how to prepare and serve them, and most of all that they have a passion for growing wholesome, healthy and organic products for your table. It's what neighbors do, right?
10. Pizza!
Yes, pizza. Caught you by surprise with this one, right? But Seth Corey's Veraci pizza oven turns out the most incredible pie, and they do it right before your eyes in a hand-made, apple-wood fired clay oven that bakes at temperatures between 850 and 1,000 degrees Fahrenheit – meaning the whole process takes about 90 seconds from beginning to delicious end. On opening day, they featured a specialty pizza made with fresh mozzarella cheese and slices of prosciutto. Once it came out of the oven it was topped with a handful of fresh arugula. The slight char on the dough adds just the right flavor to a delicious treat well worth a trip to the market for an early lunch!
Advertisement