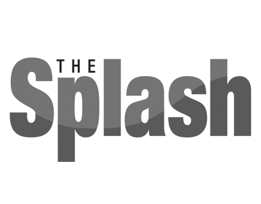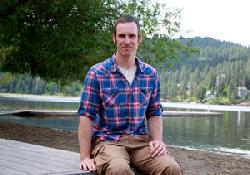 Splash photo by Craig Howard

Wisconsin native Jeremy Jenkins was hired in April as the new lake protection manager for the Liberty Lake Sewer and Water District. Jenkins' last stop was with the Idaho Department of Environmental Quality, where he worked on the Coeur d'Alene Lake Management Plan.


More News
A Cup of Joe: From land to lake
5/29/2013 4:30:59 PM
By Craig Howard
Splash Contributor
Don't get Jeremy Jenkins started on the interstate feud of lake superiority between Wisconsin and Minnesota.
While the home of Bob Dylan, the Vikings and Best Buy professes to be "The Land of 10,000 Lakes," Jenkins' native Wisconsin may have their neighbors to the west surpassed in the overgrown pond arena, depending on your definition of "lake." By some accounts, the land of cheeseheads, Vince Lombardi and Kraft Foods boasts more than 15,000 lakes.
These days, Jenkins is concentrating his attention on a lone lake that serves as the namesake of his new employer, the Liberty Lake Sewer and Water District. He was hired in April as LLSWD lake protection manager, becoming only the second full-time employee to hold that position in the utility's 40-year history. Jenkins took over for BiJay Adams, who became the district's general manager in March.
More than 20 applicants inquired about the lake protection manager job. The list was whittled to 15 and then to three. Adams called the process "very difficult," saying "there were a lot of qualified candidates." Jenkins, who was working with the Idaho Department of Environmental Quality and spent time as a science technician on the Lake Coeur d'Alene Lake Management Plan, was awarded the position and started in early May.
"He's very personable and had good experience," said Adams. "Plus, he came from technical programs."
Jenkins has bachelor degrees in geographic information sciences and geoscience – environmental analysis from the University of Wisconsin-Stevens Point. He later earned his master's from the University of Idaho in geography. While in Moscow, Jenkins also worked for the U.S. Forest Service.
The Splash caught up with Jenkins recently to learn more about his migration from Wisconsin to Idaho to Liberty Lake as well as the finer points of lake management, water resource education and cheese-themed headgear.
Q: You're taking over for someone in BiJay Adams who served as the first and only full-time lake protection manager in the district's history. In what ways do you think you'll be similar to your predecessor and how do you plan to carve out your own identity as "keeper of the lake"?
A: First off, I would like to thank you for giving me this opportunity to introduce myself. I feel like I am continuing the great successes BiJay had here, but also bringing a fresh perspective and diverse skillset to the table. As to how I will carve out my identity, I plan on being active in the community, engaged in regional water quality initiatives and available for any inquiries about our amazing water resources.
Q: Give us some general impressions of the Liberty Lake Sewer and Water District and the Liberty Lake area in your first few weeks on the job.
A: My initial impression of the area was, "What a beautiful hidden gem of a lake!"
Q: The district has established an exceptional reputation in the utility field over 40 years of operation. What did you know about LLSWD before you applied for the job?
A: I followed a similar career progression as BiJay, going from Idaho DEQ's surface water section to LLSWD. We also know some of the same regional water professionals. However, I did not know about our reputation as a utility until I came here.
Q: You grew up in Wisconsin, a state bordered by Lake Michigan to the east and Lake Superior to the north. It's estimated that nearly half of the state's land area is covered in forest. How did growing up there affect your appreciation of natural resources and caring for the environment?
A: Well, you paint the state in such a pristine light. I sometimes forget how good we have it in Wisconsin. Indeed, it is a rich place, both culturally and resource-wise. I was brought up camping and travelling around the greater Midwest with my family, so I really developed a deep connection to the natural places. I am a lifelong Boy Scout and Eagle Scout, I spent a lot of time camping around the country and learning outdoor skills. Having some of the foremost environmentalists of our day, John Muir and Aldo Leopold, get started in Wisconsin also speaks volumes about where I came from.
Q: Looking at your educational background, geography seems to be your primary field of study. In what ways might this background and knowledge benefit you in this new role with LLSWD?
A: I have always felt that there is a need for greater understanding of our problems, taking into account the place or area around us and as much other information as possible. Geography provides a more spatially-based approach to analysis, which I am excited to apply at Liberty Lake. I would like to remind everyone that geography is not just making maps. However, I am a trained cartographer and plan on making some great visualizations for use in print and electronic platforms.
Q: A significant part of the lake protection manager's job in the past has been to work with developers around the lake to ensure construction practices followed regulations related to watershed protection and stormwater management. Where do you see that partnership between LLSWD and developers right now?
A: I see the partnership between the district and developers continuing and thriving, especially since the housing market is seeing somewhat of an upswing. The work we are doing, reducing stormwater inputs, is for the betterment of our lake, and ultimately the region's water.
Q: BiJay once said that "when the water quality of the lake is good, we don't hear from people." Do you get the feeling that most folks really don't care about issues like dissolved oxygen, alkalinity and phosphorous as long as they can boat, swim and fish? And does it bother you that many now seem to take a clean, healthy lake for granted?
A: You know, most of us are not knowledgeable in every aspect of the places we live and the resources we rely upon. I accept that, and as much as I would love for every person to understand every water quality issue, it just isn't practical to achieve. My job is to help be a resource about our lake, and the larger issues faced in the watershed. If I can get somewhere between one person and every community member to change their habits to conserve and improve our water, I will consider it a success. I do plan on being effective, so stay tuned.
Q: The district has gone through quite a few changes in the last six months, particularly with the loss of longtime Commissioner Frank L. Boyle and the retirement of General Manager Lee Mellish. Do you feel like you're part of the next generation of leadership at LLSWD? And what sort of expectations come with carrying on that torch?
A: As a newcomer, I am still learning the ropes, but I do feel like the district is on the brink of moving forward and adopting technologies that streamline the services we provide to our customers. When serving such a tech-savvy community, it just is inevitable given how rapidly technology progresses. In my opinion, it just makes sense.
Q: You left your lifelong home in the Midwest after earning your undergraduate degree from the University of Wisconsin-Stevens Point. Why the migration west?
A: Well, after 22 continuous years in the "flatlands," I craved the mountains and open spaces. I was given an excellent education and taught a land ethic in Wisconsin, but also was given the itch to experience more. When I was given the opportunity to attend the University of Idaho to pursue my Master's degree in geography, I jumped at the opportunity because I had never been to Idaho or even the Northwest. Little did I know, that almost five years later, this region had grown on me to the point of keeping me here for the long haul. The Pacific Northwest is seriously one of the most beautifully diverse areas I have ever been to -- don't ever take this place for granted!
Q: The district has done great work in promoting water conservation over the years. Part of the lake protection manager's role has been to also serve as water resource manager. What are some of the responsibilities you have in the area of community outreach and education?
A: Over the past few weeks I was granted the pleasure of working with some really stellar educators from the Central Valley School District. Every fifth grade class gets to come spend a day at Liberty Lake County Park with myself, folks from Spokane County Public Works, and very dedicated volunteers. The program has been going on for almost 30 years. Some of my other duties will include working with area schools and organizations, working with conservation districts and the county and participating in regional water meetings and forums. I do plan on continuing BiJay's excellence in working with the community and beyond.
Q: Lake protection management is actually far more common in the area of the country that you're from than the Northwest. What do you recall about the care and attention applied to lake quality in Wisconsin during your time there?
A: Well, you are right, the Pacific Northwest is totally different compared to Wisconsin. While the Pacific Northwest's water is very seasonal, due to snow storage in the mountains, Wisconsin has a lot of closed systems, where there is no outflow from the lakes. This creates a problem when development occurs, as runoff is concentrated in the lake. The sheer level of lakefront developments in the Midwest first aided in employing lake managers due to increased availability of resources. That trend is moving westward as we develop our lakes more and more.
Q: I'm sure you're aware of the district's pioneering efforts that resulted in bans on dishwashing soap and laundry soap containing phosphorous. How does it feel to work for an employer that has that sort of national reputation for implementing standards that enhance water quality and aquatic life?
A: It is really great to know that actions done locally can have a domino effect in this country and catch on so fast, especially ones that can so dramatically improve our surface water resources.
Q: As an employee with the Idaho Department of Environmental Quality, you had the opportunity to work on the Lake Coeur d'Alene Management Plan. What are some of the similarities and differences between taking care of a lake of that magnitude and Liberty Lake?
A: You know, methodologically the problems are similar – reduce nutrient input to maintain the balance between the food web and plant and algae growth in the lake. Coeur d'Alene Lake has an additional element we do not have to worry about, luckily, the heavy metal contamination from historical mining in the Silver Valley. As you mentioned, the difference in magnitude is also significant. Where the Liberty Lake watershed is only about 14 square miles, the Coeur d'Alene watershed is 3,700 square miles. Applying new practices and procedures in Liberty Lake with a few different jurisdictions is hard enough. Imagine trying that for an area 264 times larger, and a jurisdictional quagmire of federal, state, county and tribal boundaries.
Q: Finally, you're from Wisconsin, so we have to ask. Have you ever had the occasion to don an official "cheesehead" hat?
A: Yes. It is practically a way of life in "America's Dairyland" to wear articles of clothing which look like cheese. If you ever watch a Green Bay Packer's home game, watch when they pan across the stands, it is not uncommon to see any of those outfits on someone in a given day – regardless of the season.
Advertisement