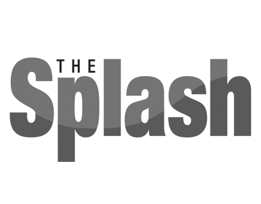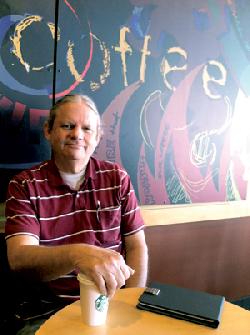 Splash photo by Josh Johnson

When he's not on the go with his volunteer work, Pat Dockrey can often be located at his corner in the Liberty Lake Starbucks, reading a science fiction novel.


More News
A Cup of Joe: The give-back machine
4/24/2013 2:22:34 PM
By Josh Johnson
Splash Staff Writer
Name a local cause, and there's a better-than-average chance Pat Dockrey's fingerprints will be all over it.
The Liberty Lake Kiwanis Club? He's a charter member who has been instrumental in dozens of projects over the years, including leading the charge for the club to take on the yard sale three years ago when it was in need of an organizer. In 2014-2015, he will serve as the Spokane district's lieutenant governor.
The municipal library? He is the last founding member remaining on the Foundation board.
Pavillion Park Skate Park? After repeated attempts to get it built, people close to the project will say it happened because Dockrey stepped in and made it so.
Advertisement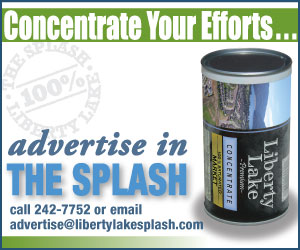 Food for Thought backpack program? He's the founder and now sits on the board of Spokane Valley Partners, which serves as the umbrella organization serving the program.
The newly formed Valley Homeless Network? He's been in on the discussions from the ground floor.

Friends of Pavillion Park events? He's the guy with the ponytail who handed you your cotton candy.
And that's just scratching the surface. The guy has even been a certified ham radio operator since 1962, and he helped coordinate emergency response efforts for some of the Inland Northwest's most infamous natural disasters, including the 1991 Firestorm and 1996 Ice Storm.
And a lot of this took place before Dockrey retired in 2009 at age 62 from the company he owned for years, Dockrey Mechanical.
Amidst conversations about finalizing details for this year's 20th annual Liberty Lake Community Yard Sales, The Splash sat down with Dockrey recently to learn more about his heart for giving back and the causes that are close to his heart.
Yard sale registration
now open
20th annual installment to land in Liberty Lake June 8

From Staff Reports
Registration is now open for the 20th annual Liberty Lake Community Yard Sales. This year's event, which sees hundreds of Liberty Lake homes peddling wares on the same Saturday, will be held from 8 a.m. to 4 p.m. June 8.

For the third consecutive year, the event is being organized through a partnership between the Liberty Lake Kiwanis Club and The Splash. All registration fees support the Kiwanis Club, which reinvests money raised during the event into the community.

Registration for $10 is available at www.libertylakesplash.com/yardsales or for $15 via a form on page 30 in this month's Splash.

Judging from years past, organizers are expecting more than 200 registered homes this year - and many more that will likely open their garage door the day of the event without registering.

"The Kiwanis Club does so much to make this event possible - everything from port-a-potties to advertising and a hundred details in between - I sure hope people who participate take the time to pay the $10 fee," Splash Editor and Publisher Josh Johnson said.

Once again this year, the Kiwanis Club has also arranged for a truck from the Arc of Spokane to come around Liberty Lake June 10-11 to pick up items that didn't sell.

This year, the event will also be made possible through event sponsors, including presenting sponsor Liberty Lake Portal and major sponsors George Gee Automotive, Greenstone Homes and North Idaho Dermatology.

As presenting sponsor, Liberty Lake Portal will also serve as a northern hub of sorts during the event, offering a limited amount of free space to residents and businesses who want to hold a sale in their parking lot. The Portal will also be providing free treats, drinks, restrooms and parking.

Those wanting to hold a sale further from their garage may also return to Pavillion Park. For the first time last year, the Kiwanis Club blocked out space for individuals to set up sales the day of the event along Country Vista Drive. That fee is $50, $35 of which is refunded after the sale is cleaned up.

Commercial vendor locations at Pavillion Park along Settler Drive are also available for $50. Nonprofits and sponsors are eligible for free spots in the park.

For more information on being a commercial vendor at Pavillion Park, contact Pat Dockrey at 926-3198. To inquire about the free options available at the Liberty Lake Portal, call Steven Daines at 343-0103. For general registration information, visit www.libertylakesplash.com/yardsales, write yardsales@libertylakesplash.com, call 242-7752 or check out the full-page ad on page 30 of this month's Splash.

Q: You're one of a handful of charter members still remaining from 2001 when the Kiwanis Club of Liberty Lake first got going. What appealed to you about being a part of the club at the time?
A: Oh, I didn't want to join the Kiwanis Club. Honestly. Here's how it all happened. I had worked with a guy that was a member of the South Hill Kiwanis. We were professional friends, and he was a water treatment guy and we had him do all of our refrigeration that sometimes involves water treatment stuff.
... About 2000, he came to me and said the Martin Luther King Center was thinking about putting in air conditioning, so I went up there and all these little kids and it must have been 95 degrees in there.
... I said, "These guys need some air conditioning," so I went down to our supplier, and I think we put in two 10-ton AC units. I donated it, and the South Hill had a thing and gave me a plaque. As it turns out, they were just starting a Liberty Lake club, and (wife) Linda was with me and sort of thought that sounded interesting ... and I let her talk me into it and we came out and we joined.
I didn't do much for a while, and then slowly I found out that I really did like being in a service club.
Q: Twelve years later, the club has certainly grown gained quite a reputation for investing in Liberty Lake.
A: Right now, we are the second largest club in Spokane County and the second or third largest budget. And we work hard for it.
It's like anything, if you work hard for something and attain it, it feels good.
Q: But you are not only working hard, you are working quite a lot.
A: I do - 20 hours a week at least, and that's with no events. ... I may be too busy.
Q: How has the growth curve continued for the Food for Thought program you began to provide weekend meals to students who may not have them otherwise? It seems like everytime I ask you, the number has grown.
A: We started out with three students three years ago, and we do 115 now each week in 10 schools. And that will be a good number till the end of the year. We've actually pretty much stretched out the resources with Valley Partners to the limit right now. We've had issues of not having enough of certain commodities within the past couple of months. But we do have some money, so we've been buying some things, too, so that helps.
Q: You're involved in so many things. Do you have any benchmark that helps you decide on the things you will get involved with?
A: Have you heard of the Jewish approach to charity? Their are eight levels of giving. The first level is you have to go hit a guy over the head to get the money. The top level is charity that allows the person receiving the charity to at some point no longer need it - you know, give a man a fish or teach him how to fish.
Q: The club is now in its third year running the yard sale. How has that experience been?
A: We didn't want to let it get away. We understood we were taking on a responsibility.

... This is just our third year, so we're still figuring things out, but I thought that considering how awful the weather was last year, it went pretty well. The weather can't be worse.
Q: There's a lot of people with time on their hands. What have you found about giving back that keeps you going?
A: I just think it's very satisfying. It sounds so corny to say, "Well, you have to give back to the community," and I think people give back a lot. You know, the most important thing anyone can do is have a job, raise a family and be a good father, a good mother, a good citizen. And that's all your life you do that.
When you get to be 65 or 62 - I retired at 62 - then you keep doing all those things but you have time then to reach out.
When a new member comes to the club, I always try to talk them a little bit and say, most people have things in the back of their head about helping or doing. I say, "Here's your chance to do that. We have money, we have volunteers, we have people who will help you do this, so please bring these things to us."
Q: In closing, what's one of the latest requests you've been responding to?
A: (In the Food for Thought program), several nurses have approached me about when the kids come in Monday and haven't eaten very well or slept very well, they would like to give them little packages of energy bars. ...
Teachers and counselors often pay (for these things), and I'd rather have teachers spend money on school supplies instead of breakfast bars because of hunger.
The community, I think, should be responsible for feeding their children. And you can quote me on that.