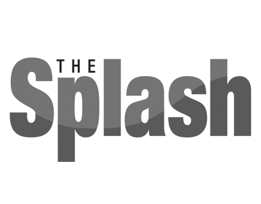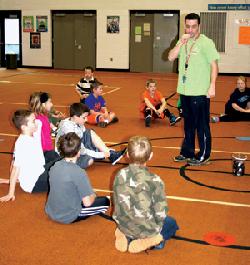 Wave photos by Tammy Kimberley

Justin Collyer, health and fitness teacher, explains an activity to students attending Greenacres Elementary School's Fit for Bloomsday Club.


In the May Wave: GES Club mixes fun with fitness
4/24/2013 12:19:25 PM
The Wave is a special section just for kids,
geared toward children in kindergarten through fifth grade

---
By Tammy Kimberley
Wave Staff Writer

On an early spring morning, students from Greenacres Elementary School quietly file into the school gym, drop their backpacks in a pile on the stage and start stretching in the middle of a room. A sleepy calm blankets the room … with the exception of health and fitness instructor Justin Collyer's enthusiastic welcome and instruction to check the entry task board.

But a few minutes later after the blow of a whistle, energy ramps up as the GES Fit for Bloomsday Club kicks into session. Fit Club, as it's commonly called, provides GES students a free weekly exercise opportunity to prepare them for Bloomsday or provide a way to be active alongside friends.

Greenly O'Brien, who recently got new shoes in preparation for Bloomsday, said she doesn't mind getting up early to join with her classmates in preparation for the big race.

"I like to play games with my friends at Fit Club," said Greenly, 9. "I've done Bloomsday with my grandpa for two years, and I'm planning to do it again."

Advertisement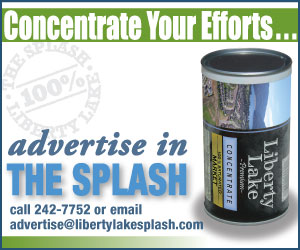 Fit Club, which has been meeting Tuesday mornings since February, is made up of about 70 students in kindergarten through fifth grade. The Bloomsday Club at GES is geared not just for runners, but to show kids a variety of ways to get their hearts pumping.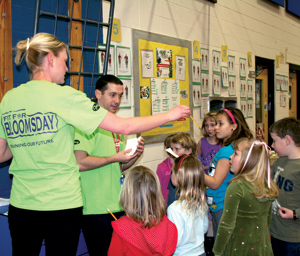 Wave photos by Tammy Kimberley
Shanna Garnsey, third-grade teacher, assists Justin Collyer with checking in students and recording their steps at the end of what students commonly refer to as "Fit Club."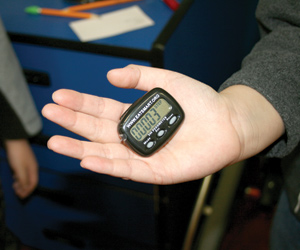 GES students often wear pedometers that track how many steps they take during the morning's activities.
On this particular day, they played partner pin down, a game where students protect bowling pins from balls kicked by other players. While waiting their turn to get in the game, Fit Club participants jog in place along the sideline and help shag loose balls. It's an intentional shuffle that keeps the kids constantly moving.
"Kids are able to do activities and athletics they normally may not try or think could be fun," Mr. Collyer said. "They see that exercise is fun and beneficial and not a chore."
First-year Fit Club participant Joel Patrick, 8, said he is possibly running the Color Me Rad race with his mom in June. He enjoys it when the students wear pedometers, which is quite often, during Fit Club.
"I really like running and seeing my score on the pedometer," he said. "It makes me happy when I see how many steps I got."
The main reason Mr. Collyer and third-grade teacher Shanna Garnsey run the club is to encourage kids to learn about their health as well as work toward the 60 minutes of exercise recommended for kids each day. He said research shows that exercise before school improves the academic performance of students as well.
Gracie Sutton, 9, said the training helps her prepare for Bloomsday and keeps her in shape for basketball. Kaitlin Melby, 10, said she simply enjoys talking and hanging out with her friends while exercising to good music while in the club.
"When the music is on, I run better," Kaitlin explained.
Mr. Collyer said he loves that the club provides situations where students can use teamwork and cooperation, especially for students who may not have the money to join a sports team.
"Lots of kids (like adults) just seem to reply, 'I don't have time to exercise' because they think you have to be a part of a team to do it," he said. "Programs like this show kids a lot of ways to get exercise with just a few friends."

---
Run for Fun!
Check out some local races that area kids are welcome to enter:

Bloomsday
Sunday, May 5 at 9 a.m.
Downtown Spokane
This scenic 12K race involves more than 50,000 runners, joggers and walkers. All participants receive the coveted T-shirt to show off the next day.
For more: www.bloomsdayrun.org

Color Run
Saturday, June 15 at 8 a.m.
Spokane County Raceway (Airway Heights)
The color bombs will fly as runners get plastered with paint, making it look like "a kindergarten art class gone wrong." Kids can run along with a parent; age 7 and under run for free!
For more: www.colormerad.com

Liberty Lake Loop
Saturday, July 13 at 8 a.m.
Pavillion Park
The scenic, 4-mile course includes several hills and breathtaking views of Liberty Lake. The kids' races will be held immediately following the adult race.
For more: www.pavillionpark.org

Perks of picking up the pace
You don't have to have fast feet in order to enjoy the benefits of running. All it takes is a decent pair of shoes, nice weather and a positive attitude to discover how running can help your overall health. Listed below are six good reasons why you might want to put down the video game controller, shut off the TV and head outside for a run.
Running gets your heart pumping. Participating in aerobic exercises like running on a regular basis helps your heart get stronger and better able to deliver oxygen to all parts of your body.
Running builds your muscles. Running helps your leg muscles build strength and gives you the ability to do powerful things. Running a few times a week is the perfect way to get your legs and lungs in shape for another sport, such as basketball or soccer.
Running encourages flexibility. It's important to develop flexibility so that you can move your arms and legs without feeling pain or tightness. Doing simple stretches, such as touching your toes or side stretches, can help you in many physical activities, including running.
Running can make you smarter. Some studies have shown that getting as little as 30 minutes of aerobic exercise each day actually improves memory and creates new brain cells. This can lead to better being able to memorize information and remember items.
Running leads to discovering new places. The great thing about running is that your own two feet can take you to exploring the neighborhood, the woods or a local trail. Just be sure to take an adult along or tell them where you're going.
Running helps you feel good. When you do physical activity, your brain releases endorphins. This natural chemical in your body often makes you feel happier. Sometimes people refer to this as "the runner's high." Combine that with being outdoors and away from school or homework - it's a win-win!
Sources: www.kidshealth.org/kid, www.run.isport.com/running-guides. For more on the benefits of running, visit www.bloomsdayrun.org/fit-for-bloomsday/cool-links.