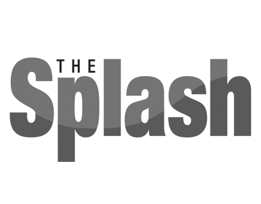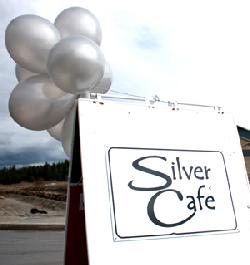 Splash photo by Craig Howard
In the April Fountain: Silver Café bids adieu to City Hall, begins weekly schedule at Talon Hills
3/27/2013 11:57:24 AM
The Fountain is a special section
about and for Liberty Lake seniors

---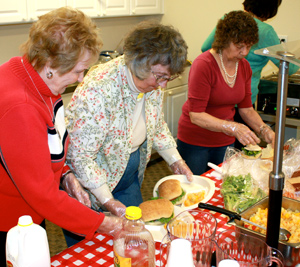 Splash photo by Craig Howard
Over 30 people gathered for lunch at the Silver Café in the Talon Hills apartment complex on March 20. The site, sponsored by Greater Spokane County Meals on Wheels, had been operating three days a week, but now will run a Monday through Friday schedule, absorbing two days previously hosted at Liberty Lake City Hall.

---
By Craig Howard
Splash Contributor

June Hill arrived at the Talon Hills apartment complex on the third Wednesday in March with a tinge of nostalgia for a building a few miles to the southwest.
For nearly seven years, Liberty Lake City Hall was host to a Meals on Wheels lunch site - known as the "Silver Café" - for area seniors, starting with a Wednesday gathering and later adding Mondays. Last June, Talon Hills, an affordable residential site on Appleway, began providing meals on Tuesday, Thursday and Friday of each week.
Due to a variety of circumstances, from a parking shortage to municipal meetings hedging up against the lunch hour, the Liberty Lake version of the Silver Café has now moved to Talon Hills on a full-time basis. Seniors are now welcome Monday through Friday in a spacious area adjacent to the community room. The Silver Café is open from 11 a.m. to 1:30 p.m., with the last meal being served at 12:30.
Advertisement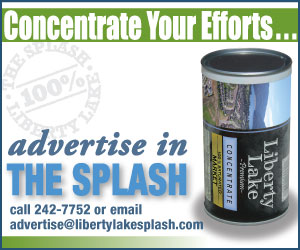 "I was a little disappointed in a way, but this place is very pleasant," said Hill, a resident of Liberty Lake. "It sure beats cooking when you live alone. The food is good. We've got to give credit to the cook."
Lori Montgomery works as marketing director for Whitewater Creek, the property management company that owns Talon Hills. She first started hearing about the Silver Café's potential move to Talon Hills in 2010. Montgomery said that usually between a third to half of the lunchgoers are residents of the complex. Others come from Liberty Lake, Otis Orchards and Spokane Valley.
"It's worked out really well," Montgomery said. "We've been trying to get the word out to all the seniors in the area that we're out here, and it's open to all the seniors."
Close to 20 parking spaces are located conveniently in front of the building. Permanent signs point the way to the venue. Montgomery said a lease is in place between Whitewater Creek and Meals on Wheels, though there is no cost to the nonprofit agency.

"We know it helps the seniors," Montgomery said.
Joanne Marabello works as one of two site managers at the Talon Hills venue, overseeing the festivities on Tuesday, Thursday and Friday. She started volunteering last summer when the Silver Café opened at the complex and transitioned into the role of site manager on Oct. 1.
Silver Café site managers are responsible for making sure each lunch site runs smoothly. Duties include setting up the lunch venue, ordering supplies, recruiting volunteers, completing the required paperwork and processing any money that is collected.
The food is prepared at the Meals on Wheels kitchen and transported out to Liberty Lake in time for lunch. The salads are always cold and crisp while the entrees are toasty on arrival. The menu always features vegetables and usually a soup of the day. There is a recommended donation of $3.50 per meal, though, true to the Meals on Wheels credo, no one ever goes without if they are unable to cover the bill.

"If they don't have it, they don't have to pay it," Marabello said. "Here, it depends - some days we have 25 percent who pay the full amount, other days it may be 70 percent. No one knows who pays and who doesn't."
Along with a nutritious lunch, the site is home to plenty of friendly conversation and laughter. The city of Liberty Lake has donated a large-screen television, Wii console and games (bowling has emerged as the most popular selection) as well as a variety of board games.
"I know for a fact that some of the people who come to Meals and Wheels don't come to our activities at Talon Hills," Marabello said. "A lot of them say the reason they're here is because of the socialization."
Michelle Griffin, parks and recreation coordinator for the city of Liberty Lake, said there is hope of utilizing the Talon Hills site for more senior programming. The list could include everything from fitness classes to financial seminars.
Last April, the city added a shuttle bus for seniors to its municipal fleet, courtesy of a grant from the Spokane Transit Authority. Over the past year, the van has been used to transport groups everywhere from the Spokane County Fair to the orchards of Green Bluff. Now the bus is parked at Talon Hills and will be driven by employees there while the city covers the cost of gas, maintenance and insurance.
"It makes more sense to have it out there," Griffin said.
As for the relocation of the Silver Café to Talon Hills, Griffin said the facility "is just a better all-around space for seniors."
"I think it's a win for everyone," she said. "You have three organizations in the city, Talon Hills and Meals on Wheels that are working together to make sure we take care of our seniors."
Suzi Walden served as the site manager for the Meals on Wheels location at Liberty Lake City Hall from the time it launched in September 2006. She said the municipal building will be remembered as a welcoming and comfortable setting during its tenure.
"It started out great, and we continued to grow every year," Walden said. "We have a lot of snowbirds, so in the wintertime, our numbers would go down a little bit, but we'd have as many as 35 people at City Hall for meals. People loved going to City Hall. It was centrally located for most of the people."
Walden said the permanent shift to Talon Hills has been more difficult for some than others.
"I think it's going to be wonderful, but you have to look at a senior - we don't like change," she said. "That is home to them. There were some people who said, 'We feel like family here and that's not the way it's going to be over there.' There were some concerns about parking, but it hasn't seemed to be a problem. I haven't had anyone say anything. I think it will be a great transition."
Alice Cart was part of the original crowd that gathered at City Hall from day one. She began coming to Talon Hills last year when the schedule increased to five days a week.
"It seems to be working out pretty good," Cart said. "I didn't want to leave City Hall. It was so comfortable and they were so gracious. I really liked it there and I'll miss it, but this is lovely. I like the hospitality. The people I've met here are like family."
Sarah Robertson, development associate for Greater Spokane County Meals on Wheels, was in attendance at Talon Hills on March 20. She said the first Wednesday gathering away from City Hall appeared to garner impressive reviews.
"It looked very fun and festive," Robertson said. "People seemed happy to have a place to call their own. I think people were impressed with the space. I think it's great that Talon Hills and the city of Liberty Lake are so supportive of Meals on Wheels and seniors in general."

To learn more about the Liberty Lake Silver Café, shuttle bus or senior programming, contact Michelle Griffin with the Liberty Lake Parks and Recreation department at 755-6726.