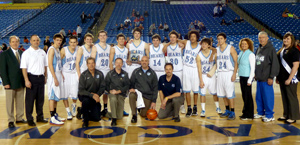 Submitted photos by Shaun Brown
The 2012-2013 Central Valley High School boys basketball team celebrate their fourth place finish at the State 4A tournament in Tacoma March 2. The Bears finished the season with a 24-3 record.

Many fans traveled from Liberty Lake and Spokane Valley to cheer on the Central Valley Bears boys basketball team, which played in the Tacoma Dome during the State 4A tournament Feb. 28 to March 2.