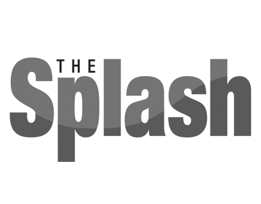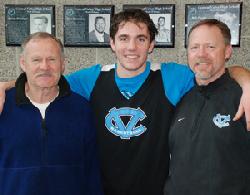 Submitted photo

From left, Ron Sr., A.J. and Ronnie Knudsen represent three generations of Liberty Lake residents and Central Valley High School athletics. The plaque between grandfather and grandson honors Ron Knudsenís January addition to the CV Wall of Fame. A.J. currently plays for the state tournament-qualifying Bears, while Ronnie, a former standout himself, serves as a CV assistant coach.


CV sports run through the blood of Knudsens
2/27/2013 11:04:24 AM
By Mike Vlahovich
Splash Contributor
A.J. Knudsen has not only increasingly become a cog in the Central Valley machine that won its second-straight Greater Spokane League basketball championship and is playing in the state tournament Feb. 28 through March 2 in the Tacoma Dome, but he also carries with it his family's enduring athletic legacy at the school.
The Knudsen name is inextricably linked with Liberty Lake beginning from the late 1800s, when A.J.'s great-great grandfather homesteaded there. And there the family remains five generations later.
Add Central Valley High School to the link, because for some six decades, there has been a Knudsen athlete or coach in CV sports.
The 6-foot-1 junior's grandfather, Ron Knudsen, played in the mid-1950s and then taught and coached three sports at CV for 30 years, including seven as the head basketball coach before his retirement in 1991.
Advertisement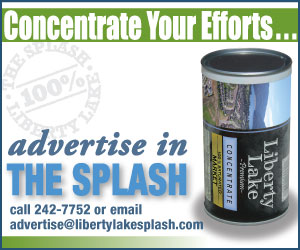 He and wife Linda's daughter and sons - Kelli, Ron Jr., Jack and Eric - were all involved in sports for the Bears in the 1970s and '80s.
Ronnie, though not a teacher, returned to CV as a Bears assistant to coach Rick Sloan and gets to keep close watch on his son. He's been there for 12 years.
Which led me to Starbucks in Spokane Valley for a sit-down over coffee with 75-year-old Ron Sr. The conversation ranged far in subject matter from a ski trip to Austria to the names of three mules he still rides on back-packing and hunting excursions weaved throughout by the thread that is Central Valley.
"I always had a horse and a dog to ride behind me," Ron Sr. recalled of his youth. "It was one heck of a horse."
A friend, Don Jacklin (of the Jacklin Seed family) sold him on the merits of mules that have packed him to hunting sites and wilderness areas as far away as Glacier Park. The eldest at 33 is "Sam Mule," who will lead Ron directly to a deer and stop short awaiting the hunt. Then there's "Stormy," born in a snowstorm and "Sadie," short for Mercedes, says Ron, "because she's a smooth ride."
As for the ski trip, that came about when his brother coerced with bargain-rate $150 round trip airplane tickets to Switzerland. Instead, for 28 bucks they skied on interconnected runs that took them to six Austrian cities.
He said a lady from Great Britain asked him, "Can you believe one family owns this? It's called the Mafia."
Somewhere in there we managed to chat about the family and its CV ties, beginning with Knudsen's own multi-sport athletic and coaching career, which led to a spot in January on the CV Wall of Fame. At times in high school he played four sports - baseball and track and field simultaneously back then.
"To tell the truth, I wasn't very good at either one of them," the Bears 1955 football quarterback and captain quips.
After college, he returned home to the CV school district and home in Liberty Lake.
It was there he had met and married Linda, whose parents rented a cabin in the summer.
"I was selling gas at dad's (Sig's) Resort," he explained. "I had to carry her gas down to her boat - I did that for everybody. When I went skiing, I always stopped at her dock. She told me she'd never move out of the city of Spokane."
She was wrong.
Knudsen's teaching career began at Greenacres Middle School. He asked to help coach football at the high school and was soon teaching there. He coached with two people he admired - CV legends Ray Thacker, who coached basketball for 30 years before Ron succeeded him in 1971-72, and Charlie Dean, who rarely lost in football between 1964 and '74.
"They were both colorful people and both were winners. I could tell stories that would blow your mind," he said. Then he did.
Kelli was the statistician while Ron coached CV to a 103-69 record and fifth place state finish in 1974. She and her husband live at Liberty Lake.
Ronnie and Jack played basketball for different coaches at CV. Ronnie was a guard for Stan Chalich. Though not very tall, he was talented offensively inside.
"Record-wise my senior year wasn't very good," he said.
Jack played for Terry Irwin. He was quick as a cat and defensively inclined, but he tore an ACL just as the playoffs loomed.
Both live at Liberty Lake not far from their parents, as does Eric.
Ronnie explained how he joined Sloan's staff.
"I loved the game, and dad made a huge impression on me," he said. "I wanted to coach."
He got his foot in the door at Evergreen Middle School. He was scouting for the Bears when Sloan asked him if he was interested in coming to the high school.
Third-generation Bear basketball player A.J. (his given name is Austin, but adopted the initials because he had been one of three named Austin on his youth hockey team) grew up playing basketball for his dad.
He is taller and darker haired than father and grandfather.
"He's one who just developed over the years," Ronnie said. "I don't think he's blessed with quick feet, but with determination, heart and character. He's having fun being a defensive guy and scoring when he gets shots."
A.J. played sparingly early in the year. As his minutes have increased, so has his scoring, to nearly 7 points per game with several double figures efforts.
Central Valley went 17-1 to win the GSL title and was 22-2 at this writing and among the eight remaining Class 4A schools preparing for the state tournament in Tacoma, where CV finished second last year.
Basketball has been a vital part of Central Valley's history, with 25 postseason trips and 14 trophies including a state title in 1968 and three second places. The girls have added 15 trips and placed 13 times with three state titles in six finals appearance.
The Knudsens have made a place of their own in CV's history as well.