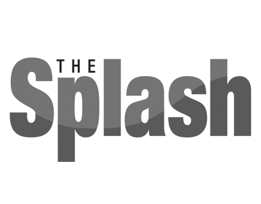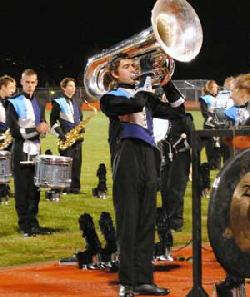 Submitted photo

Dylan Oviatt performs on tuba with the Central Valley High School marching band.


More News
Band member four-peats
12/5/2012 11:01:39 AM
By Jim Ryan
Splash Contributor

When a student receives the top honor for any accomplishment, whether for sports, academics or community service, people consider it an admirable feat. Dylan Oviatt's Central Valley High School marching band career multiplies the effect by four.


OVIATT

Oviatt, a senior and Liberty Lake resident, was voted by his fellow band members as the outstanding member of his class for the fourth straight year this fall. At the end of each marching band season, all the students in the band vote for the best freshman, sophomore, junior and senior member.

Oviatt attributes the accomplishment in large part to a difficult choice he made his freshman year: to play the tuba.

"The first year I signed up to play the tuba, which is 30 pounds and you have to hold it out in front of you; it's demanding," he explained. "So I think that was part of the reason I was chosen."

Advertisement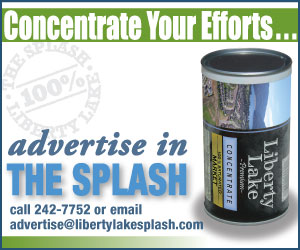 Oviatt said he chose the tuba during band camp going into his freshman year because he felt it was something he would enjoy playing.
"At the time, I was five feet tall, literally," he laughed. "It was the first day at band camp, and I had never seen a tuba before - had never touched it. I literally learned the tuba at band camp."
He again laughed thinking about that first year and the trials and tribulations of learning to play the instrument.
"The first year it was awful," he said. "I remember a couple of days I would come home crying and just knowing I was the weakest link in the chain of the band. So that was something I needed to rise to the occasion and not let everyone else in the band down. I felt like I was holding everyone back."
By his junior and senior years, he was named the section leader for the tubas.
According to Eric Parker, Central Valley High School director of bands, Oviatt worked very hard and is seen by his peers as an example of what it takes to be an excellent band member. His background to joining the high school band played a part in that.
"He was not a traditional band student in middle school," Parker said. "He was an electric bass player who had no specific role in the high school band as an incoming freshman. I told him he could learn tuba. I could tell this kid had the attitude we needed in our band, and he would learn whatever we put in his hands. He asked questions about the tuba with a little sparkle of fear in the eye."
The challenges of placing the tuba in the freshman's hands remain fresh in Parker's memory as well.
"Dylan was 'undersized' - to be nice," he said. "The tuba is heavy, large, awkward and cumbersome - not something you'd give to a little short-stack like him. But I knew he'd be too stubborn to reject the offer; I figured he'd get bigger and grow into it. Plus, we really needed a fourth tuba player."
Parker continued that he was "so wrong."
"Dylan did not grow into it," he said. "It was too heavy, too large, too awkward and too cumbersome for him. I kid you not, every student in the band felt sorry for him - every kid. Several members came to me saying they would trade spots with the poor freshman. I'm certain they all thought we were going to break him in half. Kids started calling him 'beast.' … He wouldn't quit and he wasn't going to be a poster child for group sympathy or pity. To just be average, Dylan worked harder that first year than most kids work to be great at anything. It was inspiring to the whole marching band - maybe even more so to his teachers."
Parker said that kids respect and have empathy for true overachievers. Everything Oviatt has accomplished he has worked for, and in some cases he's had to work harder to just keep up.
"Today, he is a wonderful tuba player, great bass player and also a jazz trombonist," Parker said. "But those first years were the battleground for him, to lay the brickwork for a legacy that he will be able to look back on to say that he gave to the program more than he ever took. I could never pay a higher compliment to a band member than that - to give more than you take."
Oviatt explained that the marching band puts in as much time practicing for their season as the football team. He said the band begins in mid-August and practices every day from 9 a.m. until 5 p.m. until school starts. Then they practice every Tuesday and Thursday until 6 p.m.
With all the time the practices and performances take from his life as a teenager, Oviatt said he truly enjoys the "sense of family" with the other members of the marching band.
"We go on these long trips to competitions together, and we spend lots and lots of time together," he said. "That translates back into school and other activities. … It's just a lot of really good friends working together."
For many fans who watch a marching band on television or in person at a fall football game, it seems almost impossible that the performers can keep in perfect harmony while synchronizing each step and turn. Oviatt explained that with the Central Valley squad, it all starts at band camp, where the first few days are dedicated to learning the music so that it is memorized and internalized.
He said the Central Valley marching band does more of a story-based show instead of performing pop tunes or a contemporary show. This year, the marching band chose to perform a couple of classic symphony pieces and arranged them based on the story of Little Red Riding Hood.
This year's marching band season wrapped up at the end of October. In that time, Oviatt and his colleagues not only performed at two home football games, but also participated in four competitions around the Northwest: Pasco, Spokane, Everett and at the University of Oregon in Eugene. The band took first place or won the Grand Sweepstakes in three of the four competitions. The band took second in the fourth competition.
He said the competition days have a great deal of stress associated with them.
"You have to be at the gate ready to go at a certain time," he explained. "We need this much time to warm up musically and this much time to warm up visually. It's a very big coordination effort and a lot of it falls on our director, Mr. Parker."
Members of the Central Valley High School Band and Color Guard will be heading to Washington, D.C., in January to participate in the Inauguration Music Festival and hopefully be selected to represent the state of Washington in the Inaugural Parade.
Once his student days are over at Central Valley, Oviatt hopes to attend Brigham Young University in Provo, Utah. He plans to study either pre-med or pre-dental.
"And they have a fun marching band program down there, too," he said.

---
Profiles:
Dylan Oviatt

Age
17

Family
Parents, Corie and Barb; brother, Jasen, 13; sister, Lizzy, 6

Favorite hobby
Music

Favorite holiday
Thanksgiving - because of the food