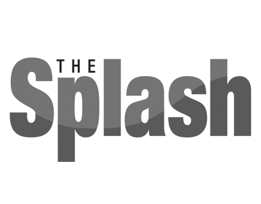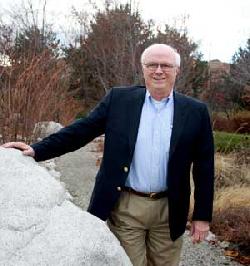 Splash photo by Craig Howard

Lee Mellish, general manager of the Liberty Lake Sewer and Water District since 1993, recently announced he will be stepping aside in March. Mellish has been a catalyst for a number of the utility's successes over the past two decades, including the construction of district headquarters and a major upgrade of the treatment plant.


More News
Mellish to cast ashore after 20 years as LLSWD skipper
12/5/2012 11:04:55 AM

By Craig Howard
Splash Contributor

Before he became general manager of the Liberty Lake Sewer and Water District, Lee Mellish consulted with a president of the United States on the subject of volcanic ash.

The year was 1980 and Mellish, then serving as Spokane Regional Health District administrator, was part of a group called upon to evaluate health hazards following the eruption of Mount St. Helens. Not long after the natural disaster on May 18, President Jimmy Carter arrived at the Spokane Airport to hear an update from Mellish and other area health officials.

"We met him and gave him a report," Mellish said. "All that dust was creating breathing problems. We were distributing masks."

While at the health district, Mellish coordinated a range of duties, from getting the word out about communicable diseases to the eradication of septic tanks. He also helped launch a senior nutrition program and rallied efforts to build new district headquarters, an achievement he would replicate years later with LLSWD.

After 27 years with the health district and a brief attempt at retirement, Mellish moved on to LLWSD in March 1993. Dan Grogg, LLSWD chief treatment facility operator, recalls Mellish and his management approach having a unifying effect on the utility.

Advertisement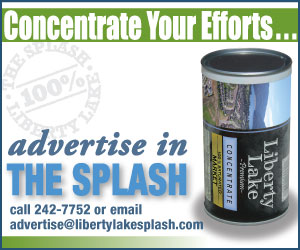 "Lee arrived at a turbulent time," said Grogg, who has worked with the district since 1983. "He is an excellent facilitator and mediator. His philosophy is to hire people to do a job, and then let them do their job."
While he may have joined LLSWD during a stormy phase, it appears Mellish will leave at a relatively peaceful juncture. Last week, Mellish announced he would step away from his role for the past two decades, effective next March.
"I bought a new fishing boat, and I have some projects around the house," Mellish said. "I'm not going anywhere, though. I'll be around to answer questions."
Mellish's institutional knowledge will be a challenge to replace, according to LLSWD Commissioner Steve Skipworth.
"Lee has always been a true professional," Skipworth said. "He brings a lot of caring and ownership to the district and how it's represented in the community."
Mellish's tenure has included a number of honors for the district, including consistent recognition from the Washington Department of Ecology. The trophy case at LLSWD central includes a collection of "Outstanding Treatment Plant" awards that is beginning to rival the display of conference championship banners at Gonzaga's home gym. Still, Mellish is quick to deflect kudos away from the general manager's office and toward district employees.
"Everyone here is not only professional, they're experts in what they do," Mellish said. "It's a lot of work to keep all that stuff running. They deserve the credit."
Mellish also acknowledged the triumvirate of LLSWD commissioners whom he described as "very supportive, not only of me, but of the district and the staff."
Tom Agnew, a commissioner for the past 13 years, described Mellish as "one of the district's invaluable, priceless commodities we are now challenged to replace."
"He'll take 20 years of experience with him," Agnew said. "It's difficult to express what he's meant to the district, and it's not without some trepidation that we'll try to replace him."
Requests for applications went out this month for a new general manager. Prospective hires will have until Dec. 24 to apply. The district anticipates having Mellish's replacement on board by mid-February 2013.
Mellish, 71, was a catalyst in the construction of LLSWD headquarters at East Mission Avenue, named after the late Denny Ashlock, one of the pioneers in the district's formation in 1973. Before the site became a reality, district administrators were housed in a cramped office on the grounds of the treatment plant. The building remains one of Liberty Lake's few community gathering places.
Other capital improvements under Mellish's tenure include a major upgrade of the treatment plant in 2006. The year prior, LLSWD set a new standard in addressing the problem of dwindling oxygen for aquatic life, banning the use of phosphorous-based dishwashing detergents. Years earlier, the district introduced a similar declaration against phosphorous-based laundry detergent. High levels of phosphorous accelerate algae growth, robbing fish of vital oxygen.
Mellish paid tribute to residents of the area for a history of advocacy that goes back to the launch of the district and a campaign that salvaged a severely deteriorating Liberty Lake plagued by toxic algae growth.
"The community is concerned about the lake and the environment," he said.
When Mellish arrived in Liberty Lake 20 years ago, the area featured one blinking yellow traffic light, a Zip Trip and a single pay phone. He said the district has kept pace with growth through an effective collaboration with Greenstone Homes and its CEO, Jim Frank. The district and the development company have worked together to distribute phosphorous-free fertilizer at no cost to property owners around the lake.
Over the years, Mellish has made sure the district has set a consistent example in areas such as water conservation. LLSWD headquarters include a xeriscaped demo-garden emphasizing landscape elements beyond turf and a water sensor that has reduced irrigation by 40 percent. The district provides similar sensors to property owners within LLSWD boundaries.
The district has also continued its legacy of lake protection under Mellish's direction, helping to initiate a yearly meeting known as the Eastern Washington Lakes Conference. The annual discussion of lake health and awareness began with representatives of half-a-dozen lakes, including Liberty Lake, and now hosts around 130 delegates in Spokane each year.
While Mellish acknowledges the district and the city of Liberty Lake have had their differences over the years - including a failed attempt by the city to take over the utility following incorporation - he says the working relationship with City Hall "may be as strong as it's ever been." The two entities collaborate on a pair of community clean-up events each year, with this autumn's leaf pickup producing 7,000 bags of fall debris.
A native of Oregon, Mellish initially thought of pursuing veterinary medicine after graduating from Oregon State University with a bachelor's degree in general science. He went on to earn his master's and doctorate degrees in public health from the University of Oklahoma.
While his first try at retirement lasted only half a year, Mellish says he is serious about devoting more time to hobbies like genealogy and fishing this time around. As for the challenges faced by the district while he is angling on a nearby lake - including another upgrade of the plant due by 2018 - Mellish said he is confident in the capabilities of a utility known for setting the watermark.
"We'll figure it out," he said. "We always have."