Cover Story: A circle of admirers
9/29/2014 2:08:40 PM
By Craig Howard
Splash Contributor
The intersection at Harvard Road and Mission Avenue once represented perilous passage for Kim Middleton.
For nine years, the Liberty Lake resident and University of Idaho employee commuted to Coeur d'Alene before being transferred to Post Falls a year ago. While she would often exit the freeway early and head home on Appleway, a trip to a grocery store in Liberty Lake meant navigating a conflux that saw an average of more than two collisions a month between May 2010 and February 2012.
"It was scary," Middleton said.
Since Oct. 11 of last year, the once-daunting juncture has become more manageable for Middleton and other motorists. It was on that day that the Harvard Road roundabout officially opened, carrying thousands of vehicles a day through a pavement version of a revolving door.
"I think the roundabout has been great," Middleton said. "It seems to really help with the flow of traffic. It's definitely less scary than it was."
A roundabout ribbon cutting on Oct. 25, 2013, tied a ceremonial bow on arguably the most talked about transportation project in Liberty Lake's brief history. A memorandum of understanding with the Washington State Department of Transportation was approved by the City Council in June 2012, although work did not begin on the roundabout until Aug. 16 of last year.
"There was a bit of concern on the ability of the roundabout to handle the traffic volume and how much more it would cost than a standard traffic light," said Mayor Steve Peterson. "The concept was great, though, and added to road beautification. I'm delighted how the project turned out and how our citizens have really embraced the roundabout. A year later, we're still receiving compliments."
The idea hits the streets
On Dec. 13, 2012, Liberty Lake City Hall hosted an open house to discuss the logistics of the proposed roundabout. Daryl Hagseth, owner of Storage Solutions, was one of several attendees to express concern with the safety of the interchange at Harvard and Mission.
"I worry about people who have to drive through that intersection," said Hagseth, who oversees storage locations on both roads.
Other issues emerged at the meeting, including the ability of semi-trucks, emergency vehicles and other large rigs to negotiate a roundabout. Meanwhile, business owners brought up the impact construction might have on customer traffic.
Looking back, Liberty Lake City Administrator Katy Allen said the site made sense for a roundabout.
"Originally, I believed that the location was ideal for a roundabout based on technical elements," Allen said. "But I knew the best test would hinge on a driver's personal experience navigating the roundabout. So on the technical side, a roundabout at this location was ideal - the geometry, the number of turning movements, the traffic counts, the accident prevention design, along with needs for pedestrian crossings."
Representatives from WSDOT pointed to safety features of the roundabout at the open house and in other discussions leading up to construction. Nationwide, fatal accidents are reduced by 90 percent and injury accidents by 70 percent when roundabouts are installed at an intersection.
To this point, the Harvard Road rendition has been no exception. In the year the roundabout has been operational, only two minor incidents have occurred, both involving motorists running up onto the circular curb.
"I've heard a few negative comments about roundabouts in general, but nearly all the comments about this specific roundabout are positive," said City Engineer Andrew Staples. "Most remarks are centered around safety. People now feel they can safely use the intersection. That wasn't the case before."
A world-class construction rally
When ground broke on the roundabout last August, WSDOT was joined on the project by primary contractor Wm. Winkler Co. of Newman Lake, a veteran of area road work. North Star Enterprises handled the channeling of traffic, an average of around 18,000 vehicles a day.
"I was a little surprised more people didn't avoid the area during construction," said WSDOT Project Engineer Darryl McCallum. "That meant using more flaggers and more traffic control."
Anderson Masonry was on the job to install the distinctive brick wall that includes a city gateway sign visible to westbound motorists entering Liberty Lake from Interstate 90. The landscaping and foliage in the center arrived courtesy of Mike Terrell-Landscape Architect, known for work on area greenspaces like Pavillion Park and Greenacres Park.
"I was campaigning during the roundabout construction and received mixed thoughts," said Council Member Hugh Severs. "But since it went in, I've heard nothing but praise for how well the roundabout looks and functions."
An army of subcontractors brought their respective expertise to the project. The list of contributors included Inland Asphalt, Central Pre-Mix, Spokane Rock Products, Eller Corp., Porter Yett, Road Products Inc., Trecon, Colbico Electric and Ace Landscaping.
Staples said the city's main concerns going into the project were "increased safety, greater capacity and cost."
"The roundabout addressed those issues," he said. "I'm more strongly in favor of roundabouts in commercial areas than I was before."
No detour on thriving commerce
When auto magnate George Gee attended the roundabout open house, he described the project as "a solution" for his three dealerships on the north side of the freeway near the Harvard/Mission interchange. Gee also expressed hope that the two months of construction would not impede the flow of car shoppers.
While he said there were a few bumps in the road, Gee reflects on the response of WSDOT and the city as "very positive overall" in terms of reducing impacts on surrounding businesses.
"There were a couple of Saturday closures and we were at City Hall at 8 a.m., Monday morning to talk about it," Gee recalls. "I was pleasantly surprised. They worked very well with us."
A year after the roundabout went online, Gee describes Liberty Lake's transportation landmark as "phenomenal."
"I'd seen how successful they've been on the west side of the state," Gee said. "This has been great for customers. I think it's beautiful. I love the way they've decorated it."
Hagseth said he heard "the occasional comment" from customers who were anxious for the project to wrap up, although no one indicated that they avoided Storage Solutions because of the ongoing work at the intersection.
The funding traffic jam
Nearly six months after the roundabout opened, City Council was still clogged in a debate with WSDOT over the final cost of the project.
In March, Allen reminded the governing board that the agency's management fee was still being billed at $249,000, a hike over the original estimated price of $192,629.
Eventually, the city agreed to a payment that sapped all the contingency funds set aside for the project. The city did save $2,800 on the WSDOT bill by taking over maintenance of the landscaping on the roundabout earlier than scheduled.
McCallum, who moved on to be a project engineer on the North/South Freeway project in April, said estimating management fees on a project "is always a challenge when you have to make adjustments in the field." The heavier than anticipated vehicle volume meant higher traffic control costs, McCallum claimed, particularly if the project was to remain on schedule.
"With traffic control, there's an understanding that you're providing your best estimate at the start," he said. "You have to adjust to whatever happens."
Council Member Shane Brickner is among several around the dais who are still less-than-ecstatic over the final funding scenario.
"I feel that the overall project cost was inflated, and if there were unforeseen management expenses, they should have eaten those costs," Brickner said. "If it was a materials cost issue, I get that but the overall management cost and bonus for speeding up the project does not seem appropriate to me."
Staples said WSDOT should be commended for their work, despite going over the initial projection.
"I believe we received a very good product in the end," he said. "That is in large part due to WSDOT's efforts. The construction costs ran higher than anticipated, and that was unfortunate. However, WSDOT did work earnestly to control costs where they felt they could, and we are appreciative of that."
Mayor Pro Tem Cris Kaminskas said the city should learn a lesson from the project and the corresponding quarrel over its price tag.
"I'm still very unhappy about the overages," she said. "WSDOT needs to review their processes and figure out a more accurate quoting and project tracking system."
Last lap
The final cost for the roundabout checked in at $1.729 million with a considerable chunk - $953,000 - coming from a federal grant through the Spokane Regional Transportation Council. The city's portion turned out to be $776,000, with $685,000 of that generated from the Harvard Road Mitigation Fund, a program that sets aside dollars for road infrastructure improvements. The balance of $84,000 came through the streets capital fund.
Because the project is eligible through a funding mechanism known as the Local Infrastructure Financing Tool (LIFT), the city will be requesting a reimbursement from Spokane County in the amount of $700,000, according to Finance Director R.J. Stevenson.
While there may still be some grumbling about the numbers, particularly related to the WSDOT bill, the steady progression of vehicles around the junction of Harvard and Mission is a welcome addition for residents like Middleton who said she would like to see another roundabout installed at the intersection of Mission and Molter.
Allen said plenty of positive feedback has been received at City Hall over the past year, including a letter from "a grandmother in Post Falls" who visits family in Liberty Lake.
"Before the roundabout was built, she prayed every day that she would be able to make a left-hand turn onto Harvard Road," Allen said. "She shared that the roundabout was the best solution."
Another comment came from a resident of north Spokane who was so impressed with the roundabout that he has started a campaign for a similar project in his community.
"He had heard how well it worked and how it was a wonderful gateway to Liberty Lake," Allen said. "He came out to take a look and is now working with his neighbors and a county commissioner to build one just like ours."
• • •
City leaders reflect on the one-year anniversary of the Harvard Road roundabout
Compiled by Craig Howard
Splash Contributor
"I think the roundabout has worked great, has been very effective overall and looks really good. I think it's very efficient but still wonder if we could have accomplished the same goal with a light system at over half the cost. I've heard that people appreciate the roundabout, but a lot of people tell me they feel it could have been done cheaper."
- Council Member Shane Brickner
"I've had the unfortunate experience of driving through roundabouts that don't work in other parts of the country, so initially I was very skeptical, but it seems to flow very well and people seem to have adapted to it very quickly. Everything I've heard so far has been favorable. I would love the opportunity to speak to those residents, from Liberty Lake and from Otis Orchards, who were concerned about it to see if their opinion has changed."
- Mayor Pro Tem Cris Kaminskas
"I use that exit/intersection multiple times per day, and when I heard a roundabout was going in, I couldn't think of a better solution. Since the first week of construction, when traffic was re-routed to a roundabout style, things clearly flowed better at any time of day. More importantly, it's clearly safer."
- Council Member Hugh Severs
"I thought it was an awesome idea that would benefit the city and its transportation needs which would result in improving safety as well. Initially, the negative feedback was reversed when residents were educated on our reasoning and benefits of the project. Fears also were resolved once the project was complete and residents were able to use it."
- Council Member Keith Kopelson
"We did have some issues with WSDOT regarding the cost of management on the project, which were resolved through negotiations. It proved to be a good learning project for all of us. Those lessons learned went into the construction of Town Square, Liberty Lake Ballfields and the projects being planned for Liberty Lake Road and Appleway reconstruction."
"We did receive many questions before the project started. Now that the project is complete, the positive comments overwhelmingly outnumber the negative comments. The traffic flows safely, efficiently and many really appreciate the new entrance to Liberty Lake."
- City Administrator Katy Allen



• • •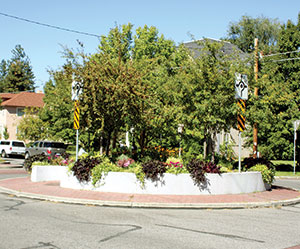 Splash photo by Craig Howard

There are a number of derivatives of the modern roundabout, including the traffic calming circle, typically installed in residential neighborhoods like this one in west Spokane to slow down vehicles.

---
Circle of change
A brief history of the modern roundabout
By Craig Howard
Splash Contributor
One of the predecessors of the modern traffic roundabout is named after an explorer who set out to prove that the world was round, not flat.
Columbus Circle in Manhattan, N.Y., not far from Central Park, is considered a "circular junction" and first began transporting vehicles through its 360-degree intersection in 1904. It predated the first roundabout prototype in Great Britain, at Letchworth Garden City, by five years.
It is the Brits, however, who are credited with designing the first rendition of the modern roundabout, distinguished for its characteristic of allowing the right-of-way to vehicles within the sphere. Motorists on the perimeter are to refrain from merging unless there is a safe gap in revolving traffic. The Transport Research Laboratory established the format which was accepted as the standard for all roundabouts in Great Britain by 1966.
Today, France leads the world in roundabouts with well over 32,000. Great Britain is a close second with an estimated 25,000.
The first modern roundabout in the U.S. was not installed until 1990. When the project was completed in Summerlin, Nev., local news stations featured reports on the puzzlement of motorists adjusting to the circular procession of traffic.
There are currently 120 roundabouts in Washington state, according to the Washington Department of Transportation, with many more in the works. The city of Spokane leads the Inland Northwest with half-a-dozen, followed by Spokane Valley with three. There are two in Liberty Lake (the other is by Half Moon Park in the River District). In the U.S., there are now more than 3,000 roundabouts.
"People are getting used to them if they aren't already," said Carolbelle Branch, spokeswoman for the city of Spokane Valley. "They're really effective at slowing down traffic, but they also keep traffic moving."
Variants of the modern roundabout can also be found in the greater Spokane area, including a compressed rendition known as a traffic calming circle that is often installed at in residential neighborhoods to slow down traffic. Traffic circles, or rotaries, are expanded forms of the roundabout, often including stop signs or traffic signals.
Art installations are a common trait of many roundabouts, featuring everything from ornamental carvings to ornate landscaping. Roundabout sculptures in Bend, Ore., have been honored with numerous accolades for their contributions to community art, while over 3,300 roundabouts in France include some sort of decorative element.
Due to their record of improving safety at intersections, roundabouts have earned the support of many civic groups throughout the world. In 2007, a collection of pedestrian advocates in Kinston, N.C., campaigned for roundabouts at all major intersections in their community.
Advertisement