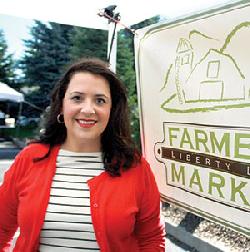 Splash photo by Craig Howard

Holli Parker has been with the Liberty Lake Farmers Market since it started in 2002. The Spokane native and Liberty Lake resident currently serves as the market manager.


More News
A Cup of Joe: Taking stock in the Market
8/29/2014 12:13:38 PM
Parker has served integral role with LL Farmers Market since 2002
By Craig Howard
Splash Contributor
When it began in 2002, the Liberty Lake Farmers Market featured a humble collection of vendors gathered in a cheerful space along Meadowwood Lane.
Holli Parker served as the venue's manager in those fledgling years, coordinating the lineup and schedule each Saturday while managing to sell bread from Cobblestone Bakery in one of the booths along market row. Since then, the market has entrenched itself as one of the region's most popular gathering places, running from mid-May to mid-October and showcasing nearly 50 vendors hawking everything from artisan breads to flowers to locally grown produce.
The idea for the outdoor galleria sprang from Parker's mother, Susan Parker, and her uncle, Jim Frank, CEO of Greenstone Homes, who grew up in the West Central area of Spokane and recalled traveling to the produce stands of the Spokane Valley as kids. Frank had also seen the success of neighborhood markets in Seattle to rally community spirit and a sense of civic identity.
A staple on the market's board of directors since the start, Parker took a hiatus as market manager from 2008 to 2011. She has taught at nearby Greenacres Elementary since 2006 and has a son, daughter-in-law and granddaughter who live in Liberty Lake.
Parker was born and raised in the Spokane area, graduating from Gonzaga Prep in 1990. She earned her degree from Eastern Washington University and taught for two years in Nevada before moving back to the Inland Northwest in 2002. She has called Liberty Lake home since then, a place she describes as "a great community to be a part of." In addition to the market, her calendar is consistently full of outdoor events, particularly the movies and concerts in Pavillion Park each summer.
In her second stint as market manager, Parker is responsible for an array of duties, including map/vendor layout and logistics, answering emails, event coordination and communicating with vendors outside market day. Onsite Manager Mike Durkin oversees the market each Saturday.
The Splash caught up with Parker recently to talk about the market's latest season, the future of the venue and the challenges of coordinating a moveable feast.
Q: You served as manager when the market was established in 2002. What do you remember about that first year?
A: Our first year was fun. We only had six vendors and a lot of rain. It seemed to rain every day in May and June of that year. We would all huddle together under the canopies to keep warm, running from car to the booth to stay dry. It shows how amazing this community is that customers came in spite of the weather.
Q: What were some of the keys to getting the word out about the new venue in Liberty Lake and how did you try to distinguish yourself from the competition?
A: When we started, the only other market in the area was the downtown Spokane market. Ours was the first neighborhood market in the area. We wanted not just a place to grab groceries, but a place to enjoy. A place where the community can come shop, eat and connect.
Q: How did you and your fellow organizers decide on the site of the market? Do you feel the location has worked out well over the years?
A: We were fortunate enough to have Greenstone as a supporter of the market. The Liberty Building parking lot was the perfect place. There is plenty of parking. The "island" is a great centerpiece for customers to sit and relax, eat and talk with their neighbors. The circular nature to our layout allows for a great flow to all the vendors.
Q: What have been some of your impressions of the 2014 rendition of the market since it opened on May 17?
A: The market has been as amazing as always. Attendance continues to grow, with our loyal customers as well as new faces. Our vendors have been great about the adjustments that were needed due to the construction of Town Square Park.
Q: You had 10 new vendors join your lineup this year, half-a-dozen of whom represent area farms. How important is it for the market to be a showcase for local produce?
A: We are so privileged in this area to have amazing farms and farmers! What is better than local? Showcasing local produce allows our farmers to get their product out there. It also allows for our customers to talk and connect with the folks who are growing their food. Our farmers are so knowledgeable. They are available for any questions you may have, from how things are grown to how to prepare what you're buying for dinner.
Q: You took a break from being manager for several years when Angela Pizelo was at the helm. How is the market different now from when you first managed things?
A: Since the beginning of the market, we are much bigger - from six vendors to 49 this season. I feel that we have learned over the years, through a lot of trial and error, what works for us and what doesn't. We had a vision of what we wanted from the beginning. Having that vision makes decisions easier to make. The market board is more hands on now than we have ever been. Each member has taken on a task. In the beginning a lot was done by one or two people. The board consists of farmers, crafters, producers and community members. Having all those areas represented helps us stay well rounded.
Q: How has the construction of Town Square Park affected the market this year?
A: As a resident, I am very excited to see the Town Square come to life. It's going to be a great addition to our city. As the person who needed to set up the map for vendor placement, it was a challenge. We met as a board many times trying to decide how things would look this year. Ultimately, it was not and has not been an issue. We were able to set up as we have in years past. It has been fun watching the progress. The city set up a booth to talk with citizens and answer questions about the future of the site.
Q: What do you think the completed park and the accompanying parking expansion will mean to the market in the long run?
A: Truthfully, we don't know yet. We have had many discussions and have a lot of ideas, none of which have been finalized yet. Final plans will be made after the season is over.
Q: Finally, what is your favorite part about being involved in the Farmers Market?
A: That is a hard question to answer. I adore the vendors. Getting to know them and having formed friendships with them has been a privilege. They are amazing people who work hard to bring great produce to our community.
Advertisement