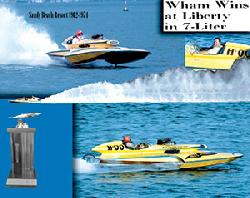 Collage graphic courtesy of LL Historical Society

Earl Wham, driving the Miss Merion Bluegrass, set the world straightaway record in 1967 averaging 159.217 mph.


History: Tradition of speed part of lake's past
8/29/2014 11:34:16 AM
By Bailey Wolff
For the Liberty Lake Historical Society
Roy Mackey remembers coming to Liberty Lake in the late 1940s to watch the outboard hydroplane races put on by the Spokane Powerboat Racing Association. His stepfather and friends were some of the best and earliest sport boat racers in the area. In thinking back on the races, Mackey laughed as he recalled those early days that would later influence his own racing career.
"You have to remember that in those days there wasn't really television and going to the lake was a big event for the whole family," he said. "We'd drive all the way out from the South Hill going 35 mph on Sprague Avenue."
Through the 1950s and into the early 60s, these races gained popularity at Liberty Lake as well as on other lakes in the Pacific Northwest. Big crowds of both spectators and competitors came to these lakes for the races.
By 1962, racers such as Earl Wham, Don Benson and Frank Sneider competed with inboard hydroplanes for first place in District Ten, which included all the courses in Washington, Oregon, Idaho and western Montana. Wham recalled racing on Black Lake near Olympia; in Polson, Mont.; on Liberty Lake, Newman Lake, Pend Oreille and Green Lake near Seattle. There were nearly 30 venues that made up the District where races were held throughout the season.
Liberty Lake's course started just in front of Sandy Beach and stretched 1 and 2/3 miles in the shape of an oval. All day a crane lifted boats in and out of the water, while boat crews tinkered with engines and the racers talked with one another, comparing watercraft and sharing their stories.
The Neyland family, owners of Sandy Beach, made sure to have hamburgers and cold drinks available for the crowd. Spectators also gathered along the shore in front of private residences, eager to catch sight of the screaming hydroplanes circling the track. While those in the audience had a relaxing afternoon watching the races, the drivers were locked in serious competition.
In 1967, Wham set a world straightaway record that would remain unbeaten for over three years. The speed, 159.217 mph, was his average on a straight one-kilometer course. Though Wham once got his boat up to 174 mph, going that fast for an extended period of time was too dangerous, as the plane had the tendency of lifting off the water.
"At Liberty," he said, "I only did 120, or maybe 130. The competition was always fierce which made it a great place to race."
Superwham, as he became known in the racing world, was also the only competitor from west of the Mississippi to take home the International Grand Prix trophy from Miami, Fla. This was an international race with 150 drivers from all over the world. Each January, Wham used all of his vacation time from the Bell Telephone Company to drive to Miami, participate in the race, and then return to Spokane. Because of his love for racing and the warm weather in Florida, this was a sacrifice Earl was willing to make.
"I even got in trouble one year with the chamber of commerce for saying on national TV that it was too snowy back in Spokane," he said.
Regardless of the chamber's initial reaction, they couldn't argue with the national attention that Wham brought to the community. Earl was famous for his racing and for the skill he showed in building world famous boat engines.
Before ending in the 70s, these hydroplane races became a Labor Day Tradition. With as many as ten boats racing at once, it was inevitable that some would crash. Both Mackey and Wham had close calls throughout the years that they were lucky to escape from safely.
"150 mph is fast," Wham said. "Trust me. You hit the water going 150 mph and there's a good chance you're not coming back."
After being ejected from his boat in a race near Seattle, Wham skipped nine times across the surface of the water before coming to a stop. He said, "No matter how hard you hold on to that steering wheel, when you crash going that fast you shoot out of the boat like a banana out of a banana peel."
Wham said he liked racing because it got him close to "that edge" that most people don't stray too far from while living their life. "In a speed boat you go just a little bit farther over that edge. It's about seeing how far you can step away and still make it back."
Both he and Mackey joked about the lack of safety equipment while they were racing. They said that racers today wouldn't be able to leave the starting gate wearing only the helmet that they wore fifty years ago. In fact many of Wham's fellow racers lost their lives while hydroplane racing.
"In those days you could just go out and run," he said. "You didn't have to call nine sheriffs and tell all the neighbors you were racing your boat. Now there are so many laws that you just can't do like you used to."
Because of the noise and the danger, boat racing was eventually banned from Liberty Lake. Like the Dance Pavillion that once stood on the lake's west side or the electric train that brought visitors from town, the hydroplane races have given way to new traditions that define life at Liberty. It's hard to imagine screaming hydroplane boats racing on a Saturday morning. But there was a time when you could watch the big yellow crane arm working nonstop to move boats in and out of the water. There was a time when thousands of people stood on the shores of Sandy Beach or lined the perimeter of the lake sitting on docks and rocks yelling wildly for their favorite driver. And though this exciting time has passed, it still makes up a part of the community and adds some exciting character to Spokane's Inland Seashore.
Bailey Wolff grew up at Liberty Lake and is currently pursuing a dual masters degree in Global Journalism and Russian Studies at New York University.
• • •
• Before the inboard hydroplanes began racing at Liberty Lake, there were outboard races that drew participants from the area. The Inland Empire Outboard Association staged boat races on Liberty Lake in 1928. More than 15 boats competed. The longest race of the day was four miles, consisting of two laps around the two-mile course.
• 1949 saw the introduction of midget hydroplane boats. They were called "over-powered shingles" and had 60-horsepower motors.
• On Aug. 28, 1949, 8,000 fans attended a powerboat race at Sandy Beach and witnessed an injury-free, multi-boat pileup. Two other crashes happened that day; both times the drivers walked away unharmed. Besides watching the powerboat races, people participated in water skiing, log rolling and paddleboard races at Sandy Beach.
• • •
Events, Competitions and Activities
From the Liberty Lake Historical Society, a 2014 monthly series
January - Ice Skating
February - Parade of Mermaid Competitions
March - Opening Day of Fishing
April - Dancing
May - Water Competitions
June - Liberty Lake Amateur
July - All Valley Picnics
August - Dutch Jake Picnics
September - Hydroplane Races
October - Baseball Games
November - Liberty Lake and Football
December - A.R.T.'s Christmas in July
Advertisement