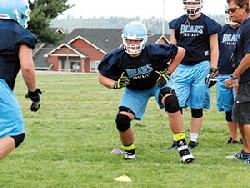 Splash photo by Mike Vlahovich

Junior tackle Scott Peck, center, missed summer training while recovering from a stress fracture, but he was back for the start of practices in August.


Bears boast youthful team
8/28/2014
By Mike Vlahovich
Splash Contributor
Youth must be served, whether Central Valley High School football coach Rick Giampietri likes it or not.
"We're going to be young again," the dean of Greater Spokane League coaches said. "But, we're pretty talented so we'll see how fast they grow up."
It's hard to imagine, but last year the Bears had three freshmen on the roster: 215-pound linebacker Travis Hawkins, lineman Jordan Talafilli, up to 309 pounds, and kicker Ryan Rehkow (it runs in the family. His brother Austin led the nation in punting as a freshman at the University of Idaho).
Last season, 20 sophomores were listed on the varsity squad. One, Tanner Sloan, is quarterback heir apparent (it also is in the genes. His dad, Rick, is the team's offensive coordinator who quarterbacked at CV and in college).
Other offensive keys include hard-running back Spencer Miller, who gained 795 yards and scored 10 touchdowns last season, and wide receivers P.J. Bowden and Maxwell Sykes.
Miller and promising 275-pound junior tackle Scott Peck missed summer training with injuries, but were on the field mid-August when practice began.
"Spencer had a hip injury. He tore the muscle off the bone running track," Giampietri said ruefully. "We felt it would be a good thing for him to do (run track)."
The 6-foot-4-inch Peck had a stress fracture from playing basketball.
Joining Hawkins and Talifilli on defense are Miller at linebacker and veteran safety Tucker Stout. Also returning is senior defensive back Dan Dach.
The rest of the lineup comes from the ranks of the varsity untested.
"We're going to be young in the offensive line," Giampietri said. "But they played decently in the summer and got better."
Other prospects, all juniors, are Brandon Driskell, Bodey Hawks, Nathan Wycoff, Chauncye Garrigan and tight end Kyle Walton, plus several sophomores.
Giampietri also added that some promising players may be found in transferring students.
The Bears play early non-league games against Coeur d'Alene and Lake City courtesy of a restructured Greater Spokane League schedule.
"What's good is we get a chance to get those opening jitters out," Giampietri noted. "It'll be interesting to see how fast we grow up. I told the kids if you're good when you're young, you'll be good for a couple of years. So be good."
• • •
CV Football vs. Coeur d'Alene
7 p.m. Sept. 5 at Coeur d'Alene High School
The Bears play their first home game
7 p.m. Sept. 12 vs. Lake City.
Advertisement