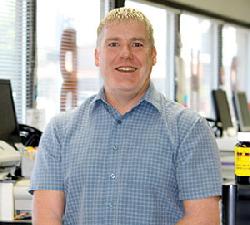 Splash photo by Valerie Putnam

Jeff Foster, owner of Well Life Pharmacy, pauses for a photo at one of his other pharmacies in Post Falls.


New owner brings changes to pharmacy
7/29/2014 2:31:33 PM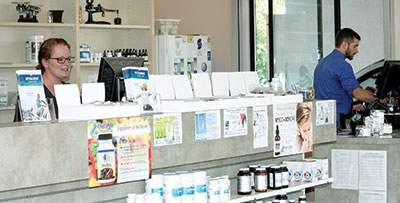 Splash photo by Valerie Putnam


Pharmacist Natalie Ramos and intern Kyle Frazier work behind the counter at Medicine Man, a Well Life Pharmacy. Previously just a compounding facility, the business recently opened as full-service pharmacy.

---
Splash Contributor
When the owner of a longtime Appleway Avenue pharmacy decided to move to Boise to be closer to family, Jeff Foster saw it as an opportunity. Foster, who owns three other Well Life Pharmacy locations, purchased Medicine Man Pharmacy from John Amini in December.
"It was a good fit for us," said Foster, who owns the family-operated business with his wife, Heather.
Foster saw the purchase as a way to expand his holistic services.
Since December, Foster has been making a slow transition in assuming ownership, not making any changes until this summer.
"I'm interested in making a slow transition so people are comfortable with who we are," Foster said. "And know that we're going to take care of them."
In September, Foster hopes to host a weekly barbecue with hamburgers and hot dogs throughout the month to let residents know about the new ownership.
"We want people to come in and get to know us," Foster said. "Come in, say hi, and get free food."
Prior to purchasing the pharmacy, it had been strictly a compounding facility with a lab dedicated to creating prescriptions. Compounding refers to custom-making medications from scratch to meet an individual's specific needs.
The pharmacy is a member of the PCCA (Professional Compounding Centers of America). This gives Foster access to 30 consultants and the ability to purchase the bulk chemicals. Foster said the main source of their compounding business is hormonal replacement therapy and veterinarian prescriptions.
"I really enjoy it," Foster said of compounding prescriptions. "There's continual learning, more thinking about what we can do to help each person."
Beginning July 1, Foster reintroduced filling retail prescriptions at the location. Foster also added local delivery service and this fall hopes to offer immunizations.
In addition, the business sells over-the-counter pharmaceutical grade supplements and Nutraceuticals.
"They are tested for impurities and potency," Foster said. "They make sure what's on the label is truly in the bottle."
Being a family owned and operated business, Foster prides himself on service and care of clients.
"I don't wear a white coat," Foster said. "I would rather dress casual and be on the front side of the counter talking to you. I think being approachable is going to make people more open to ask questions."
His business philosophy involves getting to know the people he serves.
"We're here to help people," Foster said. "It's more than just giving them their pills. It's important to know who we are helping."
At the Liberty Lake location, Foster provides consultations to both physicians and customers. As part of this service, Washington State University pharmacy students work at the store conducting in-depth research on different medications and supplements.
"We like being an information source," Foster said. "If someone has a question on something, we'll do the research."
The 3,000-square-foot facility offers a drive-thru window for customer convenience. The store is open Monday through Friday, and Foster plans to add Saturday hours in mid-September.
Counting all four of his stores, Foster has 30 employees. At the Liberty Lake location, Foster is the head pharmacist with five other staff members.
Foster originally wanted to become a large animal veterinarian. He received a degree in beef cattle production from the WSU's Department of Animal Sciences. After graduating, he applied for vet school but didn't get in, receiving second alternate position. He took a year off and traveled to Australia on an agriculture exchange.
"When I came back to school, a friend in pharmacy school said, 'Hey you should check this out,'" Foster said. "I'm glad I did."
Upon graduating from WSU's pharmacy school in 1995, he went to work for Medicine Man Pharmacy in Coeur d'Alene. A year later, he had the opportunity to manage his own store in Bonner's Ferry inside a new Trading Company grocer being constructed. He accepted the position with the intention of eventually purchasing the store. In 1998, Foster's dream became a reality.
"I've always had a desire to work for myself," Foster said. "I had the idea to own my own pharmacy early on in school. I realized it more quickly than anticipated."
When Trading Company purchased the former Tidyman's stores in the Spokane area, Foster had the opportunity to buy the pharmacies. In 2007, he purchased three locations. He then sold the East Sprague store back to Trading Company, keeping the Latah and Post Falls locations. With the addition of these two stores, Foster introduced the Well Life name.
"My vision is really how can we help people live a well life," Foster said. "The reason I chose the Well Life name is that I believe that it's better to be proactive using supplements and diet to be healthy then it is to take a hand full of pills to treat disease."
Looking to the future, Foster has no immediate plans for further expansion, though he is always looking for opportunities.
"I want us to be the best we can be with what we have," Foster said. "I don't want to expand just for the sake of expanding. It's only if we have the right opportunity like this opportunity here."
• • •
For More
Medicine Man, A Well Life Pharmacy (soon to be Well Life Pharmacy), is located 23801 E. Appleway Ave., Suite 260. The hours of operation are 9 a.m. to 5:30 p.m. Monday through Friday.
Advertisement