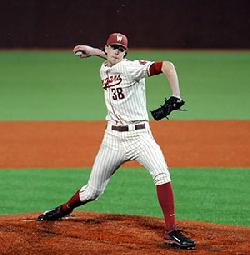 Submitted photo

WSU pitcher and Central Valley High School alum Scott Simon will begin throwing again this month after surgery this spring on a torn labrum.


Oft-injured Simon prepping for senior campaign
7/29/2014 2:15:48 PM
By Mike Vlahovich
Splash Contributor
Scott Simon's lanky frame and a heater that touched 90 miles per hour garnered attention from professional baseball scouts and college coaches alike. Drafted in the 33rd round of the 2010 Major League Baseball First-Year Player Draft by the Tampa Bay Rays, he opted instead to pitch at Washington State University.
But a series of injuries has relegated the Central Valley graduate-turned-Cougar from prospect to suspect.

SIMON
A back injury set him back early in his career at WSU. Last spring, he was shut down in April with a torn labrum that necessitated surgery. Coupled with the fact he'll turn 23 before he leaves college, Simon admits his dreams of a professional career are slimmer.
"It's something I don't want to think about," Simon said of the possible end of a baseball career that began with a national youth championship when he was 9 years old and has gone from there. "When the day comes, it's going to be the worst day in my life."
But the avowed Cougar professes his love for the Palouse.
"There's no place I'd rather be than in Pullman," Simon said. "I love everything about Washington State. I love the community. I love playing baseball."
The redshirt senior has his degree in social sciences and is working on his master's degree in counseling psychology, influenced by his mentor, Jerry Pastore. He wouldn't mind one day following in Pastore's footsteps, preferably at WSU, Simon said with a chuckle.
Simon at various times has been listed anywhere from 6-foot-5 (his recollection in high school) to 6-8. WSU's biography has him 6-7 and 202 pounds.
He graduated from Central Valley in 2010, where he had mixed success. His freshman year was rough, he said, because of the trauma when a good friend died. As a sophomore, he pitched behind current minor leaguers Rusty Shellhorn and Trevor Shull, while mainly playing first base.
The following year he got "roughed up a bit," in the words of Bears coach Barry Poffenroth in a Spokesman-Review article.
"I remember not putting in the work I needed," Simon admitted. "I didn't keep my arm in shape. I think that's why I struggled early. Toward the end of the year, I got it back because I got in shape."
His ball started moving again, he said he was approaching 90 miles per hour regularly and turned heads during the summer when he went 10-1, allowed just 27 hits and 18 walks with 98 strikeouts in 74 innings for the Club Spokane Dodgers.
While 10 pro teams approached him, coaches and the pitcher alike said he wasn't ready for professional baseball.
As Simon puts it, "I believed in my heart I was good enough to play professional baseball, but at the same time I hadn't been away from home. Momma (Lorie) was there to cook my meals. I hadn't been out in the real world or had a job. I knew I wasn't mentally mature enough to handle pro baseball at that point in time."
Only 90 miles from home, WSU proved just the ticket for a youngster who had gone 7-3 his senior season at CV and helped the Bears win a Greater Spokane League district title.
He sat out that first year in college, which, he said at the time, was incredibly hard.
"After being drafted, I expected to go in and play right away," Simon said. "I guess I underestimated that at this level everybody is as good as or better than you. I didn't work, needed a kick in the butt and that's where Jerry came in. The redshirt year was a blessing for me. I had to grow up and mature."
As a redshirt freshman, he went 2-3 in 50 2/3 innings of relief, first all-time by a frosh and third in the record book with three saves. The next year he started 15 games, went 3-4 with a 3.95 earned run average, had 47 strikeouts and was named a Pac-12 player of the week. Two herniated discs made pitching difficult.
Last year, he said, he knew there was something wrong with his shoulder from the get-go, but said nothing. He was 1-3 with a 6.49 ERA in 26 innings when an MRI revealed he "had no labrum left." Surgery followed in May, and he said he likely can begin throwing again in late August to prepare for his senior year.
"I actually was a Friday night guy (No. 1 starter), and I expect to go in and be a starter again."
If not, there's always Pastore's job. He's a well-being counselor, there to help young athletes adjust to college life and being away from home. Pastore helped Simon to cope, and it's something Simon realized he might like to give in return.
Hopefully, there's still baseball in his future. He said he's lost velocity on his fastball, but compensates with a "really good slider and a really, really good changeup."
If not, there are fond memories.
"There's nothing better than Washington State," Simon said. "It has been (that way) every day I've been in Pullman, and I enjoy every day I've played baseball."
Advertisement