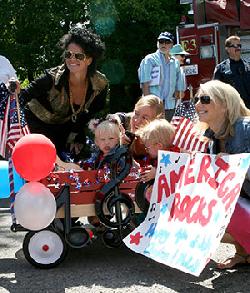 Splash file photo

Kids have always been central to the annual Liberty Lake Fourth of July Parade. This year's event begins at noon July 4, with lineup encouraged by 11:30 a.m. for participants. There is no advance registration.


More News
Three days for the Fourth
6/26/2014 3:04:37 PM
By Treva Lind
Splash Contributor
Marking a decades-old tradition, the Liberty Lake community will celebrate the Fourth of July over a long weekend of events filled with its patriotic parade, music and fireworks.
This year, Liberty Lake organizers also have squeezed in a few extra activities starting on Thursday, July 3, and stretching through Saturday evening.
Events kick off Thursday with the Fallen Heroes Patriotic Run at 5:45 p.m. in Pavillion Park. No pre-registration is required.
By dusk that same night in Pavillion Park, families will gather on the grass for the free outdoor movie, "Frozen," staged as a sing-along event. Words to the popular songs in the Disney hit will show on screen.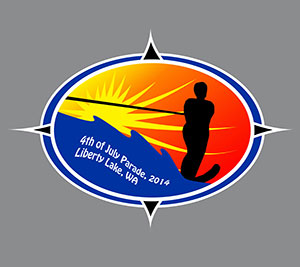 Submitted graphic

The annual Liberty Lake Fourth of July T-shirt design is shown here, including the front (above) and back (at left) images.


T-shirt sales
The Liberty Lake Fourth of July T-shirts will be available for purchase from 4:30 p.m. to 6:30 p.m. that Thursday at the intersection of Liberty Drive and Liberty Circle in the Alpine Shores neighborhood.
This year's images have "Live Love Lake" under a water ski for the graphic on the front of the shirt, and a water skier design on the back. Quantities are limited and are sold on a first-come, first-serve basis. Any remaining shirts will be sold at the parade, and all proceeds go to supporting the parade celebration costs.
Alpine Shores resident Rodney Kern created the design for this year's collectible shirt. The T-shirt price for youth size is $10, and most adult sizes are $14. The T-shirts in extra-large and larger are $16.

Parade and after-party
For more than two decades, the Fourth of July Parade in the Alpine Shores neighborhood has stayed true to a celebration all about kids, patriotism and community. The lineup this year will include some 60 members of the Central Valley High School marching band for the first time, said Dave Graham, a longtime parade organizer.
Each year, kids and families decorate their bikes, scooters, trikes and wagons in patriotic themes to complete the route. Organizers give out awards to participants in multiple categories, and they don't require registration to march. People just show up, Graham said. While golf carts are included, the parade doesn't allow gas-powered vehicles. Organizers also ask that pets be left at home.
Graham said 10:30 a.m. is a good time to get a parking spot and head over for the parade's start at noon. People should plan to be in line no later than 11:30 a.m. in the Alpine Shores neighborhood if they want to be considered for awards, he said. Parking is available on neighborhood streets and at Liberty Lake Church, 704 S. Garry Road.
"Usually around 11:30 is when they make those award decisions; when they put people in place," Graham said. "But if someone shows up at noon, we'll let them march."
"This event has always been for the kids," he said. "We will continue with the patriotic flavor, with the flag salute and the singing of the National Anthem."
The parade's grand marshals are Tom and Bev Markson, both longtime community supporters. Tom was the first administrator at Valley Hospital, and he has been involved in Valley Rotary, United Way and the Spokane Valley Chamber of Commerce groups. The couple has also worked, often behind the scenes, since the founding of the parade to ensure it runs smoothly.
Inclusion of the CVHS band is something organizers have tried to land for years. Eric Parker, CV band director, said he's never forgotten when he performed in Fourth of July parades on the East Coast, and he's always wanted that experience for CV students. The group is even inviting alumni to join in the fun.
"We're inviting some alumni and friends and are having a short mini-rehearsal at CV on July 3rd to just make sure we all know the music and can move in at least a somewhat orderly fashion," Parker said. Group members also can purchase $15 "uniform" T-shirts that are replicas of the current marching band uniform.
Parker said registration and more information for alumni and friends is available at www.facebook.com/cvmarchingband, or they can email him at
cvbandsandcolorguard@gmail.com
.
Following the parade, organizers will have kid games in the Alpine Shores Park area. Games include egg toss, water balloon toss, pie-eating contest and sack races. The emcees for the games will be Dave and Marlaine Moore.
The Fourth of July parade organizers rely on a volunteer force and donations, Graham said. The group, which is separate from the community's firework display group, has nonprofit status and accepts donations at: 4th of July at Liberty Lake, 508 S. Shoreline Drive, Liberty Lake, WA 99019.
Concerts
Later in Pavillion Park, the July 4 Festival presented by Friends of Pavillion Park will bring national touring artist Sammy Eubanks with his mix of blues, country and rock n' roll. The Spokane band, Bakin' Phat, playing West Coast swing and "jump blues," will open for the concert at 6 p.m.
People are encouraged to bring blankets or low-backed chairs to enjoy the concert. Parking will be available at Liberty Lake Elementary School, and a free shuttle from the school to the park will begin running around 5 p.m. Kiwanis will be selling concession items at the park, including hot dogs, burgers, popcorn and cotton candy.
FOPP extends its free concert series this year with a "Post-Fourth Music Bash" at 6 p.m. Saturday, July 5, at Pavillion Park, featuring local bands Hot Club of Spokane, Sidekick and Haze. For more information, go to
www.pavillionpark.org
.
Fireworks
The night will light up yet again with the community-funded fireworks show, launching around 10 p.m. from a floating dock. The public can view the display from Pavillion Park.
The fireworks show is paid solely through donations from residents and local businesses, no corporate sponsors. The total cost is about $12,000, longtime organizer Denise Coyle said. Donations are often solicited at the Farmers Market and outside Albertsons, but they can be made anytime at
www.libertylakefireworks.com
or by mail to P.O. Box 430 in Liberty Lake.
Advertisement