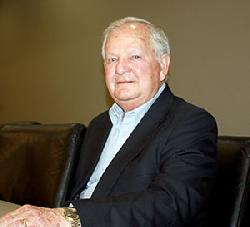 Splash photo by Craig Howard

Bob Moore was appointed to the Liberty Lake City Council on June 10, replacing Lori Olander, who resigned due to a work conflict. Moore has lived in Liberty Lake since 2009 and brings a background in corporate management, finance and government service to his new role.


More News
A Cup of Joe: Layered leader
6/26/2014 2:30:17 PM
Moore brings wealth of experience to new role on council
By Craig Howard
Splash Contributor
Like his fellow candidates for the City Council position vacated by Lori Olander, Bob Moore was required to complete an application prior to the interview process.
With an abundance of professional and municipal experience spanning 60 years, the only question was whether or not Moore would have enough room on the form.
The native of Ohio was appointed to Liberty Lake's governing board on June 10, earning the bid over a quartet of council hopefuls. On his application, Moore noted that the city lacked a senior citizen representative and emphasized that he was committed "to protecting the character and integrity of our community."
A year after moving to Liberty Lake, Moore joined the city's planning commission. He had served as chair since 2012.
Moore and his wife, Jackie, resided in the Tampa, Fla., area before transitioning to the Inland Northwest to be closer to family. His daughter, Cris - currently serving as the city's mayor pro tem - and his grandson, Kyle, a sixth grader, live here. Moore will tell you that the best aspect of living in Liberty Lake is being a grandfather.
Moore grew up in Norwood, Ohio, a suburb of Cincinnati, and graduated from Norwood High School in 1954. In 2012, he was inducted into the school's Distinguished Alumni Hall of Fame. He would stay in his home state to attend college, earning a degree in management from the University of Cincinnati. His educational pedigree includes degrees from Ohio University's School of Banking, the American Institute of Banking and the National Institute of Credit. Moore also attended the Graduate School of Credit and Financial Management at the Harvard University Business School.
Moore's professional path would take him into a variety of fields, including manufacturing, finance, oil, accounting, real estate and more. His career in corporate executive management wound down in 2001, when he retired as vice president of corporate operations for Reptron Electronics Inc. in Tampa. After retirement, Moore spent time as a financial advisor. He still runs his own business consulting company.
Moore's appointment to the Liberty Lake City Council represents his second tenure with a municipal governing board. He served on the council in Montgomery, Ohio, from 1979 to 1981, holding a position as the finance committee chair. He chaired Montgomery's planning commission from 1974 to 1978.
An avid golfer, Moore has played in pro-am tournaments in Florida, Ohio and Colorado. He now takes to the fairways with the "Over the Hill Gang" seen often on both MeadowWood and Liberty Lake courses.
The Splash caught up with Moore following his appointment to chat about a variety of municipal topics, the process of applying for a council seat and the future of leadership in Spokane County's easternmost jurisdiction.
Q: What was your impression of the field of fellow applicants for the vacant council position?
A: Overall, I was very impressed with the other applicants for the vacant council position. They all seemed to be willing to serve the community and interested in making Liberty Lake a better place to live. As you know, the protocol for the interview process prevented each of us from hearing the other interviews. Therefore, my impressions are based upon conversations in the sequester room waiting for our respective interviews.
Q: Did you have any thoughts of running for a council seat in the general election last year?
A: In retrospect, I had no thoughts of serving on City Council until Lori Olander resigned and encouraged me to apply for her vacant position. Josh Beckett, another former Council member, also encouraged me to apply and in the past suggested that I run for council. Since my term on planning commission was scheduled to expire in December 2014, this was an opportunity to continue to serve the community for the remainder of Lori's term without having to incur the costs and other commitments required in a political campaign. I am very honored and pleased to have been selected to serve on council and to represent all of the citizens of Liberty Lake.
Q: You have been a regular attendee at council meetings. What do you think you've learned from observing council discussions that will help you in this new role?
A: Attending most council meetings has given me a good understanding of the current issues facing the city and that should be helpful in making informed and objective decisions. I've also learned about the dynamics of city government in Liberty Lake and the roles of the mayor, city staff and City Council in a primarily non-political atmosphere. I'm looking forward to participating in the open debate of some current issues including the marijuana moratorium, waste disposal, the proposed zoning change and amendments and possible changes to the signage code.
Q: Dan Dunne is an example of a former planning commission member who has made a successful transition to the City Council. How will your experience on the commission help you?
A: Dan Dunne and I served together on the planning commission, and I'm looking forward to serving with him again and also with the other council members. After serving four-and-a-half years on planning commission, I have learned a great deal about the Liberty Lake comprehensive plan and the development code, which together provide the direction for the growth and development of Liberty Lake. The founders of Liberty Lake had a lot of insight and vision about the desired character of Liberty Lake and how that should be protected. Understanding the annual review process by planning commission should help me make informed and objective decisions regarding planning and development matters.
Q: Tell us about your experience on the City Council in Montgomery, Ohio. What were some of the issues you dealt with there, and do you see any similarities between Montgomery and Liberty Lake?
A: The demographics of Montgomery and Liberty Lake are very similar in relation to population size, gross revenues and other characteristics. In Montgomery, however, the primary concern was protecting the residential character of the community and to limit commercial development. Most local governments have the same basic functions and responsibilities that are transferable such as planning and zoning, budgeting, capital improvements and passing ordinances. Liberty Lake is subject to the Growth Management Act of the state of Washington passed in 1990 that provides the framework for land use planning and development regulations.
Q: The utility tax has been one of the most controversial issues in the city over the past several years. The person you are replacing was an outspoken critic of the tax. What is your opinion of it?
A: I favored the utility tax from the beginning when it was adopted in 2010 as an emergency measure to fix the city's cash flow problems at that time. It is now tied to capital improvements and is necessary to partially fund the Transportation Improvement Plan. I favor reducing the utility tax rate in years when other revenues exceed budget and not just spend the excess funds and perpetuate the tax.
Q: There have been a slew of capital projects championed by the city in the last couple years, from the Harvard Road roundabout to the Liberty Lake Ball Fields and the recently approved Town Square Park. What has been your opinion on these projects and are there any upcoming capital projects you expect to support?
A: I supported all of the capital projects previously approved by council and think they all will be lasting enhancements to the community. All of these projects are characterized by partnerships with the state of Washington, the Central Valley School District, Spokane Transit Authority and local businesses and developers through the Harvard Road Mitigation Fund impact fees. I expect to support the Transportation Improvement Plan and the improvements to Appleway and the other projects.
Q: You have held a number of influential roles with large companies in fields like manufacturing, finance and oil. How do you think that leadership experience will translate to your new duties on council and, by the same token, do you foresee any issues taking on a more collaborative role as one of seven on a governing board?
A: I have been fortunate in my career to have held some responsible positions in both the private and public sectors. My management style and philosophy has always been participative, that is working with others to accomplish goals and objectives. I believe in transparent and responsive government at all levels and in an open forum to debate the issues with input from all citizens and businesses within Liberty Lake. I don't foresee any conflicting issues at this time, but it is imperative that the city continues to grow and generate the revenues required to support future capital projects. I am honored to have the opportunity to serve on the Liberty Lake City Council.
• • •
Moore emerges from applicants at special Council meeting
By Craig Howard
Splash Contributor
When numbers were drawn to determine the order of interviews for five City Council hopefuls on June 10, Bob Moore emerged as first in line.
Later, when representatives of the governing board cast ballots on a replacement for Lori Olander, Moore again found himself ahead of the field.
The native of Ohio earned four votes to become the latest member of the City Council during a special meeting at City Hall that spanned just over two hours. Donald Walker, the only other applicant to earn a nomination among the quintet of finalists, received one vote.
"I will do my very best to fulfill every responsibility," Moore told his new colleagues after the appointment.
City Attorney Sean Boutz administered the oath of office to Moore at the conclusion of the meeting. Council deliberated for just over 30 minutes in an executive session after conducting interviews with each of the applicants. Debbi Haskins, Charles Matthews and Julie Anne Young rounded out the list of candidates.
"We ended up with five outstanding individuals," said Mayor Steve Peterson before the council vote. "It's difficult to make a decision within such a minute space because you're all good."
Moore moved from Florida to Liberty Lake in 2009 with his wife, Jackie. In 2010, he was appointed to the city's planning commission, where he has served to the present. He was selected as chair in 2012.
Moore's experience on the commission proved valuable during the interview process as he referenced his role in reviewing the city's comprehensive plan and development code each year since 2010. He has also served as the commission's representative on the community development committee.
"We need to maintain the community as a viable economic entity," Moore said. "We need to cover the costs of capital improvements and be ready and able to adjust to any changes in the economy."
A retired manufacturing executive who also spent time in finance and oil, Moore now runs his own business consulting company. He enjoys travel and is an avid golfer. Moore also spent time on the planning commission and City Council in Montgomery, Ohio, a suburb of Cincinnati.
Moore showcased his knowledge of current municipal topics during his interview, adding that there would be a minimal learning curve if he did join the city's leadership team.
"I've attended most of the City Council meetings and am familiar with the issues," said Moore, who described himself as a "fiscal conservative."
Council Member Shane Brickner nominated Moore following the executive session. Brickner, Keith Kopelson, Dan Dunne and Odin Langford all voted in support of Moore while Council Member Hugh Severs nominated Walker and cast the lone vote on his behalf.
Moore is the father of Mayor Pro Tem Cris Kaminskas, who announced early in the meeting that she would sit out any discussion regarding Moore's application. Kaminskas did not cast a vote after nominations were announced.
Olander announced at the May 6 council meeting that she would be stepping down due to conflicts with her work schedule. A total of seven applicants completed the required paperwork before the June 3 deadline, although two - Jennifer Ophardt and Kenneth Thompson - withdrew prior to the council interview.
Olander defeated Haskins in last November's general election to win a four-year term. Boutz said Moore would be eligible to serve out the remainder of that tenure, subject to running on the ballot in the fall of 2015.
The gathering on June 10 featured five questions per applicant with a 15-minute running clock. Time remaining after the allotted space could be used for closing comments. City Administrator Katy Allen asked questions of each candidate.
Young, a Realtor who has lived in Liberty Lake since 2004, emphasized that council "needs to somehow, some way, get the message out to the residents of Liberty Lake."
"The city needs to get the word out that we're here and we're listening to them," she said. "We're running a business for the city."
Matthews, a retired engineer, said the city should continue to prioritize public safety and green space while "keeping the burden on taxpayers to a minimum." He commended the governing board for its collaborative approach to a wide range of issues.
"When I first started attending City Council meetings, I expected to see a lot of contention based on councils I've observed before," Matthews said. "Instead, I saw people who discussed matters and work toward the good of the community."
Walker, a resident of Liberty Lake since 1998, has worked for the past 36 years in the residential real estate and mortgage industry. He said the role of a council member is "to do your homework, understand the issues and listen to the people."
Walker said the city "needs to keep moving forward" with an emphasis on jobs and the economy.
"We need to understand the vision and direction the city has set out in the past," he said. "We can't just settle and become comfortable."
Haskins, a paralegal who works in the municipal finance field, collected over 800 votes in her campaign to unseat Olander last fall. She was out of town on business and answered her questions on June 10 over the phone.
"I learned a lot from my campaign and talking to residents," Haskins said. "Council needs to serve the citizens of Liberty Lake and listen to what's going on in the community."
Advertisement