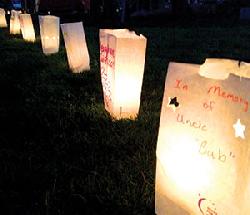 Splash file photo

Luminaria candles honoring loved ones, such as these pictured at the 2012 Liberty Lake Relay for Life, light the track through the night.


Community comes together for fourth annual Relay
6/26/2014 2:16:40 PM
By Tim Putnam
Splash Contributor
Of the many emotional, enjoyable and sometimes silly moments she has experienced during past Relay for Life events, one in particular sticks out for Jean Simpson.
"I love the time when the sky is purple before the sun comes up; it's just beautiful," said Simpson, who is co-chairing this year's American Cancer Society's Liberty Lake Relay for Life. "It's extremely quiet. There's a lot of people still walking. It's a time I take away from everything and I'll go walk, pray or think. I'll look back at the candles that are still lit. ... It's a special time."
This moment symbolizing new hope as a new day dawns is just one of the many she looks forward to during the fourth annual Relay for Life in Liberty Lake. From the 6 p.m. July 18 until 9 a.m. July 19, supporters and cancer survivors alike will spend the night walking around a track at the Meadowwood Technology Campus, 24001 E. Mission Ave. This and hundreds more Relay for Life events in over 20 nations raise money to support current cancer patients and fund research to find a cure for the disease.
"The event itself is a celebration, where we celebrate the survivors - that's really important to us," said Simpson, who added the Relay for Life is American Cancer Society's largest fundraiser. "Cancer doesn't sleep; that's why they go all night."
Jen Kronvall, Relay Specialist at the Great West Division of the American Cancer Society, noted that participation has grown each of the four years the event has been in Liberty Lake. Having raised just over $27,000 last year, Kronvall stated this year's goal is to raise $30,000.
"So far we have 65 participants signed up online," Kronvall said last month. "We typically have about 200. Experience has shown the sign-ups increase exponentially as the deadline approaches."
Just $10 to sign up and participate, Simpson noted the event is free to stop by, with donations taken throughout the night.
"Because of what it is, it's going to help research cancer and help people locally with wigs and places to stay for out-of-towners," Simpson said. "I think it would be really neat if Liberty Lake would just embrace that, everyone somehow take part in it. Whether you support a food vendor or come to listen to the music and put a buck in the can."
The night begins with an event to honor cancer survivors, where each survivor receives a free dinner. The evening also has a lighting of luminaria candles to remember those whose lives cancer has claimed as well as a survivors' lap, a tradition Simpson explained is both very emotional and celebratory.
During the rest of the night, participants walk around a track set up just for the evening on the campus and have fun while being entertained.
The entertainment this year includes local bands and performers, including cancer survivor DJ Ken Prescott, who recently relocated from Colorado and has worked numerous Relay for Life events, as well as Meet Revolver, a Beatles tribute band. The majority of the entertainment occurs prior to midnight to be respectful of the surrounding neighborhood.
But that does not mean the fun ends at midnight. Though she's never stayed the night, Kronvall noted she's heard stories about entertaining crowds in the late hours.
"OK, so what has she been sharing?" laughed Simpson after hearing of Konvall's overnight assessment. "It's all in good fun to keep people awake and entertained. … We've done the Thriller dance at 2 a.m. Dance party, we play silly games, done Scrabble laps and poker laps, make things up as we go sometimes. …"
Simpson lost her husband, Craig, to cancer 10 years ago. A few years later, in 2007, she attended her first Relay for Life at East Valley High School.
"I didn't even know what a relay was," she said. "People would tell me 'I'm going to light my luminaria for him,' and I was like 'OK, what does the mean?'"
For the next few years, she organized a team to participate in the event.
When the event came to Liberty Lake, Simpson, who lives north of the city and is a longtime employee at the Liberty Lake Safeway, responded to an ad for volunteers and signed up to be on the entertainment committee. Due to the small size of volunteers who showed up, she became the entertainment committee. This year, she is co-chairing the event with Jane Murphy.
"I don't want to see it not happen," said Simpson about one of the reasons she continues to volunteer at Relay for Life. "So I keep doing my part to make it happen."
"It's just kind of passion because you want to see a cure," continued Simpson. "You don't want people hurting anymore or families losing their dad or their mom. It's not easy to see someone you love get very weak, and saying goodbye."
• • •
Relay for Life Fast Facts
When: Because cancer never sleeps, the Liberty Lake Relay for Life is held overnight, from 6 p.m. July 18 to 9 a.m. July 19.
Where: Meadowwood Technology Campus, 24001 E. Mission Ave.
Cost: The event requires a minimum of $10 in donations (whether from fundraising or a personal donation) for participants, but it is free of charge for the community to attend and enjoy. Performers and entertainment are scheduled throughout the event.
Dine out and support the cause: After 5 p.m. on July 15, 15 percent of the sales at True Legends, 1803 N. Harvard Road, will be donated to the Liberty Lake Relay for Life. Be sure to mention you are dining out for Relay.
2014 committee: Co-chairs Jean Simpson and Jane Murphy; Melanie White, Sara Simpson, Jeanette Nall, Jennifer Ophardt, Paul James, Tammie Stokes and Chris Stokes.
2014 sponsors: Home Depot, F5 Networks, Safeway, Yelp, The Splash, Greenstone, Stateline Speedway, Liberty Lake Merchants Association, Eat Good Café, Coffee Systems, Premier Manufacturing, Lone Wolf Harley Davidson, Walgreens, Family Home Care and Hospice, Liberty Lake Community Theatre, Kiwanis of Liberty Lake
For more or to sign up:
Visit
www.relayforlife.org/libertylakewa
where you can sign up a team or individually. Cancer survivors participate for free and get a free dinner. You can also contact Jennifer Kronvall, relay specialist at the American Cancer Society, at 528-6332.
• • •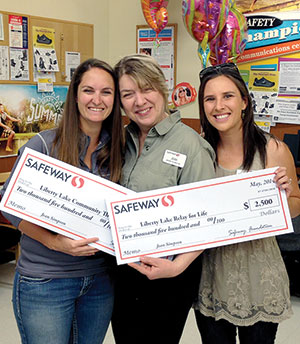 Submitted photo

Volunteer of the Year
Liberty Lake Relay for Life co-chair Jean Simpson (at center in photo) was recently recognized as Volunteer of the Year for the Safeway's entire Northwest Division, representing 316 stores in five states. Simpson has spent many years as the friendly face working in the Liberty Lake Safeway bakery, but outside of work she invests hundreds of hours into two of her favorite passions: the Liberty Lake Relay for Life and the Liberty Lake Community Theatre.
Those organizations benefited from Simpson's honor, each receiving half of the $5,000 award that came with the recognition.
"I was really shocked; it was very humbling," Simpson said. "I don't do things for pats on the back, it's not who I am. I just do them to do them."
Advertisement