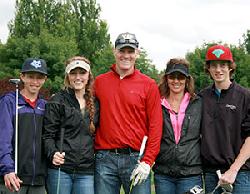 Submitted photo

Kevin Stocker was treated to a Father's Day round of golf by his family last month. Liberty Lake's Stocker family includes sons Zach, left, and Logan, right, as well as daughter, McKenna, and wife, Brooke.


Family-first Stocker maintains ties to game
6/26/2014 1:17:23 PM
By Mike Vlahovich
Splash Contributor
These days, Kevin Stocker is on the other side of the microphone. The former Major League Baseball shortstop recently wrapped up a season analyzing baseball for the Pac-12 Sports Network.
At home in Liberty Lake with his family, his burgeoning second career in television must take a back seat for now. Stocker is enjoying being able to take a family-first philosophy that wasn't as easy during his playing career.
Kevin, 44, graduated from Central Valley High School in 1988, played shortstop at the University of Washington and had an eight-year Major League career, primarily with Philadelphia, where he played in the World Series.
Officially retired in 2000, a few years later while on vacation in New York, his agent got him an interview for a baseball analyst's position with cable's College Sports Network, an offshoot of ESPN Classic. He turned to the dark side.
"I met with people, had a little interview, and they hired me," said Stocker, who now has about 10 years in the business of critiquing instead of being critiqued.
He was approached by Comcast Sports Network to work Major League ball in Philadelphia, but pulled out of the running to focus on family, citing the rigors of travel over months of spring training and a 162-game schedule.
"Next year, I'll have three kids in high school," said Stocker of his hiatus. "When (they) know what they're going to do and I wind up coaching them, in the next three or four years I think at some time I'd like a sports analyst job."
The Stocker name is well-connected in the Spokane Valley. His dad, Chuck, was a popular educator and administrator. Kevin and his three siblings were all into sports at CV and have gone hither and yon to diverse successful careers.
Kevin Stocker played both basketball and baseball at CV, on a fourth place state finisher in the former.
In 1991 at the UW, he led the team in hitting with a .374 batting average - 77 hits in 208 at bats - runs scored (54) and stolen bases (35).
He was drafted in the second round that year by the Phillies and was brought up for defense in 1993 during the team's World Series push. As a bonus, he ended up batting .324 in 70 games. He played in Philadelphia, Tampa Bay and Anaheim, finishing with a .254 career average, 124 doubles, 28 triples and 23 home runs while driving in 248 runs. He had a defensive fielding percentage of .969.
"What got tough for me is the games are great, but you only have so much free time and living out of a suitcase was a grind," he said.
Stocker was limited by injuries, but the allure of the game kept him hanging in as a free agent utility player beyond 2000.
"I wasn't moving so well," Stocker said. "In February 2001, the Mets called and said they need a utility player. I flew all the way down to West Palm Beach, got in at 11 a.m., dropped my bag in the hotel and just knew I didn't want to be there. The next morning I called and said, 'I'm going to retire.'"
Still, he got the itch to play again and talked with the Dodgers. They sent him to AAA for conditioning, and found he was surrounded by other veterans who like him were hoping for one last shot.
"So I decided, that's it," he said.
His wife, Brooke, told him if he came home he was done. He was taking classes at Eastern Washington when the Rockies called, but he got injured in spring training and packed it in. It took five more years, he said, to get baseball out of his blood.
Stocker met Brooke, a University High graduate, in college. The two dated long-distance for a couple years after he was drafted and married, he said, during the 1994 baseball strike. They stayed two years in Philadelphia before returning here in the offseasons where both sets of parents live.
"It's really hard to live where you play because the team just wears you out with appearances," he explained.
Together, they have three children - daughter McKenna, an All-GSL soccer defender for the Bears state champions as a junior last fall and track javelin thrower; Logan, who'll be a junior and is a baseball pitcher; and Zach, a freshman who's into every sport but leans toward basketball.
But, Stocker points out, Brooke is the real athlete in the family, competing in Ironman and half-marathon endurance events.
He volunteers as a coach, currently with CV's A Legion baseball team, and though his children show athletic potential, what he likes best, he says, is that they enjoy the game but don't live and die for it.
"I'm perfectly fine whatever they do," he said.
As for his baseball career?
"I loved the experience," Stocker explained. "When I look back on it, I don't have a lot of regrets. I played in the World Series, played on some good teams and bad teams. If I did it again I'd probably stay in it another four or five years."
Maybe he'll return to the bigs as a coach someday, he admits. For now, his career as a television baseball analyst will do just fine.
Advertisement