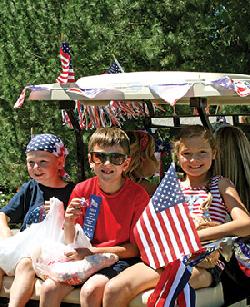 Splash file photo

Kids take part in the Fourth of July Parade, one of many Liberty Lake annual summer traditions. Another — the Friends of Pavillion Park Summer Festival Series — is celebrating its 17th year, highlighted in part by a free Sammy Eubanks concert on July 4.


Cover Story: Summer in style
5/28/2014 1:50:29 PM
By Treva Lind
Splash Contributor
As warm temperatures invite residents outdoors, Liberty Lake again hosts a bounty of summer events this year, ranging from free concerts and movies to the second annual Barefoot 3v3 Soccer Tournament & Festival.
Many volunteers and supporters will be on hand for one of the first events of summer - the start of the June 1 Windermere Marathon at Rocky Hill Park.
Families also will be beckoned outdoors to visit the farmers market each Saturday, the community yard sale June 14, several community fun runs, free tennis sessions and festivals. As a tradition for decades, the Fourth of July will bring the community together to celebrate with fanfare that starts with a noon parade at Alpine Shores followed by games, a concert in the park and fireworks over the lake.
A perennial favorite arrives with Friends of Pavillion Park presenting its 17th annual summer festival of concerts and movies, with most held at Pavillion Park, but a few events spill over to neighboring venues such as Rocky Hill and Half Moon parks.
FOPP has scheduled national touring artist Sammy Eubanks to perform as the Fourth of July headliner concert in Pavillion Park for a variety of blues, country and rock n' roll. His music is described as "soul country with a side of rockabilly blues." The Spokane band, Bakin' Phat, playing West Coast swing and "jump blues," is set to open for the Fourth's concert starting at 6 p.m.
Key summer dates
June 1, 7 a.m.: Windermere Marathon start at Rocky Hill Park
June 14, 8 a.m. to 4 p.m.: 21st annual Liberty Lake Community Yard Sales
June 19, 6 p.m.: Celebration of Summer at the Lake fun run, Molter Road and Inlet
July 3, 6 p.m.: Fallen Heroes run, Pavillion Park
July 3, dusk: "Frozen" (with sing-along words on screen), Pavillion Park
July 4, noon: Fourth of July parade and after-party, Alpine Shores
July 4, 6 p.m.: Sammy Eubanks concert (with opening act, Bakin' Phat), Pavillion Park
July 4, approximately 10 p.m.: Fireworks display over Liberty Lake
July 5, 6 p.m.: "Post-Fourth Music Bash," Pavillion Park
July 11, dusk: "The Lorax," Pavillion Park
July 12, 8 a.m.: Liberty Lake Loop run, Pavillion Park
July 18, dusk: "Roman Holiday," Rocky Hill Park
July 19, 6 p.m.: The Mountain Men concert, Beachcombers Beach Club
July 19, dusk: "The Spiderwick Chronicles," Pavillion Park
July 25, dusk: "How to Train Your Dragon," Half Moon Park
July 26, dusk: "Turbo," Pavillion Park
Aug. 2, dusk: "The Princess Bride," Pavillion Park
Aug. 9, dusk: "Star Trek: Into Darkness," Pavillion Park
Aug. 14, 6 p.m.: Angela Marie Project concert, Rocky Hill Park
Aug. 16, dusk: "The Croods," Half Moon Park
Aug. 23, 5 p.m.: "As You Like It," Montana Shakespeare in the Parks, Pavillion Park
Aug. 29, dusk: "Brave," Pavillion Park
Aug. 30, 6 p.m.: Spokane Symphony Lud Kramer Memorial Concert, Pavillion Park
IF YOU GO ...
Links to more details on summer highlights
Friends of Pavillion Park Summer Festival:
Farmers Market:
Liberty Lake Loop:
Other fun-run events:
Tennis:
Barefoot Soccer 3v3 registration:
This year, the holiday's music and celebration won't be limited to one day, however. A "Post-Fourth Music Bash" concert will be held July 5 at 6 p.m. in Pavillion Park. FOPP President Bob Schneidmiller said that concert will include three local bands, although the group still was deciding on which performers to select at press time in May.
Michelle Griffin, city parks and recreation coordinator, said the community this year will serve up events for the entire holiday weekend, July 3-5, under the theme, "Fourth for Families."
"On July 3rd, there will be a Fallen Heroes Fun Run combined with the Liberty Lake Running Club, and there will also be a movie in the park," she said, as kick-off to the multiple events on July 4-5.
This summer, 10 outdoor movies start at dusk for audiences encouraged to bring blankets, chairs, and picnics. The Pavillion Park line-up includes "Frozen," on July 3 with sing-along (words on screen); "The Lorax," July 11; "The Spiderwick Chronicles," July 19; "Turbo," about a race-dreaming snail, July 26; "The Princess Bride," Aug. 2; "Star Trek: Into Darkness," Aug. 9; and "Brave," Aug. 29.
Additional films set at other locations are the 1953 classic "Roman Holiday" with Audrey Hepburn on July 18 at Rocky Hill Park; "How to Train Your Dragon," July 25 at Half Moon Park; and "The Croods," Aug. 16 at Half Moon Park.
Again this year, the FOPP Summer Festival also brings the Montana Shakespeare Company performance of "As You Like It" at 5 p.m. on Aug. 23 at Pavillion Park. As usual, the season will be capped with the Aug. 30 Lud Kramer Memorial Concert at 6 p.m. featuring the Spokane Symphony, also in Pavillion Park.
For both the Fourth of July concert and Spokane Symphony performance, a free shuttle to the park will be available for people parking at Liberty Lake Elementary School.
Other 6 p.m. concerts around Liberty Lake include The Mountain Men performance on July 19 at the Beachcombers Beach Club (on the north side of Liberty Lake accessible by a trial off of First Avenue); Angela Marie Project playing on Aug. 14 at Rocky Hills Park, as co-hosted by the tennis and running clubs; and another pocket park concert on Aug. 1 at Alpine Shores.
Fourth parade and after-party
Dave Graham, Fourth of July parade organizer, said participants in the patriotic parade at noon should plan to line up at 10:30 a.m. in the Alpine Shores neighborhood. Each year, kids and families decorate their bikes, scooters or wagons in patriotic themes to complete the route. Parking is available on the streets around the neighborhood and at Liberty Lake Church, 704 S. Garry Road.
"There's always a lot of people here, so I encourage early arrival," Graham said. "It takes about an hour to get into place. The kids try to have their bikes, trikes, outfits ready usually by 11 a.m., and many have to park at the church and walk down."
Immediately after the parade, games will start up and food will be available in the Alpine Shores Park area. Traditional free activities typically offer kids a chance at egg toss, water balloon toss, pie-eating contests and gunny sack races.
"We have all sorts of games and prizes in the afternoon," Graham said. "We like to have the scouts come in and do the flag salute, present the colors and sing the national anthem. Kids learn about patriotism and about our country."
The community-funded fireworks show launches around 10 p.m. from a floating dock on the lake and can be seen from Pavillion Park for the public and various private gatherings around the lake. The Liberty Lake Fireworks Fund receives donations at P.O. Box 430, Liberty Lake, said organizer Denise Coyle.
Farmers Market
Organizers say up to 50 vendors will set up on Saturdays from 9 a.m. to 1 p.m. through Oct. 11. Customers can expect to find fresh fruit, vegetables, flowers, crafts, food and live entertainment each week at the market, located at 1421 N. Meadowwood Lane.
The market also offers a few special festivals this year, extending its hours and activities. The first of these is Pies & Rides Festival, June 21-22 from 9 a.m. to 3 p.m., that includes a classic car show in the empty field east of the market behind the former Barlows restaurant location. Another special event, Art in the Market, runs into the late afternoon on Sept. 6-7.
Other happenings at the market include the July 19 Italian Festival, featuring cooking demonstrations and entertainment and following an Italian-themed movie night at Rocky Hill Park the night before, and a Sept. 20 customer appreciation day. Several new vendors have joined this season, six of which are small farms. Some new vendors include Le Petit Jarden, KD Sweet Cob, Nothing Fancy Goat Milk Soap, Kia's Flowers and Produces, Next Level Farms, Xiongs and Spiceologist.
Barefoot Soccer 3v3
This event promises a true football experience for players who enter into different age-category contests - cleatless. The Barefoot Soccer 3v3 Tournament & Festival will run Aug. 2-3 at Pavillion Park. Organizer William Miller said an impressive turnout is expected, drawing both families and observers who will find plenty of vendors and activities beyond the tournament.
Of course, tournament participants play barefoot using a special soccer ball made out of the same material as the famous Crocs shoes, Miller said, adding "it's called One World Futbol, and it is almost indestructible."
The event also will have a large bouncy castle, water slide, food booths and vendors that are soccer-related, he said. In a separate grassy area, kids can play soccer for fun while wrapped in giant inflated body-wrapping bubbles, called "bubble soccer," he said. "They bounce off each other."
Tournament registration is similar to the Hoopfest format, he said. "All you need is to get three friends together and register." People can go online to the event's Facebook page to sign up until July 24, although certain age brackets may close earlier if 16 teams per division are signed up, Miller said.
He said this year's T-shirt sales' proceeds will support three soccer-community families faced with recent tragedies. It will benefit a fund for the family of Gracie Snider, the 10-year-old girl killed in a recent traffic accident on her way home from a soccer match, and for the recovery of her friend, Ayla James, who was seriously injured in that crash. Miller also said part of the proceeds will support a soccer scholarship fund in memory of McKenzie Mott, a Liberty Lake resident and University High School soccer player who died along with a classmate in a Ponderosa-area accident last fall. At last year's Barefoot Soccer tournament, Mott and her team won her division.
Fit for Summer
For the fitness-minded, Liberty Lake plays host to several community running events. On June 19, the Celebration of Summer at the Lake fun run kicks off at 6 p.m. at the beach end of Molter Road. The Liberty Lake Running Club also hosts the July 3 Fallen Heroes three-mile run at 6 p.m. in Pavillion Park that will include use of two Fallen Heroes Circuit Courts, at Pavillion and Rocky Hill parks.
Running club members also have an open invitation for people to join them at no charge any Thursday this summer, starting at 6 p.m. near Twisp Cafe, 23505 E Appleway Ave., for a weekly three-mile run or walk.
Meanwhile, the Liberty Lake Community Tennis Association is offering free clinics this summer. The open-ended instruction sessions started in May and run until Aug. 30 at Rocky Hills Park.
Tennis sessions for adults are held from 6:30 p.m. to 8 p.m. on Mondays and Thursdays, and clinics for ladies are 10:30 a.m. to noon on Tuesdays. Kids can get lessons during different age-based sessions held on Saturdays. For more information, people can contact Kathy Whybrew at
kathyawhybrew@msn.com
, or the group also has a Facebook page.
"As the summer progresses, we usually have 15 kids at each session on Saturdays," Whybrew said. "We're a volunteer group, but it just seems to work with however many people come."
Advertisement