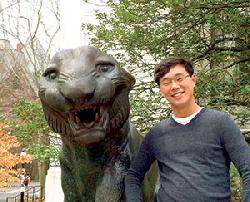 Submitted photo

DG Kim intends to study electrical engineering as well as seek opportunities to use his musical talents when he heads to Princeton this fall. The Liberty Lake resident is valedictorian for the 2014 graduating class at Central Valley High School.


Profiles: CV valedictorian headed to Princeton
5/28/2014 1:32:17 PM
By Treva Lind
Splash Contributor
Music and math go a long way toward defining DongGyun Kim, better known as DG. A broader list to describe the Liberty Lake resident gets lengthy: Central Valley High School valedictorian, advanced cello player, music composer, website developer, orchestra conductor, math scholar, powder puff cheerleader.
Wait, powder puff?
Kim actually wrote a college entrance essay about his experience as a "manleader," one of the male cheerleaders for CV girls' powder puff football to describe his fun side - someone who enjoys life and friends while excelling academically and musically.
"I don't want to be entrenched in academics," Kim said. "It's a way to break away from the routine."
Kim also lights up when talking about his musical orchestra performances and pursuit of what he describes as extracurricular math learning.
An only child, Kim was four years old when his parents moved to Liberty Lake from Korea. His dad, JangLyul Kim, works as an engineer with Agilent Technologies, and his mom is YeongGyu Kim. Their son started learning piano by age six, and he was playing the cello at age seven.
With the Spokane Youth Symphony as a cello player since he was nine, he often performed as a soloist. He also has played in the Spokane Symphony and the Washington Idaho Symphony.
"Playing music has been a really big part of my life," Kim said. "I've performed as principal cellist for four years for the Spokane Youth Symphony. Music and math are two important parts of my life, which are kind of alternatives, but they are what I identify myself with."
This fall, Kim plans to head to Princeton University to study electrical engineering and possibly computer science.
"My uncle and dad are engineers," he said. "Engineering is what I find to be the most natural to me, what I get the most excited about."
While in elementary and middle school, Kim sought advanced math beyond the classroom. He has competed in Math is Cool contests since fourth grade, placing fifth in the state individual category last year as a junior.
During his high school career, Kim achieved a 4.0 GPA after taking Advanced Placement classes for statistics, chemistry, U.S. history, biology, physics, calculus, English language, European history, U.S. government, English literature and environmental science. He also took an AP computer science class online.
Kim taught himself advanced math skills while in middle school and aced difficult AP math tests in high school, said CV teacher Brandon Mack who had Kim in AP calculus.
"He's accomplished more in his high school career than most people do in their life," Mack said. "He got a perfect 800 on Math Level 2 SAT. He's extremely bright, and his analytical skills are incredible."
Mack said Kim is generous about sharing math knowledge and tutoring. He organized the Spokane Math Circle, involving two Gonzaga University professors, so young students can learn advanced math topics beyond school curriculum. Kim also recently created online practice sessions for AP calculus.
Recognized recently as a 2014 Spokane Scholars Foundation award winner, Kim won second place overall in math which earned him a $3,000 scholarship. Kim has also been awarded a $2,500 national scholarship from eSchoolView, an education website development company, for his web design and development entry-a website for calculus resources.
But it's not just studies that will consume his time at Princeton. He'll also continue pursuing music.
"They have a really great orchestra," Kim said.
Verne Windham, KPBX radio program director and former longtime Spokane Youth Symphony conductor, said DG stood out musically at a very young age. He won several music contests and was described by Windham as "so brilliant at a young age."
"I think when he was in about sixth grade he got into the advanced high school orchestra, which is unprecedented," Windham said.
Windham said orchestra leaders also realized Kim was a talented pianist, so they asked him to play a piano concerto in addition to performing as a cello soloist. For KPBX last year, Windham held a "Young Mozarts" program with three youth orchestra players, including Kim, who also compose music.
"All three of these kids were so extraordinary and so musically intuitive, they could play for each other and make up music on the spot," Windham said. "DG is completely at one with music in every way."
For his senior project. Kim organized a benefit orchestra concert at the Bing Crosby Theater called "Make Music Matter" which raised $3,000 for Spokane Youth Symphony and the music nonprofit LETEM Play. Kim recruited the concert's 50 musicians who were high school, college and professional orchestra members. He also ran the rehearsals, as well as performing as a soloist and conductor.
This event showcased Kim's strength in working with others, Windham said.
"He was great at working with other high school kids and being compassionate and helpful," Windham said. "To be as accomplished as he is, he fits in among his peers beautifully, and he proved to be a really, really great conductor."
Born in Seoul, South Korea, Kim showed at an early age that he enjoyed school and interacting with classmates. He was five years old when he entered a Montessori school in Spokane Valley but didn't speak any English. Kim said his mother tells him the story that within his first week, he walked over to other kids and dove into activities.
As far as future career goals, Kim said a dream job would be to work as someone who creates an important consumer electronics or health-related products.
"What I want is to have that entrepreneurial spirit," he said. "To make that electronic or health-related electronic product that's new, that has a creative leading edge to help improve lives. In college, that's a good time to collaborate with other students to find out what that looks like. Right now, it's abstract."
He said he's learned it's important to have balance in life, although finding the time around studies and music proves challenging at times.
"My academics, my music, my family, my friends - all are equally important," he said. "The attitude I take is just to prioritize what's important, and live life to the fullest."
• • •
Age
18
Dream musical performance
To play with or see Yo-Yo Ma
Languages known
English, Korean, and to a certain extent, German
Top movie pick
"Anchorman"
Who you'd like most to meet, living or dead
It would be cool to meet Ghandi. Everything he did was amazing, iconic. I could ask him deep, philosophical questions.
Where you'd most like to travel
Korea, where I was born. I've been a few times to visit family but I'd like to see the country as a tourist.
Advertisement