By Tammy Kimberley
Splash Staff Writer
How do antlers get their shape? Which household items have the most bacteria? How strong are jungle vines?
Dozens of Greenacres Elementary School students set out to discover the answers to these and other scientific questions during the school's science fair. Sponsored by the GES Parent Teacher Association, there were 65 projects on display in the school gymnasium May 8 ready to be judged.
The science fair was not a required school project. Rather, students had the option of researching something scientific on their own time either by themselves or with a partner.
Rachel Barney, a 9-year-old who someday wants to be an orthopedist, said she loves science and really enjoys figuring out how the human body and things in nature work. She and her mom thought it would be interesting to learn about measuring earthquakes, so they researched that for the science fair.
"A lot of countries have seismographs so they can be alerted or alert other countries of an earthquake," Rachel said. "I didn't even know what a seismograph was before doing this project."
Rachel, who had never entered a science fair before, said she was really happy when she learned she won first place among the fourth grade projects.
Jennifer Bray, PTA member and science fair committee chair, organized the event and coordinated judges to evaluate the many projects. She believes the science fair, which is put on every other year by the PTA, adds to the student experience at GES.
"It gives students the opportunity to explore a science topic of their own choosing," she said.
Students in first through fifth grades had the opportunity to enter the science fair. Part of the criteria to enter stated that the student must take the lead in the research, design and creation of the project. Participants were also judged based on poster organization, how well they understood and explained their projects, and their verbal presentations.
Projects ranged from coloring carnations and the formation of crystals to explanations of why oceans don't freeze and how 9-volt batteries could cause fires. First, second and third place ribbons were awarded in each grade level, and all students who entered were given participation ribbons.
Projects dealing with sports and science were also popular at the fair. Cody Cayce, along with his partner Jaycee Lawhead, won second place among first grade students for investigating what type of baseball bat - metal or wooden - hits farther.
"I learned that inside a metal bat is a force that vibrates and makes the ball go farther," Cody, 8, said.
Good friends Paulson Ray and Nathan Shaber created a volcano and experimented with how different materials mixed together affected the height of the explosion. The fifth grade boys said they were shocked to hear they tied for first prize among fifth grade projects.
"We worked on the project at my house and then practiced for our presentation," Nathan, 10, said. "We were a little nervous (to present), but it was fun to just do it together."
Greenacres Elementary School
2014 Science Fair Winners
FIRST GRADE
1st place: Jackson Severs
2nd place: Cody Cayce and Jaycee Lawhead
3rd place (tie): Henley Porter; Emmerson Thompson
SECOND GRADE
1st place: Xochitl Diaz
2nd place: Landen Quesnell and Johnny MacCall
3rd place: Cadance King-Booth
THIRD GRADE
1st place: Isabella Murphy
2nd place: Camryn Paske
3rd place: Talia Emmerson and Aliyah Spence
FOURTH GRADE
1st place: Rachel Barney
2nd place (tie): Tayshawn Colvin; Nicholas Sauder
3rd place: Robbie Reyes
FIFTH GRADE
1st place (tie): Nathan Shaber and Paulson Ray; Megan Sachtjen and Jessica Zarecor
2nd place: Brayden Shypitka
3rd place: Brooklyn Davis and Kayla Chem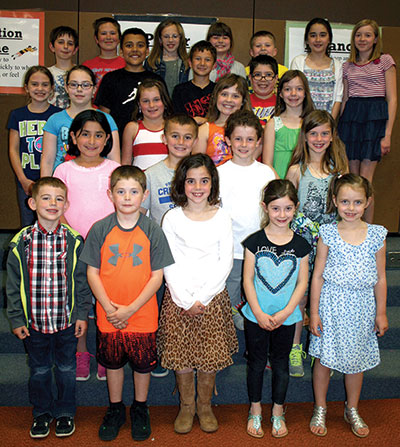 Splash photo by Tammy Kimberley
For the science fair, places were awarded to winners of each grade level (above), and students from the school had the opportunity to look at all the projects on display in the gymnasium.