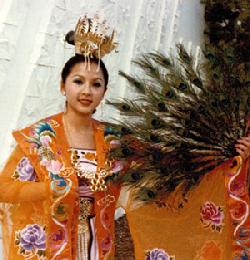 Submitted photo

Working as a Chinese hostess during the 1974 World's Fair, Frances Martin had the opportunity to show off Chinese costumes, as well as rub shoulders with celebrities such as George Montgomery and Henry Fonda.


In the June Fountain: Expo '74 changed life of hostess
5/28/2014 1:19:18 PM
By Sarah Robertson
Splash Contributor
It's not every love story that actually spans continents. But for Liberty Lake resident Frances Martin, that's just what happened.
Martin (nee Wang) is from Taipei, Taiwan-part of the Republic of China. She grew up loving the arts, especially painting, and had an overwhelming desire to see the world.
"It was my dream to travel, but it was very restricted," Martin said since the Chinese government rarely granted travel visas.
Though Martin started art school, she sought opportunities to travel. When the chance to become a stewardess with China Airlines came along, Martin jumped at it. She flew all over the world with China Airlines and eventually Northwest Orient Airlines.
Aside from seeing new places, there were many other perks that came with the job.
"I got to wear the beautiful uniform with nylons and the cute hat," Martin said.
But Martin tired of staying only a night or two in one place because "you never really saw the true culture or people." On a flight she ran across a newspaper advertisement for hostesses to represent China at the World's Fair. It was a six-month assignment.
At the age of 22, Martin along with 22,000 others applied for the job. She was one of seven women chosen to represent China at Expo '74.
"I thought, 'Where in the world is Spokane?'" Martin said. She got a map and quickly realized, "There is nothing there."
Always up for an adventure, Martin completed three weeks of training and arrived in Spokane on April 30, 1974. It was a trip that would change her life forever.
Expo '74 felt much like the Olympic games to Martin. Her days were full of greeting guests at the Chinese pavilion. Her duties also included modeling in fashion shows, giving tours, serving tea and chatting with visitors.
"Everyone was friendly and had something to talk about when we had breaks," she said. "We had time to get to know each other."
Martin carried the Chinese flag at the opening ceremonies and even met President Nixon. Nixon wasn't the only celebrity Martin rubbed elbows with as she met stars such as Bing Crosby, Henry Fonda and Benny Goodman.
Her favorite memory of Expo '74 was Bing Crosby serenading her with "White Christmas." Martin explained that Bing Crosby was very big in China when she was growing up, and her grandfather would play his record over and over at Christmas. So when Bing came to the Chinese Pavilion, Martin asked him to sing "White Christmas" for her.
Martin remembered her initial impression of Spokane. She grew up in a large city and was used to flying into metropolises such as Hong Kong and Tokyo where there was city as far as the eye could see. When flying into Spokane, she remembers seeing horses, cows and the occasional farmhouse.
"It was a huge culture shock!" she said.
But Martin recalled that Spokanites were so friendly and she enjoyed experiencing local culture.
"A farmer took us to his farm-I had never been to a farm!" she said. "We rode horses and they cooked dinner for us."
Martin was even brave enough to go on a blind date. A Japanese-American volunteer at the Chinese Pavilion set Martin up with an attorney, Terry Martin, who would become her future husband. She remembers doing all the talking on their first date to A&W and the Viking Tavern.
"He had long hair and sideburns, a polyester suit and platform shoes," she said. "He was charming with big brown eyes and very good-looking."
But she realized there was no sense devoting herself to him since she was leaving in six months, but they wrote many letters and talked on the phone as often as they could.
When Martin returned to Taiwan, she became a bit of a celebrity as the assistant manager at the swanky Hilton Hotel and also the creator of her own children's TV show. But she felt like the men in her home country didn't share her view of marriage and were all too willing to carry on extra-marital affairs.
"I wanted to find a man to mate with for life, like a swan," she said.
And the one person who seemed to share her value of marriage was Terry. With the help of Tom Foley, Martin obtained a fiancée visa. She and Terry were married in August 1975.
In 1980, Martin opened a travel agency, Jet Set Travel, where she loved meeting people and leading tours. She closed the business in 1999, and since then has been working on her golf game at least four days a week as well as watercolor painting.
Martin and her husband also moved from north Spokane to Liberty Lake in 1999. Her husband wanted a lake house, but Martin said "over my dead body" since she did not want two of everything to take care of. They compromised by moving to Liberty Lake where she enjoys watching the birds and other wildlife from her home.
"What a little paradise. Your worries just seem to fly away when you see that water," she said. "You can't beat life out here."
Martin was on the committee for the Expo '74 anniversary gala this year. One of the friends she met who worked in the Philippines booth, Lena Wilbert, also gathered for the event. Lena met her husband, Charles Wilbert, during the Expo and they have a home in Liberty Lake as well.
For Martin, Expo '74 was an important moment for Spokane.
"It's a piece of history we should be proud of," she said. "No one should ever forget."
• • •
Frances Martin
Where she grew up
Taipei, Taiwan
Memory from Expo '74
Bing Crosby serenading her with "White Christmas"
Favorite activity
Golfing
Favorite restaurant
Hay J's Bistro
What she loves about Liberty Lake
"It's like a little village. You meet all kinds of people. It's a great place, especially in summer time."
Advertisement