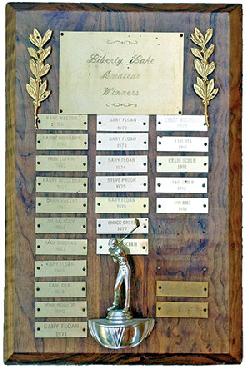 Photo courtesy of Liberty Lake Historical Society

This plaque displays winners of the early Liberty Lake Amateur tournaments. The tournament has consistently attracted the Inland Empires' top amateurs, many of whom have become area golf pros.


History: Tourney drives golfter to LL for decades
5/28/2014 1:11:49 PM
By Karen Johnson
Liberty Lake Historical Society
What was a group of sixth grade Liberty Lake boys supposed to do in 1959 when midget league baseball ended for them and the memory-packed diamond at Sandy Beach Resort loomed baseball-less? Swim? Hike? Waterski? Or…try out the new Liberty Lake Golf Course just a short walk away! Two of the former midget leaguers in particular caught the golf bug hard that summer, and it became as much of their daily routine as eating lunch.
Tom Vincent and Bill Hughes took to the course with impassioned tunnel vision. Each armed with their $12.50 half-year junior pass, they could play unlimited golf every day except on weekends and holidays. And so they did! Every weekday they packed their lunches and hit the course, picnicking after the 15th green and continuing their marathon on the 16th tee. Rarely did anyone play through since so few played during those hours. They'd call it a day after 27 holes, sometimes 36. (One time they made it through 45 holes, but even to 12-year-olds, that was the kiss of death!)
Though it seemed they owned the course, they obviously weren't alone. The 12-year-old twosome, self-described "students of the game," had the opportunity to study the good, the bad and the ugly of other golfers, noting-at least to Hughes-the dream team-like quality of golfers such as Les Hilby and Kaye Walker with their "poetry-in-motion" swings and the near-perfect consistency of Larry Williams' game.
Especially meaningful to Hughes were the personal tips that helped craft his swing from the older golfers-particularly Del Herring and the late Denny Reger just five years their senior, both of whom became golf pros.
Denny's dad was Austin Reger, LLGC's first golf pro when it officially opened in 1958. Once the Liberty Lake Men's Club was established, it hosted the first Liberty Lake Amateur Golf Tournament in 1961. Hughes worked the tourney as a spotter off the 17th tee where balls often flew to the right into the ravine. Of course the one ball he failed to spot belonged to the pro's other son, Norm Reger! Meanwhile, Vincent and his sister Linda worked collecting and selling buckets of balls to the players. (So that's where Reger's ball went?)
Hughes played in his first Liberty Lake Am shortly thereafter as a junior high school student. He remembers that after sinking a 6-foot putt early on, one of the men teased that the club would accuse him of being a sandbagger. He sliced his next tee shot and played terrible golf from that point on, proving that golf is indeed mental as well as physical! Although Tom Vincent didn't play in the Am, he won the Men's Club Championship as a senior in high school. Both eventually worked for the late Bud Ashworth who was superintendent of all the county courses at one point or another.
Joe Trembly Sr. has played in most of the Liberty Lake Ams, rain or shine or wind (depending on the June tournament's moody weather). He moved with his wife Betty to Liberty Lake in 1959 and immediately became a charter member of the Liberty Lake Men's Club. For him, the challenge was finding time to play after Betty and her sister Mary Floy Dolphin purchased their parents' Sandy Beach Resort.
Trembly describes the Am as a popular and thriving tournament. The late Harry Missildine, Spokesman Review sportswriter who himself won the Liberty Lake Am twice, used to print the Am's tee times in the paper which catalyzed area golf fans to form galleries surrounding their favorite players. After the last golfer putted his final green, the activity shifted to the old Elks Club perched beautifully above the lake off Clubhouse Road and Second Avenue for the ceremonial presentation of winners. According to Jim Kearney who consistently helped run the Am over the years, generous sponsors in those early years provided payoffs that could include a full set of golf clubs for the champion as well as some very nice merchandise for the others.
Like others in the area, the Liberty Lake Am began as a three-day, 54-hole tournament and was always full. Kearney said it wasn't unusual to draw 25-30 golfers with a handicap of six or less. Often being in charge of pairing the players, he remembers wading through more than 180 participants. By the '70s and '80s, LLGC pro Kit DeAndre recalls there were always waiting lists for the Am (which was capped at 240 participants).
Though the Am is shorter and less crowded today (now a two-day, 36-hole tournament which hosted approximately 80 players in 2013), it has proven itself to be one of the best amateur golf tournaments in Spokane for over a half century. (MeadowWood, Esmeralda and Indian Canyon have also dropped their Amateurs to two days leaving only Wandermere's Am at three days.) According to the National Golf Foundation, the total number of people who play golf has declined or remained flat each year since 2000. Alarmed national experts blame everything from busyness and economics to a lack of social skills (people don't like meeting people nor embarrassing themselves in public; kids are tied to video games) and inconvenient etiquette rules (cell phones often banned). Of course there are some who quite frankly blame the game of golf itself!
Perhaps we need a shake-up…like winter golf! After all, Liberty Lake's first known amateur golf tourney, reports the Spokane Daily Chronicle, was sponsored by the Lion's Club on Jan. 24, 1929. This "first annual midwinter golf tournament" featured two teams of eight men each, the Junglers of Notre Dame vs. the Vardons of the Veldt. One team flew onto the course (a frozen Liberty Lake) in a cabin plane; the other arrived by stage coach. Their caddies were 18 "pep girls" from Spokane University wearing "official Lion uniforms." Likely, the arctic match was played much like 20 golfers from nearby Sprague had been playing on Sprague Lake that winter. The Sprague Lake "course" was a regulation par 36, 9-holer with regulation-sized holes cut in the ice. Players, who wore ice skates, hit solid sponge rubber balls meticulously crafted to regulation golf ball size that reportedly carried almost the same distance as on land. The Sprague Lake golfers claimed that approaching and putting was more accurate on the ice and par was much easier to capture. The entire Sprague Lake course could be played in 20 minutes providing everyone skated.
The kicker regarding Liberty Lake's 1929 "Am" was that New York's Metro-Goldwyn-Mayer (MGM) Studio apparently filmed several panoramas of the unusual Liberty Lake icy tournament from a plane as it got underway then recorded close-ups of critical shots, promising to show the film in 3,700 movie houses across the nation.
Any takers to sponsor the new Liberty Lake Ice Am?
Karen Johnson has lived in Liberty Lake most of her life. She is a board member with the Liberty Lake Historical Society.
• • •
• Jim Kearney, who began playing Liberty Lake Golf Course (LLGC) over a half century ago in 1960, still gets in a round three or four times a week…at age 88. He humbly quipped, however, that these days "I don't hit it out of my shadow!"
• Kaye Walker was the inaugural winner of the Liberty Lake Am in 1961. He later turned professional and served as a pro for 25 years, first at LLGC and then at MeadowWood (MW).
• Liberty Lake resident Randy Allen has won the Liberty Lake Amateur multiple times. He is also the reigning Liberty Lake Men's Club champ, winning his first of several club championships in 1984.
• The National Public Links sectional qualifier has been held in conjunction with the Liberty Lake Am several times.
• The 2013 Liberty Lake Am trophy holder Ryan Pitkonen scored 137 for 36 holes, one shot shy of the LLGC record.
• CVHS's Golf Team could boast its own version of a "Dream Team" in the late '70s with players such as Kit DeAndre (present LLGC pro), Kim Walker (Kaye's son), Joe Trembly Jr., Tim Kiblen, Kurt Stokke, Jim Holt, Randy Buckenberger and later Scott Ashworth (Bud's son). At least six of these men with local ties have gone on to become pros. Thumbs up to Coach Les Nygren!
• Austin Reger, Kaye Walker, Bob Scott and now Kit DeAndre have been the successive pros at LLGC, with Walker and Scott moving on to MW. Denny Reger, Mollie Thola and Chris Johnston have held down the post at Valley View/Trailhead.
• Liberty Lake's Am continues on its traditional Father's Day weekend, which is June 14-15 this year. MeodowWood's Amateur is Aug 16-17.
Events, Competitions and Activities
From the Liberty Lake Historical Society, a 2014 monthly series
January - Ice Skating
February - Parade of Mermaid Competitions
March - Opening Day of Fishing
April - Dancing
May - Water Competitions
June - Liberty Lake Amateur
July - All Valley Picnics
August - Dutch Jake Picnics
September - Hydroplane Races
October - Baseball Games
November - Liberty Lake and Football
December - A.R.T.'s Christmas in July
Advertisement