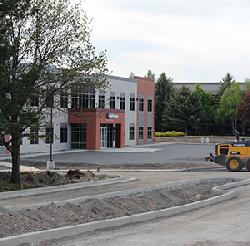 Splash photo by Valerie Putnam

Work is wrapping up on the new Meadowwood Three building at the Meadowwood Technology Campus. The building is being occupied by Liberty Mutual Insurance.


New Liberty Mutual building completed
5/28/2014 12:59:21 PM
By Valerie Putnam
Splash Contributor
Four years ago, Meadowwood Technology Campus was empty and on the verge of bankruptcy. Santa Clara, Calif.-based Agilent Technologies vacated the property, leaving a large property with no tenants in a down market.
Greenstone Corporation recognized what looked like a problem to be an opportunity and purchased the property in 2010. Under Greenstone, the property has transformed into a corporate complex that is at full capacity and growing - having just completed a new 65,000-square-foot facility for Liberty Mutual Insurance on the south side of the 70-acre campus.
"Our success is the quality of our product that we are offering," said Wayne Frost, managing director for Greenstone's commercial affiliate. "In addition to that, it's the desire and wherewithal to deliver to them what they need at a price that is palatable to them."
On May 16, Liberty Mutual completed its move into the new Meadowwood Three building as part of its corporate expansion. According to Liberty Mutual's senior consultant for public relations, Glenn Greenberg, the expansion is part of the organization's "continuing efforts to align business operations to meet the customers' needs."
Currently, Liberty Mutual has over 900 employees on campus with planned growth to 1,300 employees. The campus operations are predominately Personal Lines Claims and Safeco agent and customer call centers.
Prior to the new building, Liberty Mutual originally moved into the Meadowwood One building on the campus in April 2012.
"The local ownership, high-quality buildings and long-term vision for the campus attracted us to the site," Greenberg said in an email. "Liberty Mutual is excited by the deep talent pool in the Spokane area."
Now that Liberty Mutual has completed its transition into the new facility, interior renovations are under way, reverting previous space back into conference rooms.
Liberty Mutual was temporarily occupying multiple on-site open spaces for 10 months while the new facility was being constructed. Currently, Liberty Mutual occupies offices in the original Meadowwood One building as well as the new facility.
Providence Strategic Management Services is expanding its Meadowwood office space this summer to accommodate the relocation of one of the teams in its business automation pillar.
"The new department will be responsible for credit accounts receivable throughout the five-state Providence health and services region," Jennifer Gilcrist, Providence Health Care Media and Community Relations Coordinator said in an email. "This move will bring 46 new jobs to the area with 22 positions remaining open at this time."
The interior renovation of the Providence offices began June 1 and the new department is expected to assume occupancy July 15.
Three planned exterior renovations began this spring at the new Liberty Mutual facility, including painting the exterior and significant traffic changes along Mission Avenue.
According to Frost, the projects include widening Mission Avenue to accommodate turn lanes into a new Mission Street campus entrance, a new parking lot associated with the new building and installing concrete curbing and sidewalk.
Poe Asphalt is doing the estimated $100,000 paving improvements.
Dew Drop is planting decorative landscaping around the new building with shrubs, trees and planter beds and street trees along Mission Avenue on the north side.
Exterior renovations are planned to be completed by June 1, weather permitting.
Frost said the vision of the campus is to grow as Greenstone actively seeks new tenants. With the campus at capacity, he envisions adding another building soon.
"We have a vision for a campus of offices focusing on those that either create or use high-end emerging technology," said Frost. "It will probably be 1 million square feet of office buildings in a campus environment."
The campus amenities include a running trail, exercise room, on-site cafeteria and conference rooms in a safe, secure environment.
In addition to Providence and Liberty Mutual, Meadowwood building tenants include Demand Energy Networks Inc., Design Source Solutions Inc., Ptera Inc. and Mountain Dog Sign Co.
Currently the 1,400 people working on the campus is anticipated to climb to 1,600 as Liberty Mutual and Providence increase staff.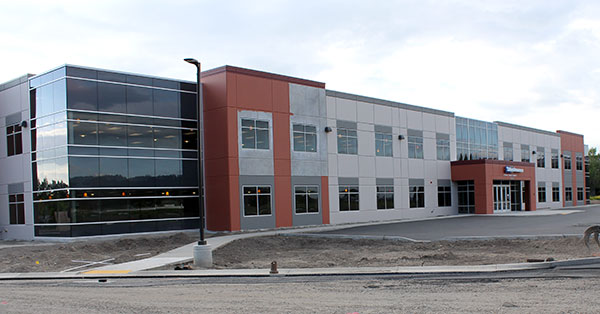 Splash photo by Valerie Putnam
Advertisement